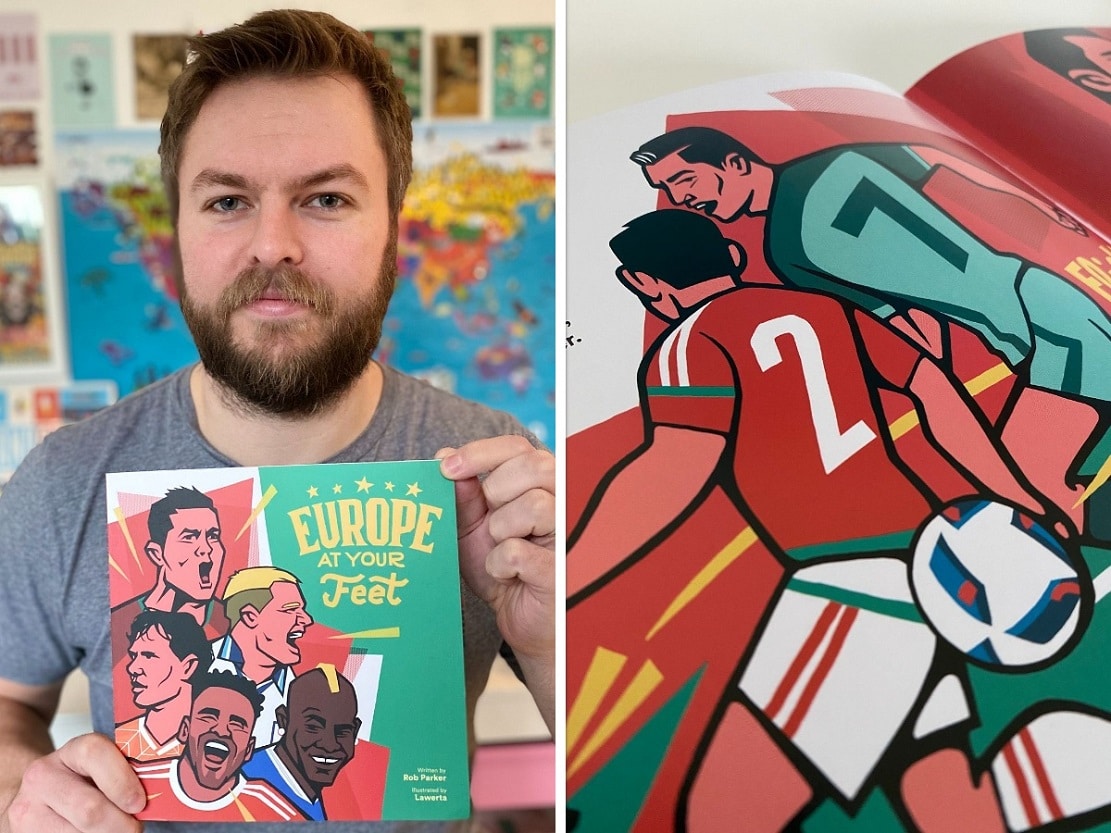 A Co Armagh author has released his second children's book depicting and describing some of the most magical goals in the beautiful game.
Originally from England, Rob Parker relocated with his wife Kelly to her native Kilmore some 10 years ago.
His first work, World At Your Feet, celebrated 16 memorable goals scored at previous tournaments, with each goal brought to life by commentary written in rhyming verse accompanied by a double-page spread of colourful illustrations.
The 34-year-old has now followed that up with Europe At Your Feet, which already features on a list of Amazon's top new releases.
The book celebrates the greatest goals ever scored at European Championships. Players including Cristiano Ronaldo, Zlatan Ibrahimovic, Paul Gascoigne and Marco van Basten are among those featured.
We caught up with Rob to find out about how his budding career as a children's author began, what the reception has been for the book and what his plans are for future projects.
Rob's writing skills are usually used to help Northern Ireland businesses communicate with their customers more effectively in his role as managing director of copywriting agency Voz Media, but the inspiration to a write a book came from his identical twin daughters Carmen and Iris.
He explained: "Obviously I was already writing professionally but at that stage I was starting to read a lot of picture books and a lot of bedtime stories.
"It was just that kind of dual interests of already being a writer and this sort of reintroduction to children's books and picture books, that sparked my interest."
Explaining how the goals are selected, he said: "It was difficult with the first one, but with the follow up on European Championship there's obviously a few that immediately came to mind such as Van Bastan's volley and Gascoigne.
"So I am spending time watching videos judging each goal on its merits and trying to work out which one will lend itself to the rhyming verse and the illustration."
Rob added that everyone is partial to a 25-yard pile-driver but unfortunately 12 in a row would not have made an extremely exciting read.
The feedback has been good from parents, it allows for that shared love for football or perhaps an introduction to it for the first time, with the kids then going off and losing an hour or two on YouTube looking up the goals.
The goals are brought to life by renowned Spanish illustrator Jorge Lawerta, who has had worked commissioned by Fifa, Valencia CF and created the typography for the names and numbers of Spanish club Levante's shirts.
Rob said: "In my day job as a copywriter, I had a client that required me to keep a watching brief on football artists, that's how I came across Lawerta's work.
"I had written about him and I dropped him an email to see if he would be interested and he was. Normally his work would be adverting or one-off editorials, so I think he enjoyed getting his teeth stuck into a book."
When asked about how the book has gone down at home, Rob said: "Well, they enjoy watching football with me, they were in the neonatal unit when Euro 2016 was on, so football has been in the background since they were newborns.
"In the last week, they have actually started making their own books. I have been folding and sticking A4 pages together so that they can create their own."
Opening up on the feedback, Rob added: "Well there's not that many books, for football being so popular, that are aimed at younger readers that they can enjoy.
"In the last year, the feedback we've had from parents, and even teachers, is that it's been really useful for introducing reluctant readers, those who perhaps think that books are not for them."
The only real criticism of the book which has been raised by family and friends is the omission of a a certain Gareth McAuley goal against Ukraine.
He explained: "I had to take each goal on its merits and think about goals that would work in rhyme and be visually different from the norm.
"So while it was a huge goal, I had to look at it quite dispassionately as a back-post header from a set-piece and realise it didn't fit the bill on this occasion."
Rob has ambitions to continue writing with ideas in mind including a book focusing on the women's game, Northern Ireland football and branching out into other sports and topics.
Europe At Your Feet is published by Bullfinch Books and is available from www.worldatyourfeet.co or Amazon.
Sign Up To Our Newsletter