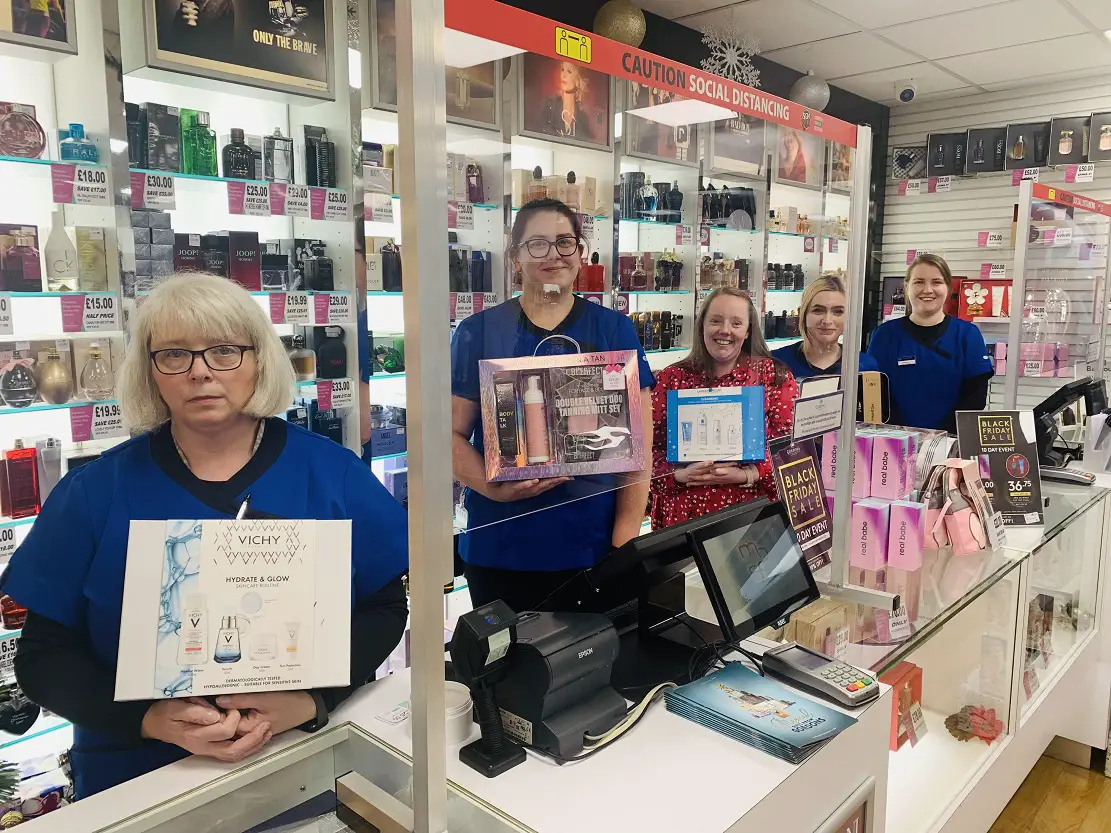 With Black Friday and Christmas beckoning, Gordons Chemists in Armagh have some great offers which are sure to prove a tonic to any seasonal blues.
Putting some sparkle into people's lives over the new few weeks with thoughtful and stunning presents is the aim as the company launches its 'Magical Gifts from Gordons'.
But along with the razzle-dazzle of the festive period, the store is also very much focusing on its core business of patient and customer care with its range of professional services.
The chemist, which has nine staff members and is conveniently located in Scotch Street, runs a popular prescription order and collection service.
Prescriptions are collected from GP surgeries in the Armagh area twice a day and from the surrounding areas of Tynan, Keady and Markethill once a day, and processed for collection.
Pharmacy manager Michelle Heatrick said the service was particularly useful for people who forget to order repeat prescriptions and who find it more convenient to go straight to the pharmacy.
"It takes a level of complexity out for them. It also takes the strain off GP surgeries as there are fewer people phoning or calling in," she said.
The store is also administering free Covid booster vaccinations to all eligible patients, currently those over 50, healthcare workers and carers. Simply log online to book an appointment at www.gordonsdirect.com.
Said Michelle: "We are encouraging people to take up the booster offer as it helps improve protection already afforded by the first two doses and ultimately helps give longer term protection to prevent becoming seriously ill with Covid."
Free lateral flow tests are also available in the branch as well and Michelle advises everyone to do a test at least twice a week.
"One in three people have no symptoms and don't realise they've got Covid so they're going around infecting others. Testing is the only way we can try and curb the infection rate and the spread of the virus," she said.
The branch can also save patients a trip to the doctor by providing advice and treatment under the Minor Ailments Scheme, for conditions such as Athlete's foot, mouth ulcers, diarrhoea, ear wax and verrucae, while at the same time freeing up appointments for more serious conditions.
The Pharmacy First Winter Ailments service also offers advice and treatment for sore throats and common colds, where patients are encouraged to speak to their pharmacist first, which again saves time and avoids having to wait to see a GP.
And for people who want to kick the habit, a smoking cessation scheme is available all year round.
Meanwhile, Black Friday deals started on Friday and will run until Sunday, November 28, with savings of up to 60 per cent on beauty, electrical, gifts and fragrances.
There is also a fantastic range of Christmas gift options at prices to suit every pocket and taste, with gift sets for him and her, star buys and gifts for under £10.
This week, customers will receive a £5 off voucher when they shop in store which is redeemable from November 29 to December 5 when they spend £30 or more on Christmas gifts, fragrances, premium cosmetics and electrical items.
And with an extensive fragrance counter and premium cosmetic brands like La Roche-Posay and Vichy, the Armagh store has plenty to choose from.
Customers can also find some gift ideas inspiration in the inviting Christmas catalogue, which also includes the £5 off voucher, at  https://issuu.com/gordonsdirect/docs/13574.011_digital_-_xmas_brochure_files_ofr_flip_b
There is an additional 10 per cent discount for anyone who uses their Spend Local cards – which is on top of any savings already available for Black Friday – with the cards valid up until December 14.
For people who can't get out and about or prefer to shop from home,  the online store can be accessed at gordonsdirect.com.
Gordons, which was founded 41 years ago by brothers Robert and Neil Gordon, now has 63 stores now in total, 54 in Northern Ireland and nine in Scotland.
The business is still family-run and prides itself on being at the heart of the community, with its ethos being people first,  whether it's patients, customers or staff.
Said Michelle: "We are here for the community all year round. And this Christmas, we are trying to encourage people to spend and support local."
There are extended late night opening hours until 8pm coming up to Christmas and more details are available online at gordonsdirect.com .
Follow all the latest offers on Facebook And Instagram //www.facebook.com/gordonschemists and //www.instagram.com/gordonschemists/
Sign Up To Our Newsletter