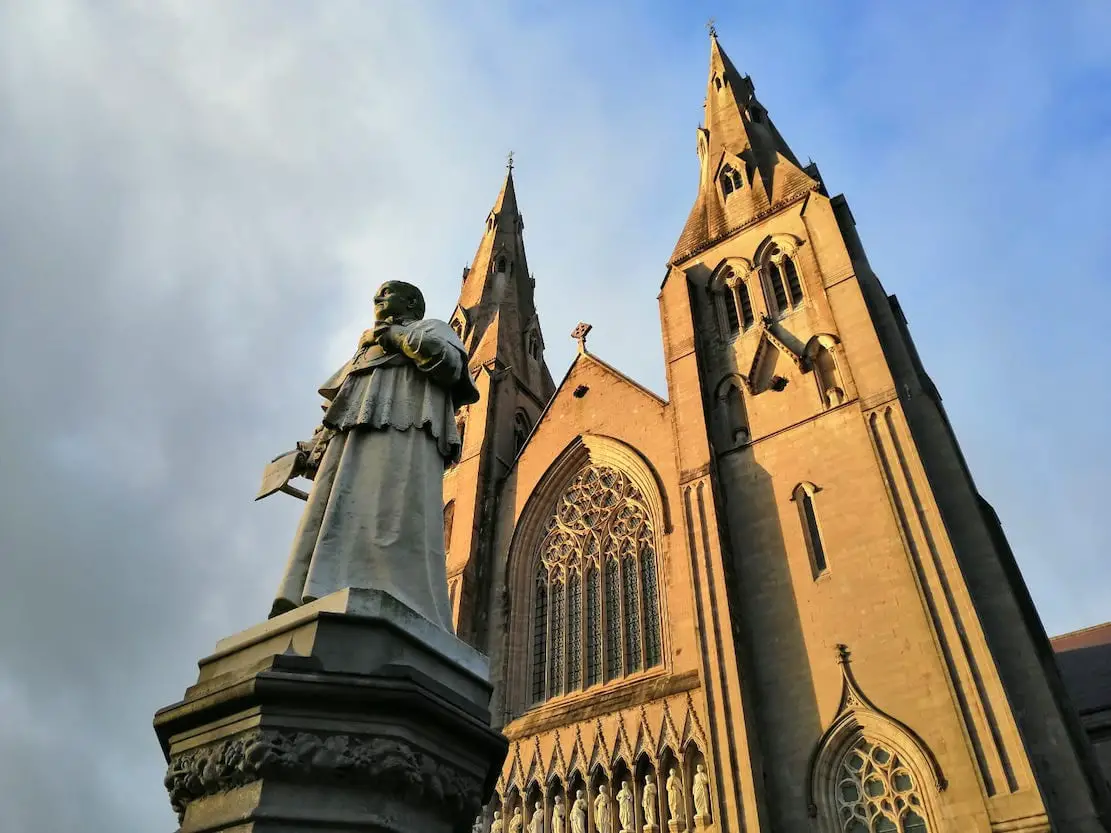 Mourners at the funeral of a hugely popular and well known Armagh doctor heard how he lived a "very full and very active life, right to the end".
Dr Noel Marshall worked until his retirement at the Armagh Health Centre on Dobbin Lane, and latterly the Abbey Court Surgery, where his daughter, Dr Katherine, now practises.
He passed away peacefully at home on Saturday at 90 years of age.
Dr Marshall was laid to rest following Requiem Mass at St Patrick's Cathedral in the city this morning (Monday).
Addressing the small congregation of family members, in line with current restrictions, as well as online viewers, the priest spoke of the "wonderful" doctor's love of Donegal and the fondness with which he was remembered by patients.
"It must be said that at 90 years Noel Marshall certainly ran a great race and he put up a great fight," he said.
On of a family of five, the early years of Dr Marshall's life were spent in Portglenone and Raphoe in Co Donegal, then latterly in Ballymoney in Co Antrim.
In the 1950s, he attended Queen's University in Belfast as a medical student and it was while there he met his wife-to-be Rosemary.
"They got married back in 1959 and over the years they were blessed, truly blessed, with five of a family, three sons and two daughters, and in more recent years Noel lived to see five granddaughters come along," the priest said.
"Noel and Rosemary shared 61 years of married life together which is a long time as we know, and so today we thank God for the great witness of their lives and for their long years together."
After qualifying, Dr Marshall worked first at Dr McCluskey's practice in Dungannon before moving to work in Armagh.
The celebrant said: "For many years he worked as a GP here and, through his work, he got to know many and many got to know him and Noel made many good friends.
"I believe he loved those busy years when he was working as a doctor in a busy practice here in Armagh, and he's someone who's still very fondly spoken of, and he will be remembered for many long years to come."
After coming to Armagh, Noel and Rosemary lived first in Tullygoonigan, before then moving to live in the city and after a few years settled to live in the old rectory out in Salters Grange, where they lived for many years.
The priest commented: "Over the last couple of days, I've heard many people speak of him, some former patients who spoke of him with fondness and who spoke of the great, wonderful doctor that he was.
"He always had a great love for Donegal, I believe, and over the years he and Rosemary and the family went there regularly for breaks or family holidays.
"I'm sure the family can recall many great family holidays that you had over the years on Tory and Inishtrahull islands and many other beautiful places."
He added: "He loved boats and sailing and he also developed a great interest in horses. He also had a great interest in the environment in planting trees and so on, doing his best for the Earth to look after it and to protect it.
"Today as we gather here, we give thanks for his good life and his work. We give thanks for someone who was a great husband and father and grandfather and someone who was a great friend to many."
Dr Noel Charles Marshall was the  beloved husband of Rosemary (nee Cunningham), dear father of Dr Katharine, Marie-Isabelle, Tom, Peter and the late Philip, and a grandfather to Hannah, Lucy, Rosie, Beth and Kate, and father-in-law of Hastings.
May he rest in peace.
Sign Up To Our Newsletter