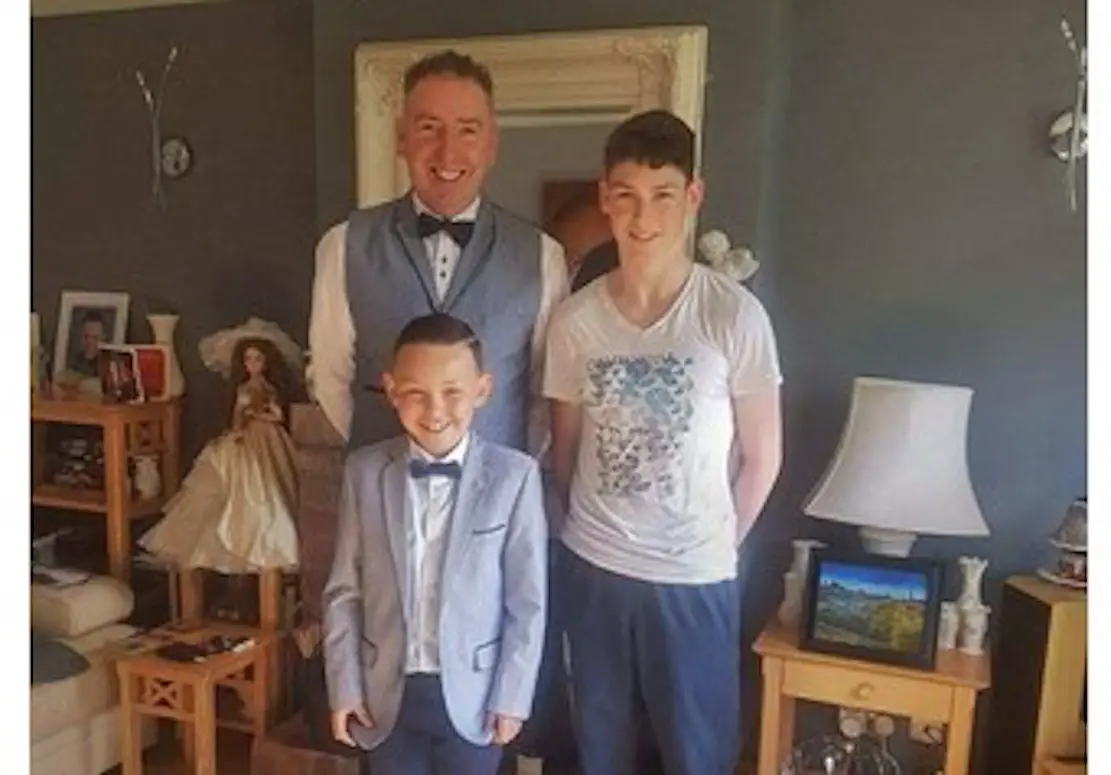 A close family friend of an Armagh teenager who tragically took his own life earlier this year will be walking 'from dusk 'til dawn' to raise money to help promote awareness of suicide and support services.
Cole Murray (pictured above right), who had just become a dad at the beginning of the year, took his own life at his home in Greenfield Way, Armagh, in March, at just 17.
Darkness into Light takes place this Saturday, May 11, with participants in over 200 venues, including Crossmaglen, in 19 countries, across five continents.
Speaking to Armagh I, close family friend Martin McCann (pictured above), who will be taking part in the walk, said: "Cole was my neighbour when he came to Armagh, I've known him since he was about two years old.
"He would have played football and games with my son. There were seven years of difference but he always looked up to him as his best friend.
"We did a lot together over the years; went away on day trips taking him and his brother with us."
"We were very friendly with his mother. She would have looked after the children when we were working."
Martin spoke of the profound shock and sadness at learning that Cole had taken his own life, and of the sense of loss and the great void which opened up upon his untimely passing.
"It was a big shock as we were very close," he said. "He was a young fella, his whole life ahead of him. He had been doing very well at school studying business. His grandfather and uncle had their own business.
"He had his own wee car and was starting to make a few pounds, but on the spur of the moment… there's no other way of saying it…
"I have buried grandparents and other family members but this was completely different."
Martin will have company on that cold night's walk, with Cole's mother Yvonne, his brother Jenson, along with other family members joining in.
Said Martin: "Years ago it was shunned, but it is coming out in the open nowadays.
"We need a lot more focus on suicide so that can deal with this issue."
Martin believes the loss of life through suicide to be especially prevalent in young men – a statistic recognise across the country.
"I think it is a big problem with boys, especially keeping a lot into themselves, but on the day of the funeral there were a lot of grown men with tears in their eyes," Martin recalled.
Martin says the main thrust behind this fundraising is to try to prevent other young men taking their own lives, plunging other families into unimaginable heartache, by providing support services.
Anyone who can help is asked to make a donation, no matter how big or small, through the Justgiving page, which can be found here.
Sign Up To Our Newsletter