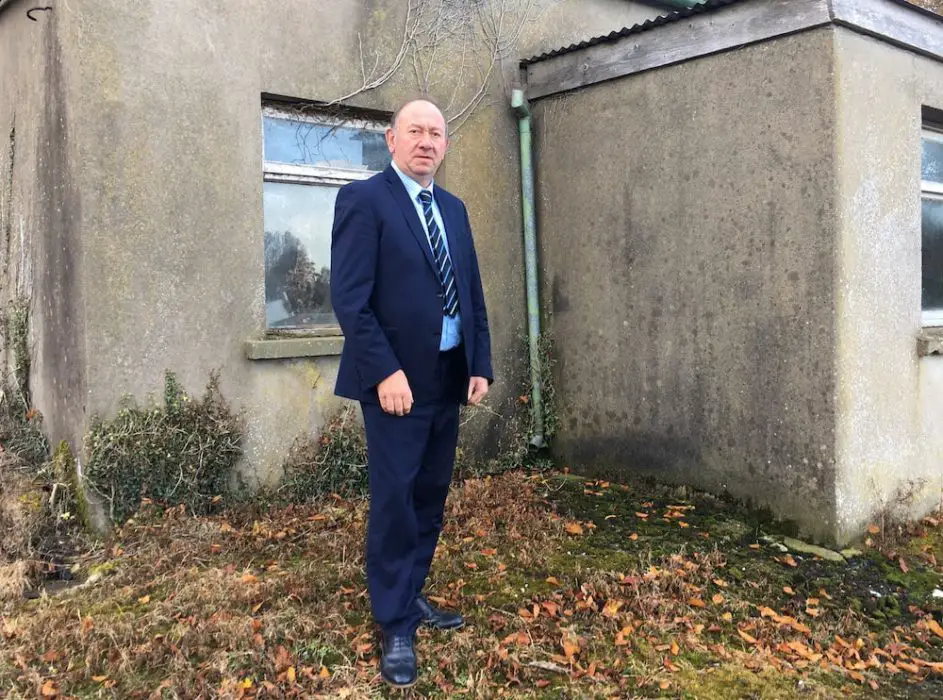 This is one of the many "houses" left derelict on a farmyard for years being hit with unnecessary and significant rates bills.
Some farmers have reported receiving a bill for £700 for a building which is disused and in a state of disrepair.
And it's something DUP MLA William Irwin (pictured standing outside one such property) says he wants to eradicate.
Mr Irwin has lobbied the Finance Minister to exempt what he described as an "obviously derelict" house from the paying of empty home rates.
The Department of Finance state that property rates apply to all domestic properties with a rateable capital value of £20,000 or more, including empty properties.
Whilst there are various exclusions, the process of excluding a property on the issue dereliction is only possible following a revaluation and then if that value falls below £20,000.
Mr Irwin commented: "The fact is derelict empty homes in many instances are found in farm yards and as such, these old houses are no longer able to be used due to their condition.
"I feel it is therefore unfair for such buildings to be retained on the valuation list and subjected to the payment of yearly rates the same as if they were being lived in."
The Newry and Armagh representative says this is not in the spirit of the legislation as it was designed to encourage growth in the housing sector and also dissuade land lords from allowing houses to remain idle if they could realistically be brought back in to use.
He added: "This legislation did have unintended consequences as I have seen many times with these old derelict farm houses.
"I have lobbied the Finance Minister on this issue and tabled an oral question to him in the Assembly Chamber. Mr Murphy's response states that a re-valuation can be carried out and if a house is considered 'truly derelict' then it will be removed from the valuation list after assessment.
"The reality of this is however very different and I have spoken with many farmers who have such properties and despite requests for revaluations, the derelict house remains on the list and farmers can be billed in these instances upwards of £700 per year; that is a significant additional cost.
He added: "When you consider that farmers are already paying rates for the house they are living in, the rates bill for the old dilapidated house is a further financial burden on them and I do not believe that rating old empty houses in this scenario is within the spirit of what the legislation was meant to achieve.
"In the case of many of the derelict houses I have seen, it is very obvious they will never be brought back in to use such is their condition therefore there should, as I argued, be an automatic exclusion for obvious dereliction.
"Local Rates office staff have been very helpful in individual queries with them on this matter and I will continue to lobby on this issue and hopefully a further exclusion can be added to the legislation."
Sign Up To Our Newsletter