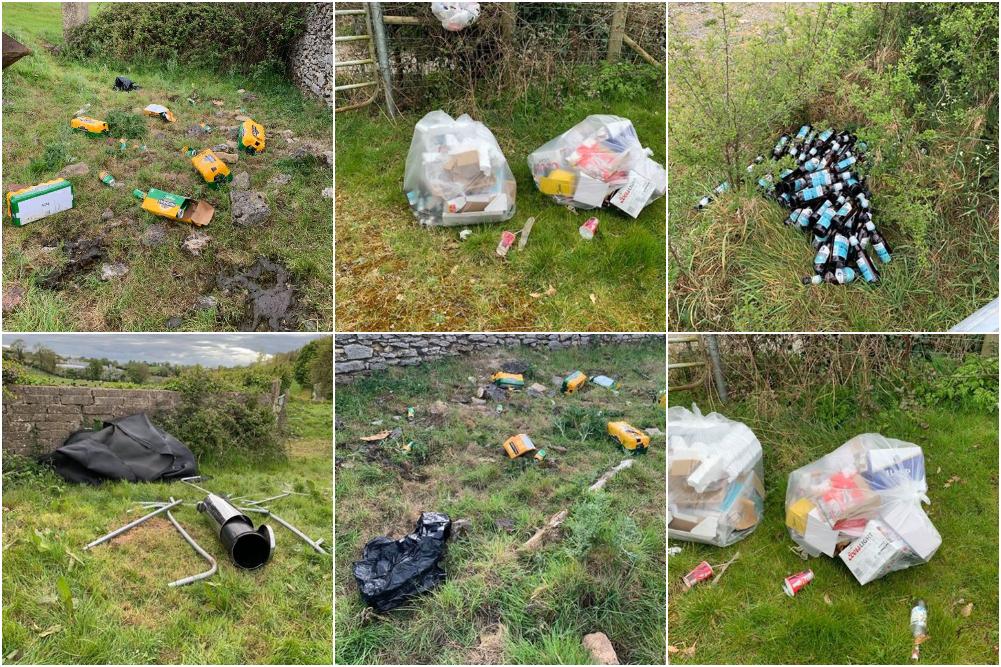 A farming family from Armagh are at their wits end as ongoing fly-tipping on their lands is putting livestock at risk.
All manner of waste is being dumped either at the entrance to – or as is more often the case – in their fields.
On Tuesday, there were two separate incidents alone on the family's land at Lisdonwilly Road.
Plastic bags containing rubbish have simply been tied and tossed over a hedge.
A pedal bin has been abandoned along with a dismantled trampoline – fabric and metal poles thrown into a field where cows and calves are grazing.
Elsewhere, empty cardboard containers and the Magners tins which they contained have just been thrown down.
And dozens of glass beer bottles have simply been tipped in a pile too – presenting the obvious danger of wounding for livestock.
The farmer, who did not wish to be named, said the situation had escalated over recent weeks.
And those responsible are being urged to think twice before acting in such a fashion and with complete disregard for livestock and livelihoods.
They told Armagh I : "Not only have we had to remove most of it ourselves due to the fact that it could injure our cattle, our council is already under pressure with Covid-19.
"Livestock are being put at risk and farmers who are trying to keep food on the table for people are having to do this every day.
"People don't realise the dangers of going into fields with cattle – especially the bull!
"The irresponsible actions of these people needs to be addressed. It is not our job to clean up after such people.
"I did dispose of the household rubbish myself and I had to remove the trampoline from the field and store it in our shed to take to the dump myself as it could have been dangerous to the cows.
"The last two instances happened on Tuesday.
"First was the beer bottles then in the afternoon, whilst checking the newborn calves, I found the tins of cider.
"I did get in contact with an MLA to get them removed.
"I am fully understanding of the council and their pressures so I cannot hold them to blame for delays possibly in the time it takes to remove the rubbish, hence why the the first two I removed myself.
"But I am appalled at the total lack of regard for our countryside, livestock and us farmers who are doing our best to keep supplying beef and other vital essential food to the supermarkets.
"It is a terrible time for everyone right now but now more than ever we should be mindful of our actions. These people must stop doing this.
"We have had problems maybe once or twice a year at the most before Covid but now it's weekly or daily."
Anyone wish information on fly-tipping should report it to the environmental services department at their local council.
Sign Up To Our Newsletter