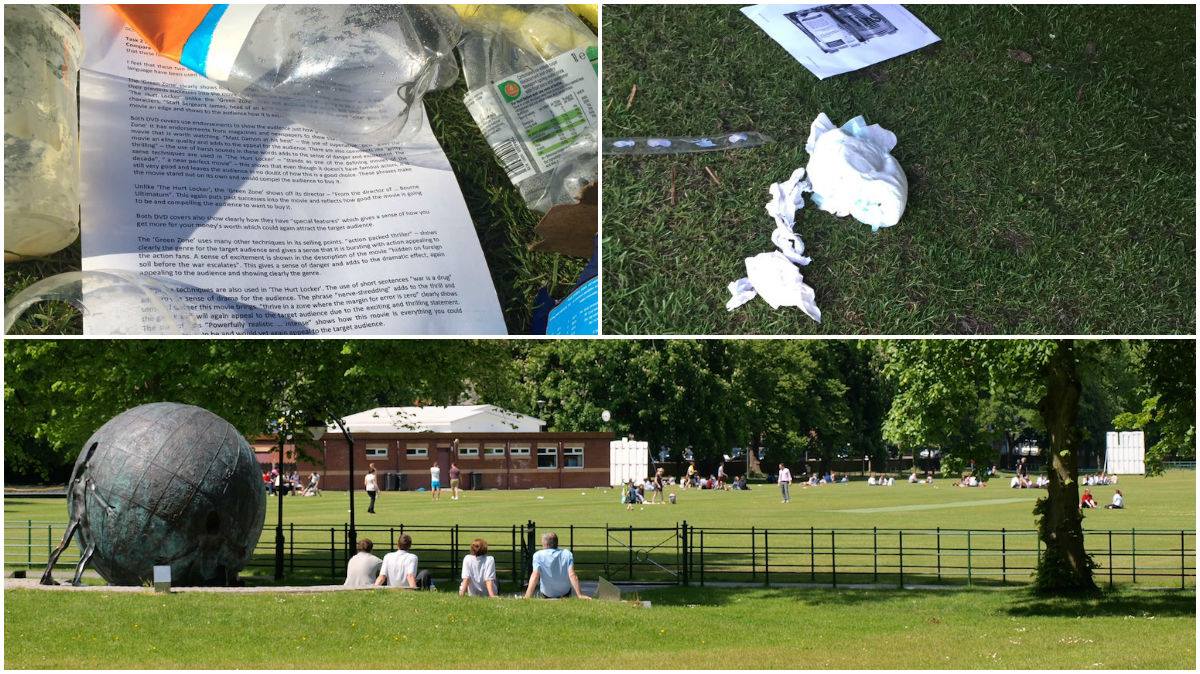 Resources are to be targeted towards dealing with the litter problems on the Mall in Armagh.
And additional wheelie bins are to be provided for the public to make use of too.
It follows a call from SDLP Councillor Thomas O'Hanlon.
He raised the issue at Armagh City, Banbridge and Craigavon Borough Council's environmental services committee on Tuesday night.
Mr O'Hanlon intervened after Armagh I reported on the scandalous situation last Thursday.
An angry public backlash followed our report of the beautiful park once again drowning under a sea of litter, discarded as crowds came out to enjoy the hot sunshine.
Bottles, wrappers, takeaway papers and even soiled nappies were to be found on the Mall and litter strewn across the greens used by Armagh Cricket Club.
Some claimed bins were not being emptied regularly enough while others complained that there were not enough bins to begin with.
As a result of Armagh I's report of six days ago, there was agreement by council to take action to try and alleviate the problems.
Councillor O'Hanlon welcomed commitments from council officers to direct resources at keeping the Mall litter-free during periods of warm weather.
He told Armagh I: "The historic Mall at the heart of Armagh has been transformed over recent years. It has become a space which is used by all ages and all sections of our community.  It is a wonderful sight to see so many young people using the Mall in spells of good weather; in particular it is great to see the mix of sports tops from the various gaelic, football and rugby teams, well as the range of different school uniforms.
"However, with all the additional users of the Mall in warm weather we have seen a significant increase in the amount of litter being generated. 
"Whilst we have asked officers to look at preventing litter being disregarded in the first place – and encouraging people to take their litter to the bin or home – we need to make sure where litter has been dropped to get it lifted."
The SDLP representative said he took the opportunity to raise those concerns at last night's meeting, seeking assurances that staff resources would be directed to the area when the weather is at its warmest and the Mall at its busiest.
Councillor O'Hanlon added: "We have asked that staff are directed to the Mall to carry out litter picking duties and that additional wheelie bins are placed on the Mall itself to encourage people to use it responsibly and dispose of their waste. 
"The Mall is a beautiful area, especially at the height of summer, and we need to make sure that it, and indeed the rest of our towns and villages, are kept litter-free."
Read more news:
Armagh I story showing ice-cream van prompts urgent Gosford parking petition
Armagh-based animal welfare service fighting back against cruelty and neglect
Exclusive interview: Armagh councillor Garath Keating on becoming new Lord Mayor
McDonnell recalls how legend Ali helped Armagh to All-Ireland victory in 2002
Police appeal to find owners of dogs which were "running loose" on main Moy Road
Trail of destruction after another night and morning of vandalism in Armagh
Sad end to brilliant day as thieves steal ducks from Marie Curie fundraiser
Bingo hall extension will leave Armagh's car park boozers out in the cold
REVEALED: Just how much was raised in car park charges at our local hospitals?
Sign Up To Our Newsletter