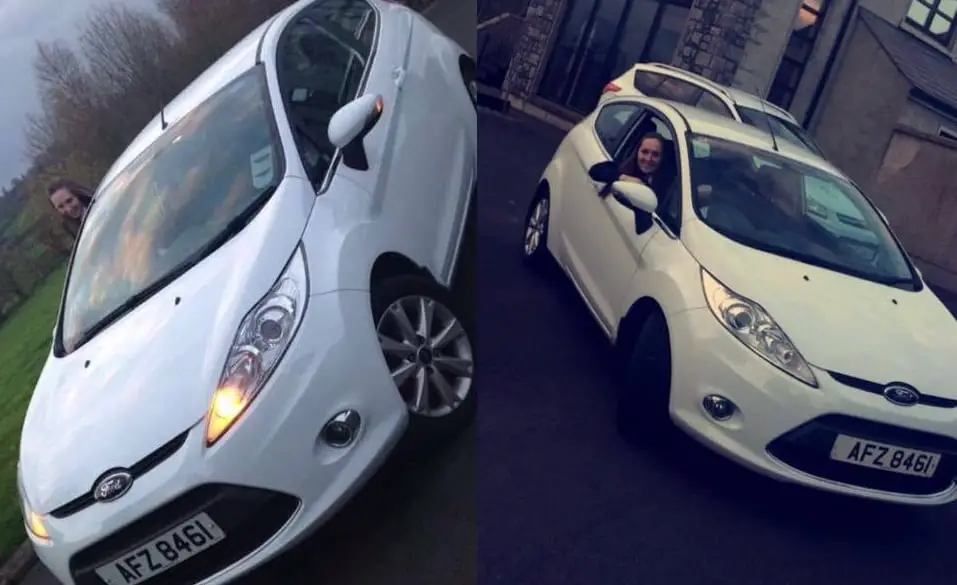 The thugs who stole a teenage girl's car at gunpoint this evening are understood to have been part of a criminal gang from Dublin who had travelled north to carry out a crime spree.
But their plans were cut short after they crashed late this afternoon, forcing them to steal a car and flee back over the border.
Chloe Hawthorne's white Ford Focus was taken shortly before 5pm after the gang forced their way into her Redrock home and pointed a gun in her face.
Chloe spoke to Armagh I and told of how she was left "very badly shaken" after the terrifying raid.
Tonight (Tuesday), it has been confirmed that the thieves had crashed close to the Redrock girl's home, where she was alone at the time of the raid.
They had been travelling in a car which had been stolen this morning in Dublin.
The PSNI and Garda are co-operating in the search for the robbers as it is understood they have since fled back over the border.
Newry and Armagh DUP MLA William Irwin said he has now spoken at length with PSNI officers on the matter.
The stolen vehicle in which the gang had travelled north crashed at Redrock corner, on the Seagahan Road near Markethill.
The gang then made for a nearby house in order to steal another vehicle and broke into the Hawthorne home, threatening Chloe with a handgun and demanding the keys of a vehicle.
She told us: "I was the only one there and they kept shouting and pointing the gun in my face. They roared for me to get the keys and then made off in my car. Only two had half their faces covered.
"It was my first car, I bought it with my own money. I am so scared and shaken up."
The low-lifes fled the scene and it is understood crossed the border again.
Local DUP MLA William Irwin described the robbery as a "shocking and appalling criminal act".
And he told Armagh I tonight: "Having spoken to senior police I know that there is a significant operation ongoing in Dublin at the moment to apprehend those behind this attack.
"I understand that the gang had stolen a car in Dublin this morning and obviously made the journey to Northern Ireland to carry out a crime spree. This spree came to an abrupt end after the gang crashed their stolen vehicle on the Seagahan Road, near Markethill and then ran to the nearest house to steal another vehicle.
"It is totally shocking that a girl in the house was put through an horrific ordeal by the gang who were armed with a handgun and threatened her in order to get the keys to the vehicle and then fled the scene in the car.
"I understand the girl saw the attackers coming to the house and quickly locked the door, however the gang broke through the door. My thoughts are with the individual at this time as she gets over this awful ordeal it has been such a massive shock for her."
Mr Irwin added: "I am aware that both the PSNI and the Garda are cooperating in an ongoing operation on both sides of the border to apprehend those responsible and hopefully those behind this attack can be brought before the courts.
"The issue of criminal gangs carrying out these types of sprees and disappearing back over the border is a huge concern and it is vital that police on both sides of the border do everything possible to robustly stamp out this serious criminal activity."
Read more news:
Families increasingly distressed as thefts mount up in rural community
New Tandragee graveyard recommended for approval two years on
Armagh church looks to future with major new £550,000 complex plan
Keady company to invest over £1m and create 'many new jobs'
PSNI praise public for help in identifying CCTV images
Man kicked, punched and stabbed in the head in frenzied attack
Pervert foster carer preyed on young girl who saw him as a father figure
Major lottery award for head injury charity to help survivors like brave Moya
Sign Up To Our Newsletter
Sign up to our newsletter for major breaking news stories as they happen – right to your inbox.