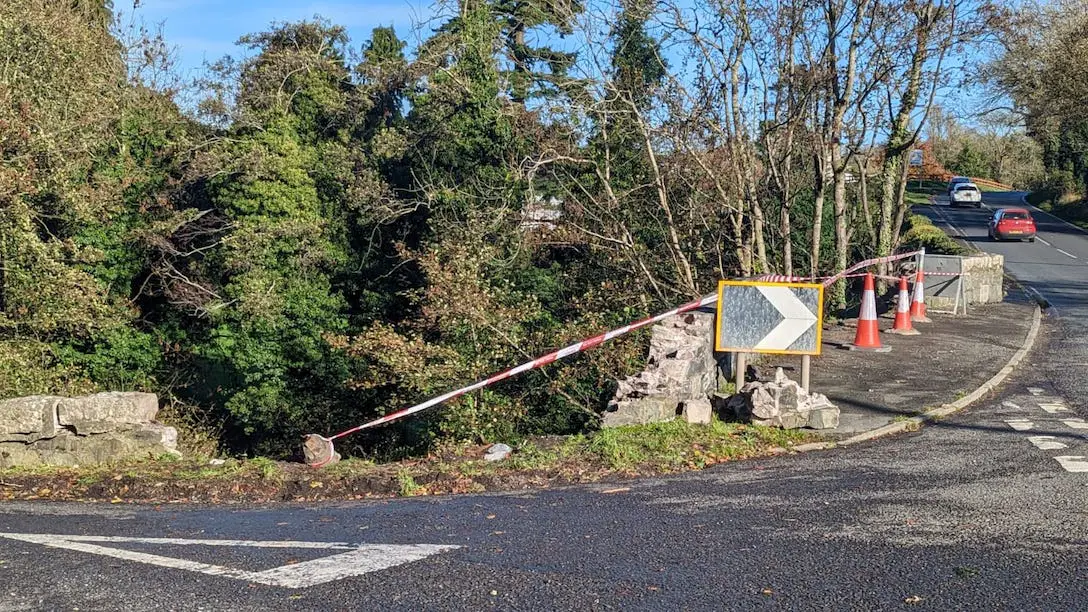 Temporary safety measures have been put in place at Girvans Bridge with calls repeated for a safety barrier to be installed.
It comes after yet another accident at this location – three in recent weeks – this morning (Thursday).
It was the second serious collision in less than a week and has left this bridge, on the Keady Road in Armagh, in a precarious state.
Badly damaged by a collision in the early hours of Saturday morning, a second vehicle inadvertently ploughed into Girvan's Bridge shortly before 6am this morning (Thursday).
Fortunately, police confirmed there were no serious injuries in this morning's incident, however, the car narrowly avoided falling 40-ft into the water below.
In the early hours of Saturday morning, three people had to be rescued from a 4×4 which had careered into the water.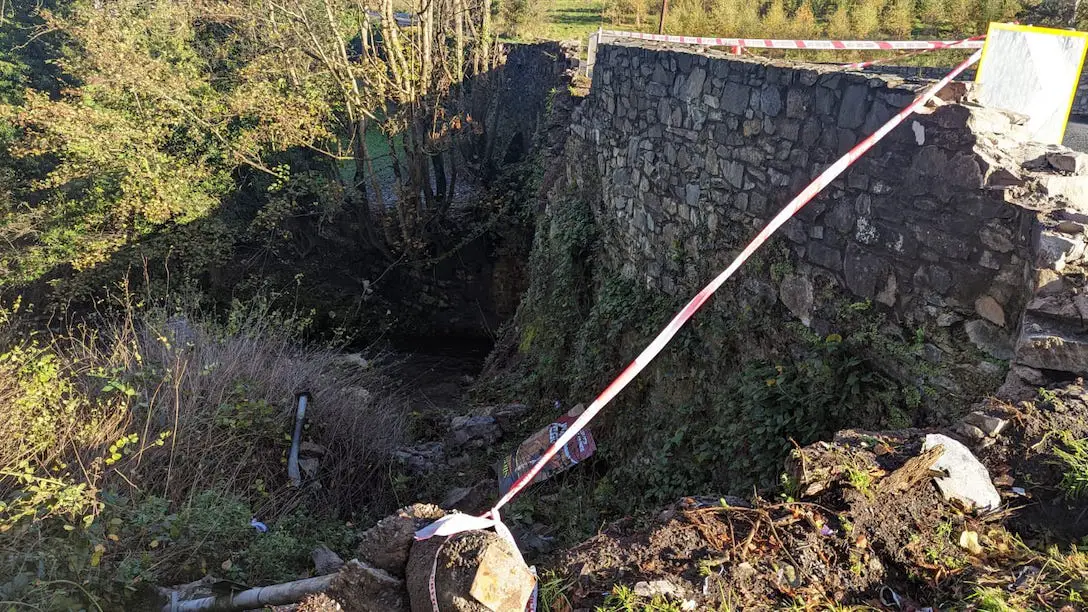 Passers-by helped rescue the two men and one woman from the vehicle which had gone off at a similar point – just six weeks after a lorry crashed through the wall on the opposite side of the road.
What remains of the wall is very little but we took a closer look this afternoon and the little that is left is unstable and dangerous to approach.
Another similar incident in treacherous conditions could prove fatal with next to nothing stopping a vehicle from falling over the edge.
Following on from our own assessment of the scene, SDLP Councillor Thomas O'Hanlon has raised the matter and sought action.
And he expressed his relief too that this morning's collision had not ended in tragedy.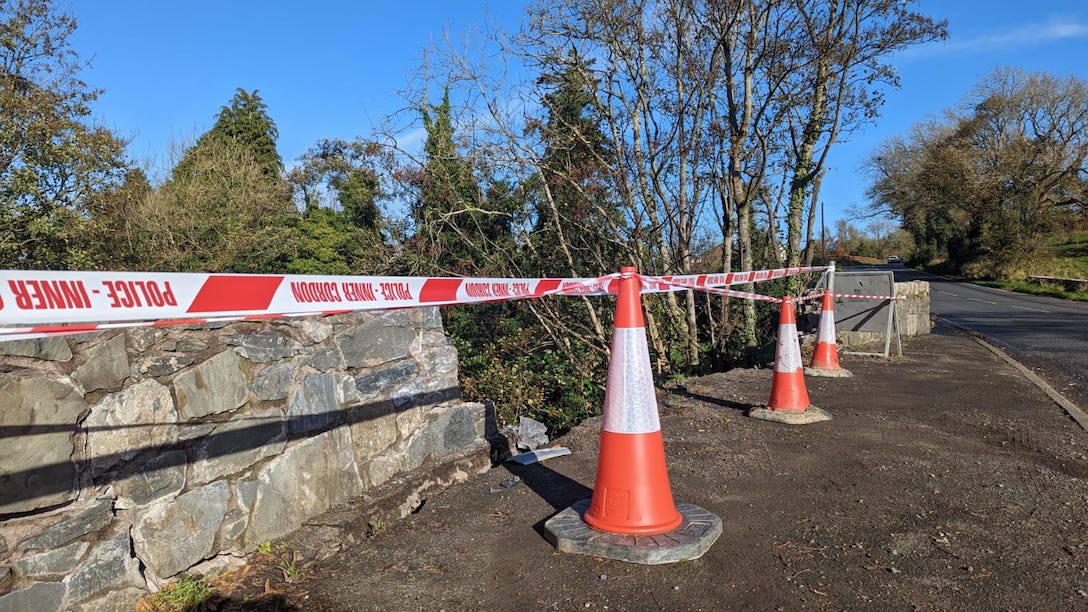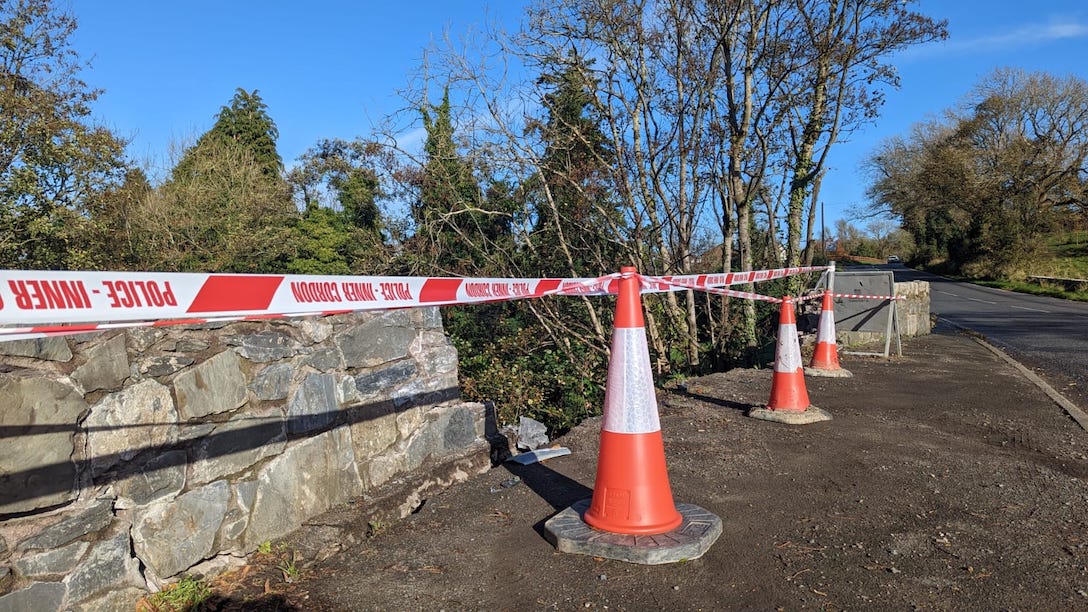 He said: "Thankfully no one was seriously hurt but serious action is needed before someone is killed.
"Earlier this week I requested a meeting on site to discuss improvements and this is being arranged at present.
"In my view, a crash barrier is an absolute necessity. This latest incident only reinforces the need for urgent action.
"In the interim temporary safety measures are being put in place and the road layout and warning signage is being reviewed."
And Councillor O'Hanlon's advice to drivers was simply.
"In the interim please approach the bend with care," he added. "This is a fast sweeping bend, please just take your time."
Sign Up To Our Newsletter