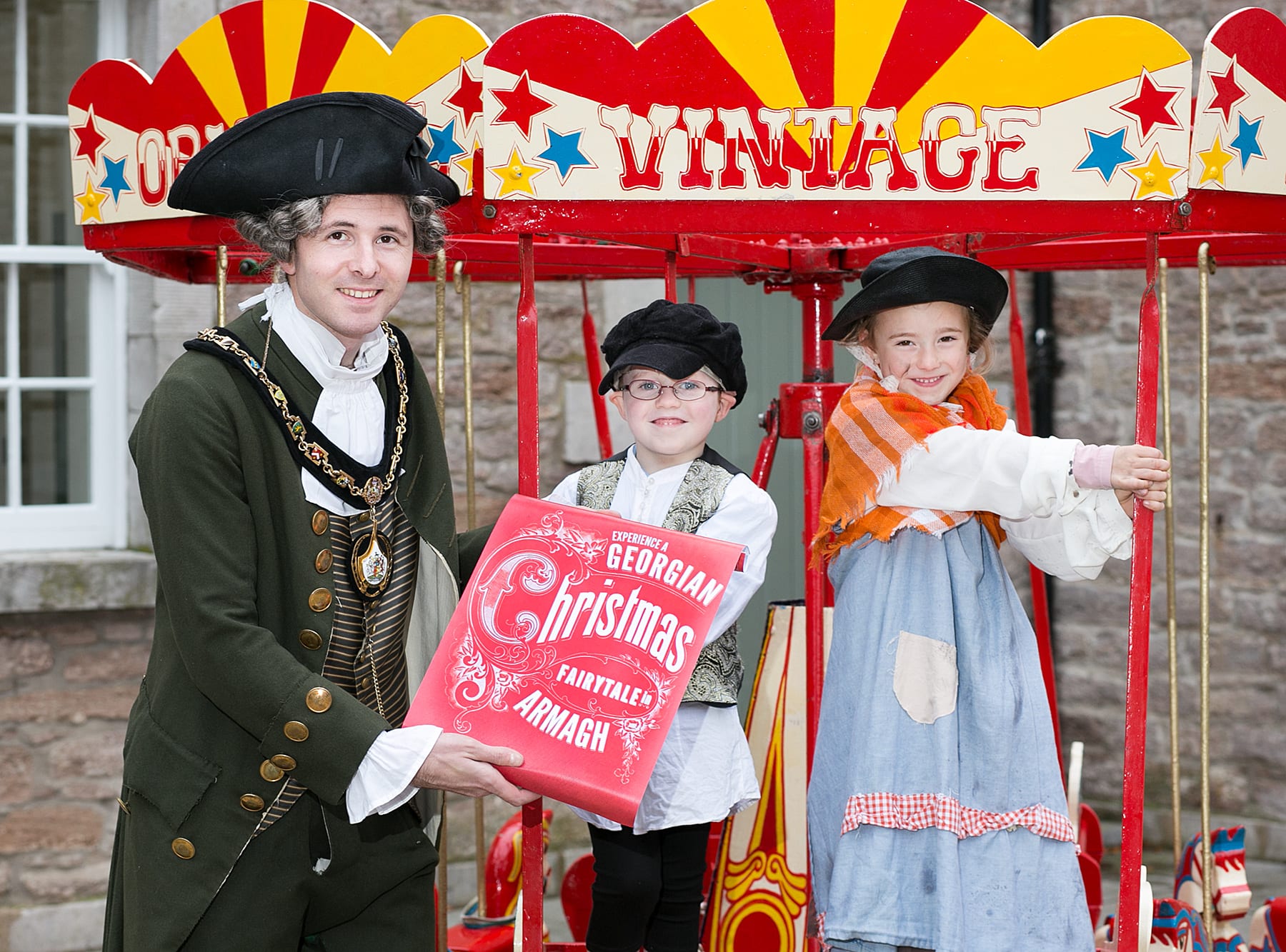 The magical excitement of Christmas will descend on the historic streets of Armagh on Saturday, 28 November as the beautiful city gets ready to stage its biggest and best Georgian Day extravaganza yet.
After welcoming more than 25,000 visitors last year, the event is inspired by Armagh's unique and historic Georgian cityscape – and this year the city will be transformed into an awesome winter wonderland, with a packed schedule of family-fun events, activities and entertainment to enjoy from 10am until 9pm, most of which are free of charge.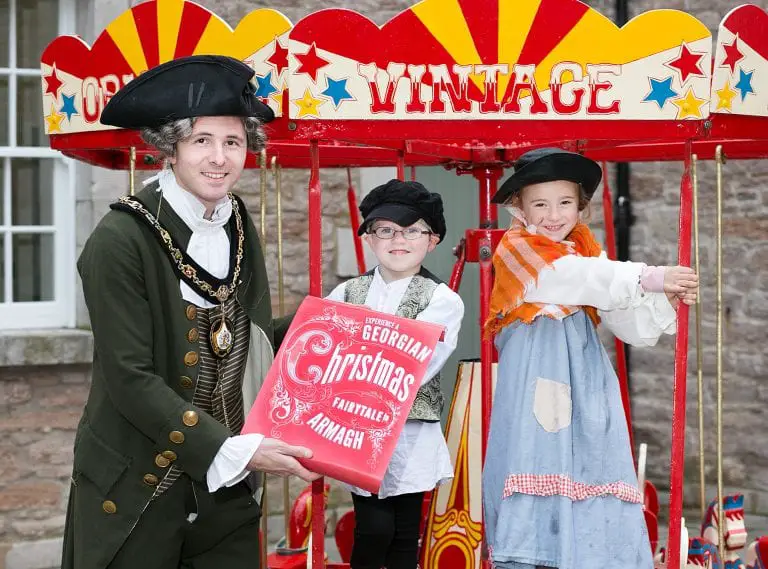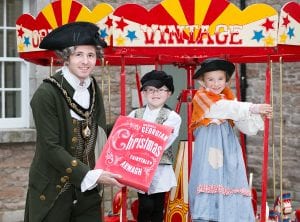 More than 70 festive stalls will line the city streets offering locally produced food, drinks and high quality gifts, with stallholders serving customers in Georgian outfits against a backdrop of traditional Christmas music and entertainment from local singers.
Step back in time along the Mall and enjoy a traditional horse and carriage ride with family and friends. Be sure to have a chat with the Georgian gentry who will be wandering around the city, happy to talk to you about their city.
New for 2015, the Children's Market at The Shambles Yard will play host to a fantastic range of family friendly festive experiences including a carousel, real reindeer, fairground games, crafts, stalls and a kids' disco. Christmas workshops including glass bauble and Christmas cookie decorating, plus letter writing to Santa, will ensure everyone is entertained. Activities at the Children's market continue well into the evening with fire performers and large willow lanterns providing a canvas in the night sky.
The highlight of this must-see festival is the Georgian Day lightshow, which takes place at Armagh's famous Market House amid its stunning Georgian surrounds, where crowds will enjoy a jaw-dropping experience as the local landmark bursts into life with the stunning 'T'was the Light before Christmas' show that takes place on the hour, every hour, between 5pm and 8pm.
Visitors can also leave behind the hassle of driving from Belfast by making use of the special Georgian Day shuttle tour which departs from the Visit Belfast Welcome Centre for the day at 10am.
Lord Mayor of Armagh City, Banbridge and Craigavon, Councillor Darryn Causby, said: "Armagh's annual Georgian Day event has for more than a decade been hailed an unrivalled success among visitors from near and far who return to catch the magic and atmosphere of this thrilling event which is packed with Christmas fun, fayre and excitement.
"This year, we guarantee even more fun, more events and even more laughter and entertainment and we look forward to welcoming all those families, friends and acquaintances keen to share in that real magic of Christmas back to the city to get this year's festive celebrations officially under way."
"We have also made it even easier for even more people to come and enjoy Georgian Day this year by arranging a special one day, return journey, shuttle bus direct from Belfast, which will take visitors from farther afield directly to the action."
After the day's festivities, Santa and his elves will welcome children of all ages to Navan Centre and Fort from Saturday, December 5th, also allowing them a sneak peek inside his workshop at McCrum's Court.
Opening on Friday, December 4th and celebrating the tradition of pantomime at its very best, 'Little Red Riding Hood' promises an unforgettably-festive experience for ages 5 to 95! Be prepared to howl with laughter as this magical, fun-filled adventure presents a fabulous cast of characters, catchy songs, audience participation and plenty of bite – all the better to entertain you with!
Celebrating Christmas through the ages and the historical significance and heritage of Armagh, Craftswirl will showcase how the festive season would have been celebrated in Georgian and Victorian times as well as during World War II, with food and craft stalls on Saturdays throughout November and December.
For those wanting to see the science behind the story, the Armagh Planetarium journeys back over 2,000 years to Bethlehem, to discover a scientific explanation for the star the Wise Men followed to find the baby Jesus, in the digital theatre show 'Mystery of the Christmas Star'. This modern re-telling of the Christmas story will charm and captivate all ages.
For more information on Georgian Day, travel and transport options, in addition to all the events on offer in Armagh this Christmas, please visit www.armagh.co.uk/georgian.
Picture: Lord Mayor of Armagh City, Banbridge and Craigavon, Councillor Darryn Causby is joined by J.P. Donnelly (5) and Tara Brennan (6) in inviting everyone to come and celebrate the wonder of Armagh's annual Georgian Day on Saturday, November 28th.
Read more news:
Lord Mayor of ABC council opens Books of Condolence
Daisy Hill cuts: 'Same trick pulled on us at the Downe Hospital'
Cross-border policing corridor to target criminal gangs and dissidents
McDonalds forced to pull the plug early after fighting breaks out
Pictures show just how lucky man was following co Armagh accident
Civic buildings to be lit up and book of condolences in wake of France terror attacks
Archbishop of Armagh calls for solidarity and prayers for the people of Paris
Sign Up To Our Newsletter