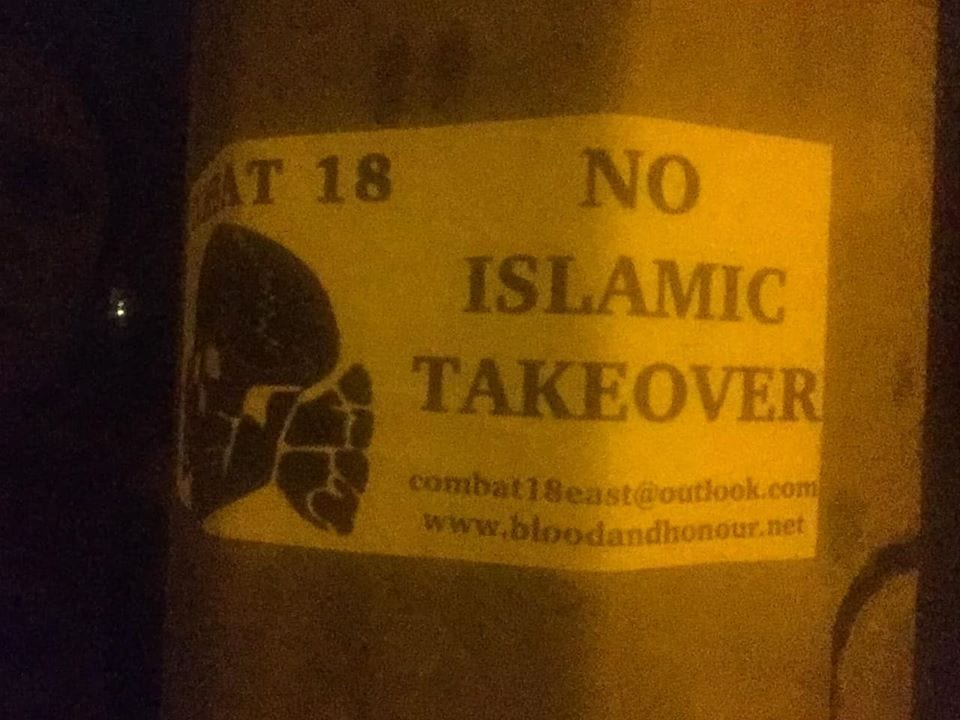 A local councillor has condemned the placing of Anti-Islamic stickers in Armagh and says there is no far right wing grouping that he is aware of in the city.
They were pasted in the Folly area of the city and provide email contact details for the organisation.
The stickers – from the neo-Nazi group Combat 18 – had been attached to lamp posts and carried the words 'No Islamic takeover'.
Speaking to Armagh I, Ulster Unionist councillor Sam Nicholson said: "Nobody wants to see that sort of thing in the city and it should be condemned by everybody but we have to be realistic.
"These stickers are available on the internet and anybody could be doing it; I've lived in Armagh, not in the city but in the outskirts around it, pretty much all my life and I am not aware of any big right wing movement out there."
The councillor stated that he had been in contact with Policing and Community Safety Partnership (PCSP) who would be removing the posters this morning (Thursday).
The city councillor added: "We do not know where the culprits are from, and I know a lot of people from the area; I travel with people from all parts of society, and I am not aware of any far right wing groups in Armagh.
"Obviously people have their own political views, but at the end of the day this is severe – Combat 18 is devotist Nazism!
"As far as Council is aware, this is being dealt with this morning and any hurt that has been caused around the Folly is something that has to be condemned."
He added: "These sort of things are not helpful in our communities, especially when there are issues relating to people who have lived in Armagh all their lives and others coming in with different cultures and beliefs.
"We don't want people of the Folly, as well as people who have come into the city from other parts of the world thinking Armagh is a racist city.
"Hopefully in time the people who did it will reflect on it, and anyone who knows anything about it, should give information to the PSNI."
Earlier, Alliance councillor Jackie Coade said "this type of intimidation will not be tolerated in our city".
Sign Up To Our Newsletter