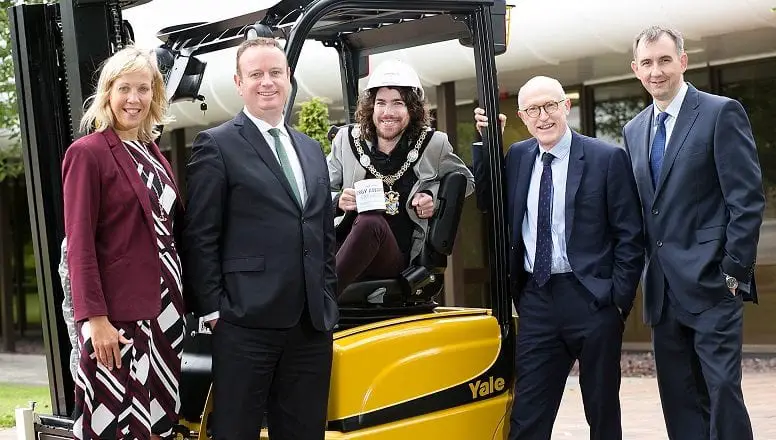 A stellar line-up of energy experts and advisors has been assembled by Armagh City, Banbridge and Craigavon Borough Council for a compelling event aimed at businesses and organisations seeking practical advice and assistance to better manage their energy needs and cut costs.
The council's first specially-arranged Energy Awareness Breakfast, in collaboration with Manufacturing NI, takes place at the Civic Centre, Craigavon on Thursday 15th September at 8am and businesses across the borough are invited to attend.
Former UTV presenter, business and energy expert Jamie Delargy, will host the practical, advice-driven two-hour event. Jamie will also chair a panel of experts who will each answer questions directly posed by those who attend.
Launching the initiative, Lord Mayor of Armagh City, Banbridge and Craigavon Borough Council, Cllr. Garath Keating, said: "Local business owners and managers face challenges on many levels and it is clear that energy costs remain a significant issue. However, with more information, more practical advice and new insights, we are keen to encourage everyone to explore the opportunities which energy efficiency brings and how it can boost competitiveness and improve cost-saving.
"There are many potential options, solutions and ideas available and we hope that this practically-oriented, focused event will encourage businesses to use it to unlock more potential and address the issue head on."
Growing the local economy is Armagh City, Banbridge and Craigavon Borough Council's top priority and this collaborative event will assist in delivering to local businesses advice on how to effectively reduce energy consumption to cut costs while providing a full range of financial, technical and advisory support available to properly and quickly address the issue.
Stephen Kelly, Chief Executive, Manufacturing NI, said: "Energy costs remain a big burden for business in Northern Ireland and despite the clear benefits of energy efficiency, and the consistent improvements that many businesses have made, there is significant amount of untapped potential.
"While more needs to be done at a policy level, many local businesses are still paying more than they need to – and this key event has been specially-designed to address this."
Read more news:
Bunzl confirms new Armagh HQ to be open 'before end of 2017'
Is this for real? Minister 'no plans' for new-build at Markethill High
Charity grant iPad wish to help Aaron communicate with family and friends
Information appeal after burglars make off with cash and jewellery
Former Armagh GAA star Jamie Clarke training with New York Red Bulls
Loughgall company acquires slaughter business and safeguards jobs
Moy woman still in agony four years after suffering horrendous hogweed burns
Sign Up To Our Newsletter