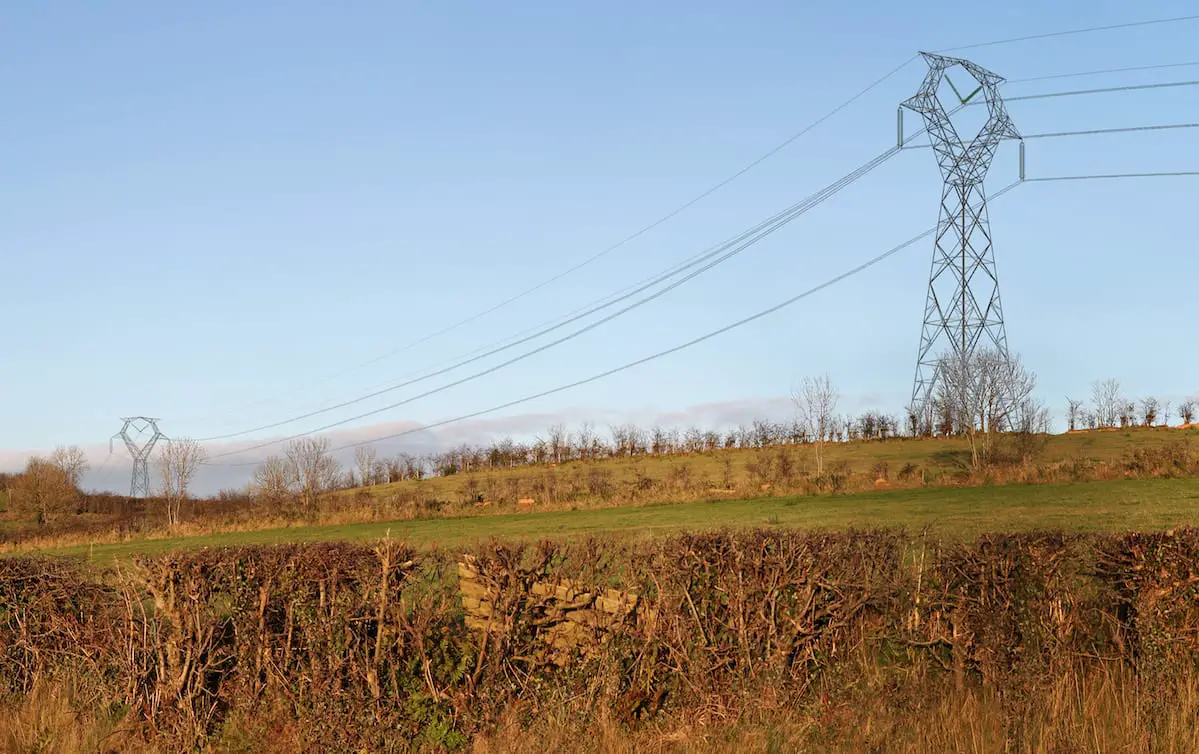 Controversial plans for a North South electricity interconnector – which starts in Moy and passes through Co Armagh en route to the border – have been given full planning approval.
Infrastructure Minister Nichola Mallon has today confirmed that she has granted full planning permission for the for the 400kv overhead electricity line connecting with the Republic of Ireland.
The applications were previously approved by DfI on 23 January 2018, however following a legal challenge and a court ruling, the two applications to secure NI's electricity supply were quashed by the courts and remitted back to the Department for determination.
Minister Mallon said: "Following the quashing of the previous decision, I have carefully reconsidered the proposal and the up-to-date environmental information and have concluded that planning permission should be granted for the development which remains of strategic importance for our island economy.
"I have also taken into account the report by the Planning Appeals Commission that included a full consideration of the planning issues and endorsed the significant strategic importance of the development for Northern Ireland and its compliance with planning policy.
"The North South Electricity Interconnector remains crucial to handling growing demand across the electricity transmission systems across the island of Ireland, promoting greater competition within the Single Electricity Market (SEM) for wholesale electricity trading and to protecting security of supply.
"It will also enhance network stability and support the future growth of renewable generation and help support our economic recovery from the Covid-19 crisis. These economic and system benefits will benefit citizens across our community."
SONI, the Electricity System Operator for Northern Ireland operates and plans the electricity grid in Northern Ireland.
It has welcomes the decision by Minister Mallon and says it will be a catalyst for Northern Ireland's response to climate change, reduce consumer costs and provide a secure long term electricity supply for NI.
It says the projecy is a "high capacity and resilient link between the electricity grids in Northern Ireland and Ireland and will remove costly blockages on the network".
SONI Managing Director Jo Aston said: "We welcome this positive decision from Minister Mallon. The North South Interconnector is undoubtedly the most important infrastructure scheme on the island today and will deliver very real benefits to domestic and commercial consumers.
"The project is, without question, a key enabler for economic growth as Northern Ireland emerges from the Covid-19 pandemic. It will create local construction jobs through its delivery programme; will help reduce the cost of electricity and will provide a route to market for renewable energy at a time when the green collar sector needs it most.
"The North South Interconnector is the safeguard Northern Ireland needs against any changes to surplus or deficit of power generation; providing local business and foreign investors certainty that Northern Ireland offers them a clean, efficient and reliable electricity supply.
"While we recognise this project is to the benefit of everyone, we will continue to work to ensure that it is delivered at the least possible impact to the communities and landowners who are hosting it. Our project team is available to discuss any queries or concerns anyone may have.
"This vital project has been in the planning system for more than a decade, including extensive consultation and two public inquiries neither our economy nor our climate can wait any longer. Let's get it done, together."
Upper Bann MLA Dolores Kelly added her own welcome and said the decision shows that the SDLP Minister is "serious about delivering all-island infrastructure that provides new opportunities for business".
Mrs Kelly said: "The North South Interconnector is one of the most strategically important infrastructure projects on this island. For well over a decade, businesses have been calling for this development which will secure an efficient all-island energy market, increase our use of renewable energy sources and reduce electricity costs.
"Nichola Mallon is again demonstrating her commitment to delivering all-island infrastructure that will provide new opportunities for people and businesses in all of our communities."
Alliance Councillor, Brian Pope, was behind the move too as he said the North-South Interconnector planning consent could create unprecedented economic and renewable opportunities for the borough.
The Banbridge Councillor, who is also chairman of the Economic Development and Regeneration committee, said: "The North-South Interconnector will help facilitate a secure, sustainable, and cost-efficient electricity supply for homes and businesses across our borough.
"Increasing the capacity of the all-island electricity grid will lower bills for people and create unique opportunities for economic development, employment and investment.
"We already have a strong manufacturing sector in our borough which will benefit from lower energy costs. But our region can also become a leader in maximising the renewable energy opportunities that result from this project.
"Investment in these industries and in sustainable transport, including the introduction of a network of vehicle charging points can help transform our area. Technological advancements like SMART grids and energy storage solutions can also drive efficiencies and reduce carbon.
"If we commit to clean and inclusive growth we can help attract inward investment, boost tourism and drive our local economy.
"I welcome the decision to grant planning permission for the North-South Interconnector and look forward to the opportunities that this will bring."
The move wasn't wholly welcomed today, with Jim Lennon, chair of SEAT (Safe Electricity Armagh and Tyrone), stating: "We are very disappointed with the premature decision taken today by Infrastructure Minister, Nichola Mallon, ahead of the publication of the Energy Strategy for Northern Ireland next year. Why rush a decision that will live with us for the next 40 years?
"It is remarkable that, after over a decade, it is still unclear why we need the interconnector, how much it will cost and who will it benefit, particularly as Northern Ireland is a net producer of energy and Ireland operates a net deficit.
"The world has changed dramatically in the past eight months, let alone the 13 years since the rationale for the interconnector was first put forward. Given the painful shortcomings which were exposed by the RHI scandal it would be rash to proceed with one of the largest investments ever in our energy infrastructure without an up-to-date energy policy framework.
"We are potentially sleepwalking into another RHI-style energy debacle. Northern Ireland does not have a good track record in energy policy and the public will fail to understand why they should pay for a project which is not proven when they are facing the greatest recession for generations, and when there are more pressing investments required to upgrade energy infrastructure in the west of Northern Ireland.
"Eirgrid recently announced that an underground cable or an upgrade of the existing line are viable options for its proposals to enhance energy capacity between Kildare and Meath. Why has Eirgrid/SONI refused for 13 years to consider either of these options for the North South Interconnector? If it is good enough for the people of Kildare and Meath, SEAT will accept nothing less for the people of Armagh and Tyrone.
"We are not anti-development, but we believe any proposal must be evidence-led and properly take account of the impact it will have on local people.
"I agree with Minister Mallon that we need 'to deliver a sustainable infrastructure that supports the region's economic wellbeing and indeed improved wellbeing for all'. This project, however, fails on both counts."
Sign Up To Our Newsletter