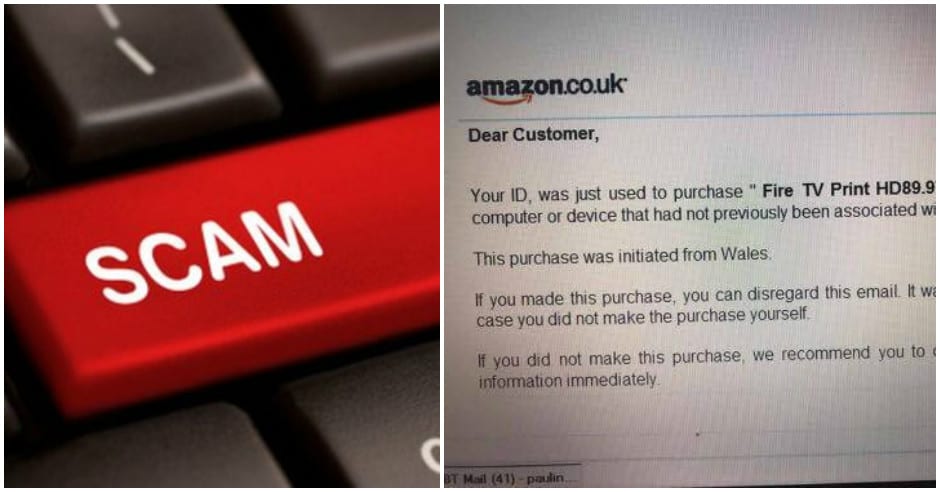 Yet another email scam doing the rounds.
This time it is claiming to be from Amazon and looks very official.
Unfortunately, given this time of year, there is an upsurge in tricksters trying to con cash and take advantage of people ordering items online in the run-up to Christmas.
Many people nowadays do indeed have Amazon accounts and will have used them regularly, particularly pre-Christmas.
The scam asks people to disregard if they made the purchase listed. But, if not, they are advised to click on a link which will take them to another page where they will be asked for personal information, including banking details.
The Armagh woman, who received this email, does indeed have an account which she uses.
She said: "I went on to my Amazon account and checked my order history so that's how I knew it was a scam."
Similar emails are also circulating in relation to ebay, PayPal and other popular accounts.
The sad reality is that, from time to time, the con artists will hit it lucky and by then it will be too late.
Please do take extra care and never, ever divulge personal information to unknown or unauthorised parties.
Read more news:
Almost 8,000 street lights broken and Southern Area waits longest for repairs
Parrot on the loose after escaping from home in Armagh
Man charged as part of investigation into theft of sheep and farm equipment
Translink timetables 'a mess' as 8,000 passengers less use Portadown station
Lorry blows out tyres causing commuter delays in Armagh
Home Bargains respond to concerns over future of Armagh store
Carbon monoxide detected at house where pensioner found dead
Up to 30 teenagers involved in anti-social behaviour at Sherry's Field
Key school routes will NOT be gritted despite safety concerns
Free Giveaways and Newsletter
Become an Armagh I member – for FREE – for all our great giveaways and regular newsletter. Sign up here.