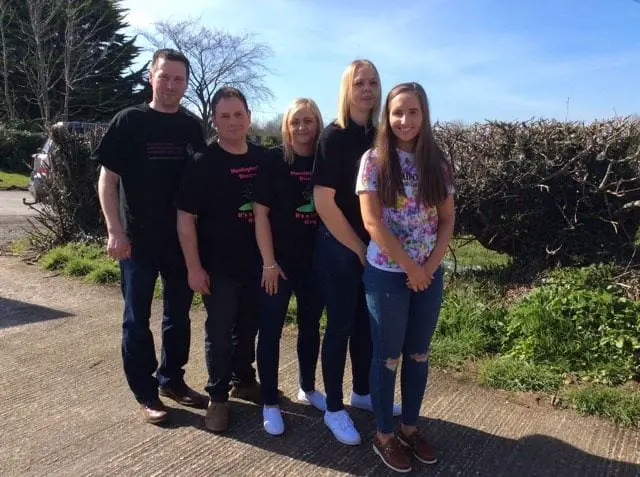 A Co Armagh teenager – whose mum was diagnosed with Huntington's Disease almost five years ago – says her family has been overwhelmed by the response to a recent fundraising coffee morning.
Over 500 people turned out for the event.
And Chloe Hawthorne, from Redrock, is thrilled with the amount raised and is already looking ahead to more fundraising activities.
Chloe says her family have received great support from the Huntington's Disease Association of Ireland and last year the extended family raised over £10,000 for the charity.
The 17-year-old lives with mum and dad, Helen and Alan, and sister Sophie.
Helen inherited Huntington's Disease from her mother, in July 2012, and has been experiencing symptoms, including depression and severe mood-swings.
Helen's cousin, Janice McCartney, lost her father to Huntington's Disease.
Chloe has become heavily involved with the Huntingtons Disease Association as a member of the youth committee.
Speaking earlier this month – as they pressed ahead with plans for the coffee morning – the Royal School Armagh student bravely revealed: "Coping with Huntington's is extremely difficult as the condition is constantly changing. However, we have a very strong family and friends to support us.
"Also, HDANI has been a huge help to us as a family. My mum and I attend the Support Group in Armagh which takes places every month. It gives us a chance to ask questions and share experiences and learn from other people in the same boat. It also gets mum involved with meeting new people who suffer from the same condition.
"HD can be very scary as it means lots of changes but my sister and I also take part in special youth events with a counsellor and other young people and that really helps us deal with things.
"I am a member of the youth committing for HDANI and I want to help make a change within the charity and help others in the same situation as myself.
"Unfortunately this year there has not been any youth activities running due to a lack of funding which I think has a negative impact on young people involved with HD.
"These youth events give us a chance to express how we feel with others and also to go away for a day and complete activities that we wouldn't get the chance to do with our families. We need more funding for these types of event and its heartbreaking that the youth group is disadvantaged due to no funding."
To that end a coffee morning was held and the response was amazing.
Chloe told Armagh I : "On behalf of the Hawthorne and McCartney family I would just like to thank the people who came to our coffee morning on Saturday.
"Over 500 people attended.
"We are overwhelmed that we have raised over £6,357 and there are still more donations coming in!
"We cannot believe how generous everyone has been, it really is mind blowing!"
Spurred on by the support and success, Chloe is asking everyone to make a note in their diaries for Saturday, September 9.
A special fundraising barn dance is being held, with the special guest being the brilliant Ritchie Remo.
More details will follow closer to the time.
For now, please continue to show your support and remember that it really does make a difference and it really is appreciated!
Sign Up To Our Newsletter