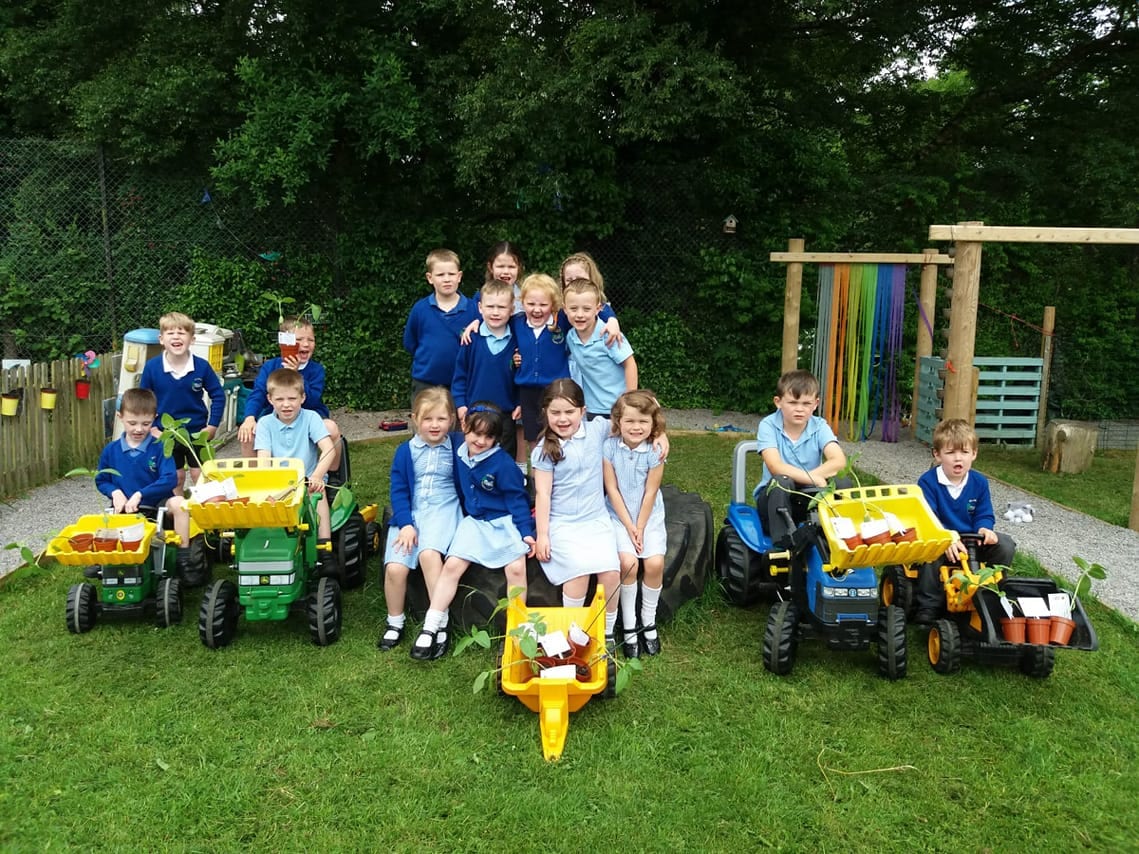 Anyone seeing the children of Killylea Primary School pedalling toy tractors and trailers through the village this week would have been forgiven for thinking it was all for play.
But they'd be mistaken – for these young ones were on a mission!
Indeed, they were out and about as part of a very special and unique exercise to help celebrate a milestone anniversary.
And once again this fantastic Co Armagh school proved, in doing so, it is well placed at the heart of the community with that same community very much in its heart!
Killylea Primary School is about to mark 80 years at its current location, so it was only right and proper that something different and unique be arranged.
Principal Pam Lowry has previously watched with pride as the children – with the support of their families, staff and the village as a whole – scooped a national award for cycling to school.
Now she and the Killylea team are thrilled to watch the children excel themselves again in what is an historic year.
Ms Lowry told Armagh I : "We are celebrating our 80th anniversary school year and thought this would be a good way to kickstart the year and get the community involved."
And get them involved they certainly did!
A magnificent scene this week, as the children set out on a convoy of tiny tractors and trailers, making their way around the village.
Their goal?
To leave villagers a tiny gift – a little sunflower in a pot – with some very express instructions on a card attached!
In the same way that Killylea Primary School nurtures and helps its pupils grow, the children are asking the good folk of the village to do likewise with their sunflowers.
Over the course of the school summer holidays, they are being urged to water and care for them and help them grow.
And, if they can do that, they could pocket themselves £80 – in celebration of the 80th anniversary!
All they have to do is grow their sunflower to at least 80cms in height, take a picture and send it back to the children at the school befored the deadline on September 21.
The tallest sunflower will win the prize in this very creative and apt initiative.
Ms Lowry said it was a real school effort and the children are really enjoying playing their part!
"P1 and p2 have been planting and looking after the seeds," she explained.
"We also had a stall at Armagh Show and planted 300 pots with the children, and gave out 200 planting kits, so hopefully there will be lots of sunflowers around Armagh!
"As a small rural school we love to get our pupils outdoors and gardening. It also supports our eco-work."
We're sure you'll agree a brilliant idea indeed and a great effort by all involved.
Top of the class, Killylea Primary School, simply top of the class!
Sign Up To Our Newsletter