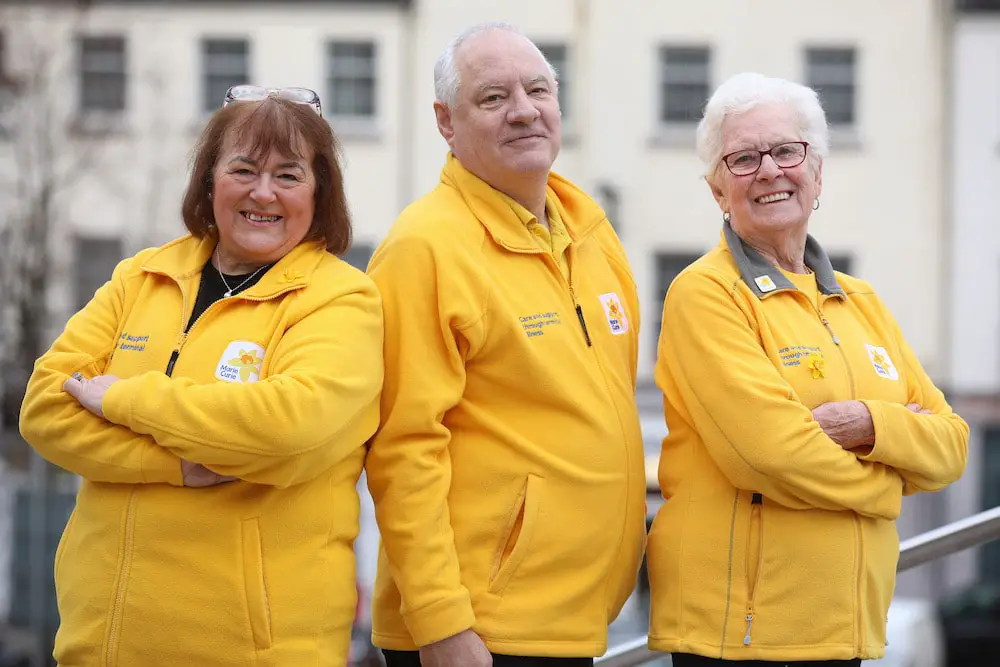 After collecting an estimated £1.2m over the last 30 years to support Marie Curie Nursing care for terminally ill people, the Armagh Marie fundraising group has been honoured by the city.
The group were being treated to a civic reception at Palace Stables Heritage Centre in Armagh where its immense local contribution to end of life care was officially recognised.
Councillors, including Lord Mayor, Councillor Paul Greenfield and Alderman Gareth Wilson who proposed the reception, were present for the event tonight (Tuesday).
Chairperson Renate Kyle was a hospital theatre nurse who also nursed for Marie Curie when she became one of the founding members of the local group at the end of 1992.
"I was working as a nurse for Marie Curie and I felt that I could do more to raise the profile of its work in caring for terminally ill people in the Armagh area," said Mrs Kyle.
"When the group was set up around this time in 1992, I went along to the first meeting and was involved in the group from the very start with George Earlie, the manager of Woolworths, as the first chairperson. Margaret Neville and Bernie McNeice are also two members who joined not long after who are still actively involved members.
"The first fundraising event we did was a coffee morning in the Cricket Club which went extremely well. After that we did a fundraising event every year, running everything from BBQ's, fashion shows, swimming events, walks, concerts, musical nights, street and shop collections, everything and anything over the years.
"We always got great support from the local community and of course, families who were very grateful for Marie Curie care."
Mrs Kyle and her sister, Rhonda Follis, also raised over £5,000 themselves for the charity over the last two years by doing a 20-mile walk, known locally as The Towpath Walk, from Newry to Portadown.
She nursed for Marie Curie in a part-time capacity for 22 years while also raising her five children, only stopping a few years before she retired just before lockdown in 2020.
"Nursing for Marie Curie meant a lot to me and gave me a lot, particularly long-term friendships with families. I still meet up with the mother of a 14 year-old boy who died in my care every year around his anniversary," said Mrs Kyle.
"There were sometimes when I went into homes where I literally did nothing in terms of care before the person died and people would be thanking me. When I said why when I had done nothing, they answered, 'Because you were here and you took charge when mummy or daddy died'. When you are there for people at their worst time, they remember. They never forget you."
The Armagh group also has acted as the receiver of money raised on behalf of Marie Curie, by families and friends over the years, attending many a cheque presentation.
The grandmother of 10 was overwhelmed to learn that a "conservative estimate" of how much money was channelled into Marie Curie from the Armagh group from 1992 was put at £1.2m by the charity.
She said: "That's truly amazing. The group and the Armagh community can take great pride in knowing that our local effort has made a major contribution to the care of terminally ill people in Northern Ireland in their last few days and hours.
"We would like to thank everyone in Armagh, who have generously donated either cash, their time or prizes for raffles, etc and for all of their support. We really do have a very kind and caring community."
Mrs Kyle added she was delighted that the Armagh group and its supporters would see that their effort and generosity was publicly recognised.
"We have had such tremendous support and generosity over the years, from one local gentleman in particular, Sean McArdle from MT Waste, who has raised money for the past 10 years, giving Marie Curie just over £30,000 this year alone, usually from his annual lorry charity run which goes around all the villages in Armagh. Local priest, Fr Sean Moore and his family, have raised over £35,000 so far from the raffle of a pedigree heifer and other raffles in memory of his late sister Rose."
Phil Kane, Marie Curie's Community Fundraiser for the area, praised the collective effort of the Armagh group over its 30 years.
He said: "We are always humbled by the support we receive from the families we have helped and the wider public, and indeed, by anyone who is prepared to give of their time as a volunteer or to put their hand in their pockets.
"But to keep that effort going from one year to the next, over 30 years, is really a remarkable effort raising, by a conservative estimate, somewhere in the region of £1.2m. It's truly heroic."
Ciara Gallagher, Marie Curie's Head of Philanthropy and Partnerships for Northern Ireland, added: "This is an incredible milestone for the Armagh Fundraising Group.
"The funds they have raised over the years will have had a lasting impact on many, many families in the local community who have benefited from the support of Marie Curie nurses in their own homes when their loved ones were terminally ill.  The group are a joy to work with and their long service is highly valued and apprenticed by all at Marie Curie and the people we support.."
To find out more about fundraising or volunteering for Marie Curie, go to www.mariecurie.org.uk/get-involved.
Sign Up To Our Newsletter