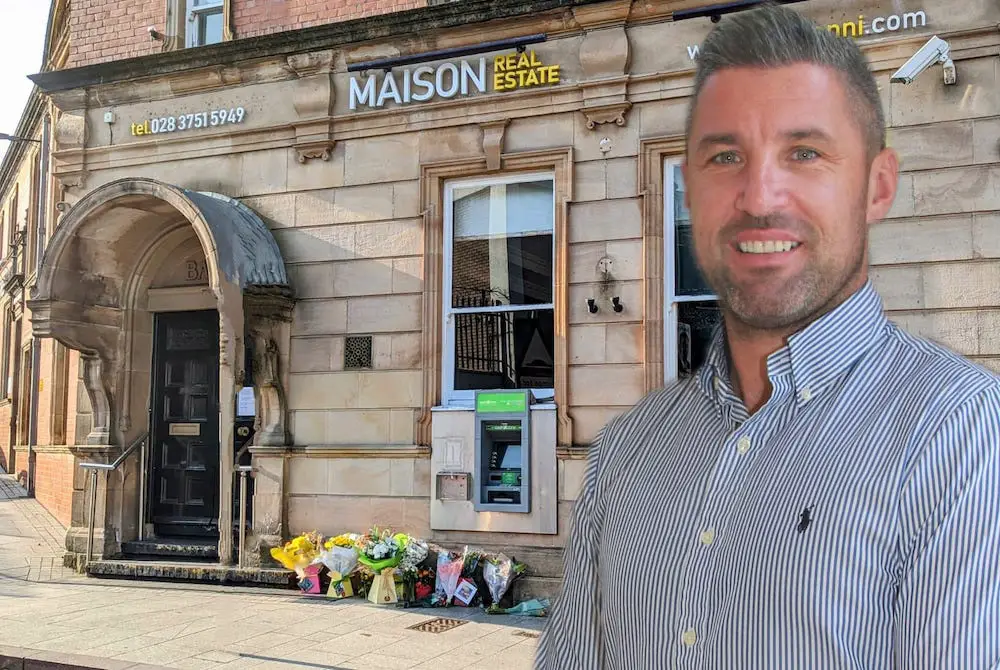 A riding hat and a set of keys were placed on the altar during the Requiem Mass for Armagh man Ciaran McGurgan, to represent his two great loves – horses and houses.
Ciaran, who owned Maison Real Estate in the city and was a keen and accomplished horseman, died suddenly on Saturday evening, aged 41.
At a funeral service today (Wednesday) in St Patrick's Cathedral, Fr Peter McAnenly told mourners there was  a great sadness in the community on Saturday night and Sunday morning as news filtered out of Ciaran's "sudden and untimely" death.
He said it was almost as if a "great cloud" has been hanging over the community and that many people had been left "stunned and very saddened" at the circumstances of his death.
Fr McAnenly said the greatest gift people could offer each other at times like this was "the gift which Ciaran himself so often gave to many, the gift of the listening ear and the gift of our presence".
He said it was a time for his friends and family to remember the good times they shared and to give thanks for the wonderful memories he left.
"While he was still very young in the world with so much to live for – at 41, he had packed a lot in and achieved much – in the years that he was here among us, he certainly lived life and he lived it to the full," he said.
He told the congregation that although so much good is being done in our world each day, so too is there a lot of evil.
"We see it manifest itself in so many ways. And sadly we're seeing it more and more today  in and through social media, what damage it does and what hurt it causes," he said.
"And sadly there are those who use it to try and destroy people or to do great damage to people's characters."
Mourners heard how Ciaran's first job after leaving school was running a sandwich bar in Thomas Street, after which he went to work in retail before moving into property.
"Through his work, he made many wonderful friends," said Fr McAnenly. "How touching it has been to see such an array of flowers at the door of his office over the last few days and, yes, it says a lot about the love and care that people had for him and the devastating impact that his death has had on so many."
He said family was all-important to Ciaran, as were friends, and that he was a man who was very aware of the importance of good friends.
He also loved the outdoors and going for a good walk in the country on his days off.
Fr McAnenly said the countless pictures of family and friends in his home told a story of someone "who lived and loved life".
Referring to his "big heart and his boundless generosity", he said Ciaran was a man who lit up "manys a room in manys a home" over the 41 years of his life.
Prayers of the Faithful were read by Ciaran's nephews and nieces while a Communion Reflection entitled 'Someone Special"  described him as having a heart "so huge, courageous, pure, full and kind".
Ciaran is survived by his partner Paul, parents Boe and Betty, brothers Adrian and Sean and extended family circle.
Interment took place afterwards in St Patrick's Cemetery.
Sign Up To Our Newsletter