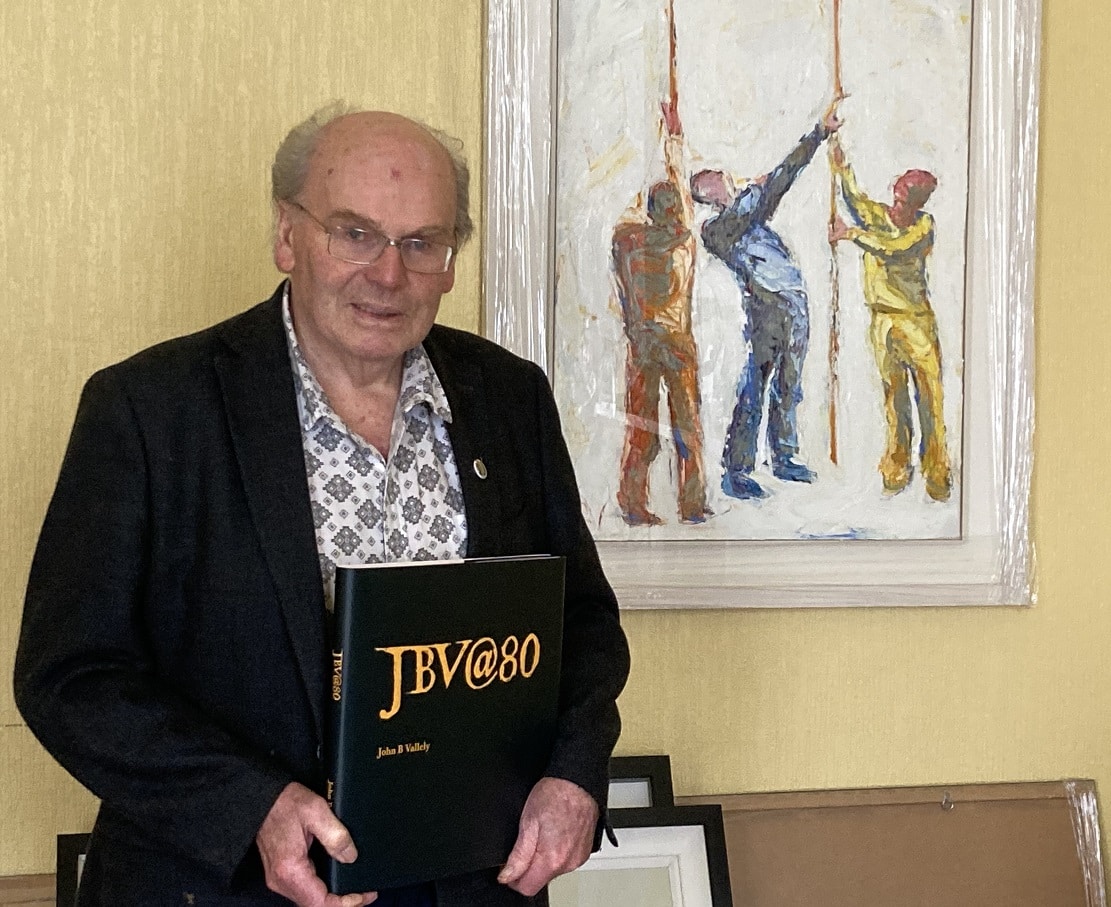 It must be hard not to pick up a paintbrush or a musical instrument when you've being doing it almost every day for the past 60-plus years, but Brian Vallely accepts it's all part of the recovery process.
The celebrated artist and musician is currently recuperating at home in Armagh after open heart surgery, and while he may be curtailed physically for a while, it's not stopping him organising some of the many events he is involved in.
The 81-year-old, whose distinctive artwork graces walls in homes, pubs, galleries and private collections, admits that finding out he had a heart problem back in Christmas 2019 was a huge shock.
He had never smoked, always kept himself fit and walked six or seven miles every day.
"I was absolutely flabbergasted but apparently the birth certificate has a lot to do with it," he jokes. "You start disintegrating as you get older."
However, he has been heartened by a recent phone call with longtime friend, Olympic winner Lady Mary Peters.
"We were in the same gym in Belfast in the 1950s and she had exactly the same operation four years ago. She says she has never felt better," he explains.
For Brian, whose initials JB stand for John Bernard, there have been three constants in his life – painting, music and athletics – and he is also passionate about Irish language and culture.
An Armagh man through and through, he is a founding member and president of Armagh Pipers Club, which is celebrating its 56th anniversary this year, and Armagh Athletics Club, which he formed in 1967.
And his paintings reflect those interests, with many depicting musicians, sportspeople and sporting events.
At the moment, Brian is putting the finishing organisational touches to an exhibition which will take place in Armagh at the beginning of November and celebrates the centenary of the National Athletic and Cycling Association of Ireland in 1922, with guests expected from as far away as the US, Germany and France.
He is also looking forward to attending the 28th annual William Kennedy Piping Festival, organised by Armagh Pipers Club, which is taking place this November from 17-20, and attracts top musicians from all over the world.
Brian was one of five children brought up in Armagh in a family steeped in music, although he didn't start playing until he was at art college.
His parents, in particular his father, were supportive, although being an artist was dismissed by many as "not a proper job".
"Once I got the notion of going to art school when I was a young teenager, I really did deliberately set out to be a painter. I had my first exhibition when I was 17 so when I left art college I had already been exhibiting for years," he says.
"In the 1950s, no one from Armagh was going to art school. It was not even on the curriculum at school and if you did want to do art it was regarded as an option for the skivers. You had to be very determined."
The fact that Brain has made a living out of being an artist is not something he takes for granted.
"I don't know if I could have done it if my wife Eithne hadn't had a good, steady job," he says. "People say it must be great to do what you love for a job but it is still a job."
Brian works out of a studio in a house adjoining the family home, where son Lorcan, also a full-time artist, has his studio and wife Eithne, music director of the Armagh Pipers Club, is based as well.
He has no set routine, sometimes painting late at night or very early in the morning, and before his illness was prolific in his output, painting enough for one or two exhibitions a year.
He has also been teaching music for 50 years and plays the tin whistle, flute and the uilleann pipes.
Both his and Eithne's love of music has been passed down to their five children. All of them played musical instruments when they were younger, and the three eldest boys – Cillian, Niall and Caoimhin –  are now professional musicians while daughter Maire works in the Barbican Theatre in London.
He also has 10 grandchildren and although only two live in Armagh, the family is very close and he sees them all regularly.
In fact, Irish language TV station TG Ceathair will be showing a programme on the family on Sunday, October 9 as part of a series of six on musical families, and will feature some of Brian's children and grandchildren playing together.
Brian also has an exhibition opening in November in Dublin, with the work completed last year before his health deteriorated.
Last year, he also enjoyed a very big exhibition of new and retrospective work for his 80th birthday, with an impressive glossy book, JB Vallely@80, published by ABC Council.
Brian is passionate about following the progress of his pupils and the young people who have been involved in his organisations, whether that be music or athletics.
He is also immensely proud of the Pipers Club, which he, his brother and cousin founded in 1966 and is the longest running music class in Ireland.
"We had a bad setback with Covid but we are nearly back to normal levels," he says. "On Monday night, we had 153 pupils and over 20 teachers at classes in Armagh.
"A lot of the teachers were pupils themselves and we have people's children and grandchildren attending now. It is very much deeply embedded in the area and we are grateful for the support it receives from the council and the public who support it," he says.
Brian is looking forward to returning to painting and teaching music, probably next summer.
Asked about future ambitions, he laughs: "Apart from climbing Mount Everest and sailing around the world, there's very little", before adding: "I want to be able to keep painting and playing music for as long as I can."
Sign Up To Our Newsletter