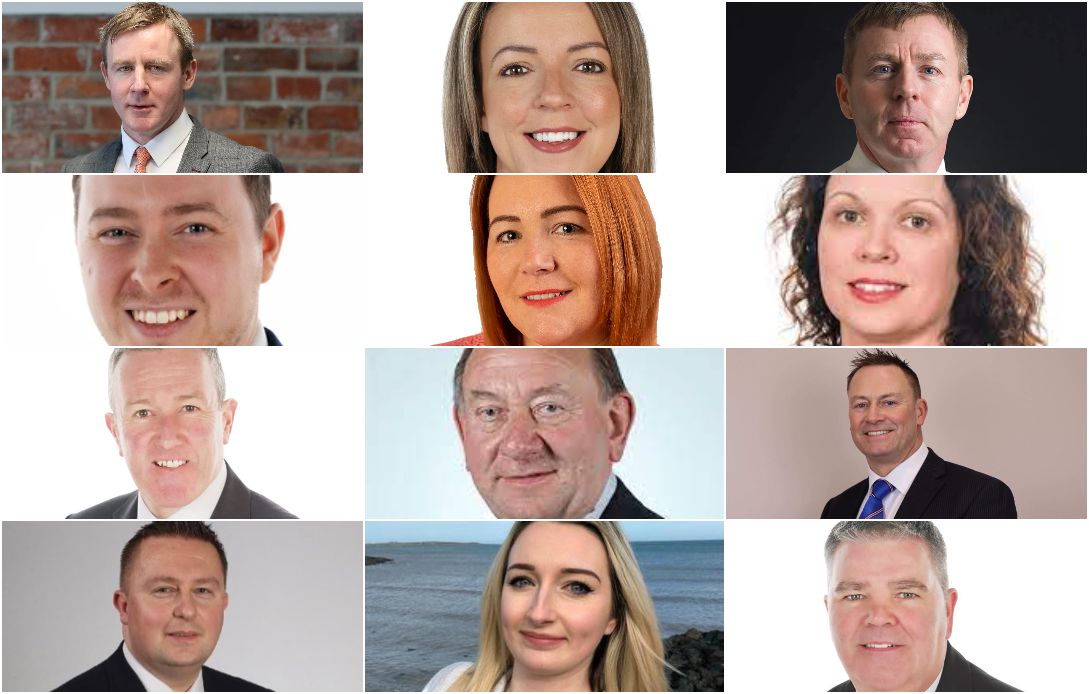 By the end of this week the political landscape could have change significantly – the latest opinion polls suggest as much.
But those polls come with a margin of error – and ultimately the make-up of Stormont will be determined at the ballots on Thursday.
For those living in the Newry and Armagh constituency there are 12 candidates in the running for five seats. Following the last election day in 2017, Sinn Féin managed to take three of those seats – the third at the expense of the Ulster Unionists, while SDLP and DUP made up the other two. 
Armagh I reached out to each of the parties running for seats in the constituency this time around and put a series of questions to each of them. Their answers are detailed below.
At the time of publishing we were unable to garner responses from Sinn Féin, the Ulster Unionist Party and Green Party.
The list of candidates (ordered alphabetically) are as follows: Cathal Boylan (Sinn Féin); Jackie Coade (Alliance Party); Daniel Connolly (Aontú); Nicola Grant (Workers' Party); Ciara Henry (Green Party); William Irwin (Democratic Unionist Party); Liz Kimmins (Sinn Féin); Gavin Malone (Independent); Justin McNulty (Social Democratic and Labour Party); Conor Murphy (Sinn Féin); Keith Ratcliffe (Traditional Unionist Voice); and David Taylor (Ulster Unionist Party).
What is your pitch to the voters in Newry and Armagh?
Alliance Party candidate Jackie Coade stated that she wanted Alliance to be "given a chance", having never had an MLA in Newry and Armagh before.
"I'm simply asking voters to give me and Alliance a chance to prove ourselves in this mandate. If we don't deliver then the voters can vote against us out next time but I firmly believe that, if we are given a chance, we can change politics here and prove a lot of people wrong."
Aontú candidate Daniel Connolly stated that his party has "three pillars: life, unity and economic justice".
"With regard to the national question we're very much in favour of a united Ireland and we're also in favour of restoring the right to life across Ireland and in economic terms we're left of centre. That means we defend the most vulnerable which is part of the reason we're pro-life."
Democratic Unionist Party candidate William Irwin said: "As you will have seen over the past 15 years, I have placed you the voter at the heart of my activities as a public representative at Stormont.
"Taking your views, queries, cases and requests seriously – along with consistent, principle-based lobbying on the issues that matter most, is what I pride myself on. An attitude and ethos of hard work and striving for the right result I know has resonated well with the electorate and I stand again on that same basis for the May 5 poll.
"Your vote for me will help my colleagues and I implement our five point plan to: Fix our National Health Service by investing £1 billion more; Grow our economy and create 20,000 jobs over the next five years; Help working families by delivering 30 hours free childcare per week and tackling the cost of living; Keep our schools world class and importantly work to remove the Irish Sea border."
Gavin Malone, an Independent candidate, said he has "been humbled" by his experience as a councillor in Newry, Mourne and Down, and that he wants to represent people independently in the Assembly.
"I believe as an elected representative in Newry these last three years have been energetic and committed and I'd like to take it a step further in Stormont and I believe I have the capabilities and I would love the opportunity."
Social Democratic and Labour Party (SDLP) candidate Justin McNulty said that he is "as sick and tired as the people are about the traffic light politics that has fatigued us all over the last 15 years".
"We've always put people first, to our own detriment. We want people to come back round to work with us, to work that common ground, to that greater good as our party has always done. Historically, our record has been of working for the greater good of our communities."
Traditional Unionist Voice (TUV) candidate Keith Ratcliffe said that he believes that "unionist voters deserve a fresh, strong unionist voice", and criticised the other unionist parties for "implementing the 45 acts of the protocol".
"The unionist community is very aggrieved about that. They really feel that it's attacking their rights to be part of the UK and it's putting them in a foreign country."
Workers' Party candidate Nicola Grant said that Newry and Armagh needed "radical action".
"I'm campaigning as someone who's local and has worked alongside the community in different charities in Newry and Armagh. I can see the problems we are having in terms of cost of living."
What inspired you to get involved in politics?
Alliance's Jackie Coade said her first involvement was as part of a campaign against the closure of Cherry Tree House, a cystic fibrosis ward in the Royal Victoria Hospital, where her child had been receiving treatment.
"When you have a sick child, or a child with needs, the lioness comes out which makes you go at it."
Aontú's Daniel Connolly said he wanted to get involved as a candidate amid the cost of living crisis, and he explained that, as a working teacher, he has noticed the rise in costs.
"I've been feeling the pinch myself, finding it hard to meet rising costs where wages are staying the same so that's one of the very most important issues in the immediate term."
Democratic Unionist Party (DUP) candidate William Irwin said he was inspired to get in to politics after Dr Ian Paisley visited his home to sympathise and support his family after the tragic death of his son in an accident.
"I found his approach and support so meaningful and genuine and from that encounter I had a desire to get involved and contribute to public life."
Independent candidate Gavin Malone said he wanted to "make a difference" having been a council worker with Newry, Mourne and Down Council prior to his election there in 2019.
"I always had an interest in politics and I decided to run as an independent councillor and I was very fortunate to be elected."
The SDLP's Justin McNulty said he had been inspired after the late Seamus Mallon encouraged him to run in 2015.
"He was a hero of mine and it was a huge surprise and an honour for him to have asked me to step into elected politics because I wasn't actively involved at the time because sport was my primary focus."
Keith Ratcliffe, the Traditional Unionist Voice (TUV) candidate, said he chose to run as he "cares deeply about our country here in Northern Ireland".
"It's a great wee country and it needs to be protected. At the end of the day this country needs to work for both sides of the community and I believe Protocol is the biggest threat in Northern Ireland both constitutionally and economically."
Workers' Party Nicola Grant stated that, having "sat in the sidelines for long enough and complained" that she wanted to offer a "non-sectarian alternative" to the voters.
"I always say that the problems of someone on the Falls Road and the Shankill Road are the exact same day to day problems in terms of the cost of living, fuel crisis, healthcare so we want to include everybody."
What are the biggest issues you have had raised on the doorsteps?
Alliance's Jackie Coade said that the cost of living crisis was the top issue in the election, and said it was "imperative" that an Executive was formed in the aftermath of the election.
"I think it's frustrating when you have parties unwilling to go back into the executive when people are crying out for help."
Aontú's Daniel Connolly listed cost of living and health as the main issues, and stated that, due to the cost of living, that people were "struggling to put food on the table".
"We get a lot of people who are concerned about Daisy Hill, particularly the recent decision regarding emergency general surgery."
DUP's William Irwin said people are concerned about the cost-of-living crisis and also the crisis in our health service.
"These are issues that our five-point plan aims to fix," he said. "We would like to help families with financial assistance via an energy support scheme, energy efficiency schemes and 30 hours of free childcare per week to lessen the burden on working families. In our health service we want to invest an extra £1billion to cut waiting lists using a partnership with the independent sector. We also want to deliver an additional 750,000 hospital assessments and procedures."
Independent Gavin Malone also said cost of living was a top main issue, along with Daisy Hill Hospital.
"We need to secure all the services that are there at the minute; the stroke unit and A&E."
The SDLP's Justin McNulty, likewise, believes that Daisy Hill and the cost of living are the top issues in the election.
"We're trying to represent those concerns and that's why the SDLP are putting forward a very positive, radical action plan in terms of healthcare and the cost of living crisis."
The TUV's Keith Ratcliffe said the Northern Ireland Protocol, cost of living and health were the most important issues he was hearing about.
"The cost of living is going up more in NI than anywhere else in the UK, and that has a lot to do with the Protocol." 
Workers' Party candidate Nicola Grant listed Daisy Hill and cost of living as the top issues in her campaign, saying that the "local area needs a cash injection as people are getting left behind".
"We're living under this threshold in terms of the money we have for wages. A lot of people are struggling with their energy prices".
How would you improve infrastructure in Newry and Armagh? With a focus on Armagh rail-link..
Jackie Coade believes that "we need a railway station [in Armagh] and public transport in tandem with that". She also called for more electric bus services throughout the county.
"It's not acceptable at all and overall I'd love to see a huge revival of the railway and I'm 100% committed to fighting for that if I get into the Assembly."
Daniel Connolly stated that he is "very much in favour" of Armagh having a railway station, and stated that a lack of bus services in the south Armagh area was "damaging people's quality of lives".
"Stormont historically hasn't invested west of the Bann enough, so we really have to increase investment particularly in infrastructure, transport, internet connectivity with broadband."
William Irwin says Armagh needs its own railway line and "I support the PARS lobby group in their efforts to make this happen".
"Important steps forward have been taken and locally the Council has been proactive in supporting along with DFI the Technical Study by consultants. This is an important piece of work and I support the efforts to secure an extension to network.
Gavin Malone stated that infrastructure is "poor and needs to be addressed" and said that, if elected, he would "be looking at that".
"Whatever the people of Armagh decide they want me to do is what I'll do. It will be about being a servant to the people, listening to them and fighting for them."
Justin McNulty said that rail and road links "need to be improved" and that 'the potential for [Armagh] is extraordinary" if infrastructure is improved.
"I've been saying this for many years in terms of reopening the Armagh-Portadown rail link. I think we've done great work in keeping the issue alive and it's part of our strategic all-island rail review which Nichola Mallon has taken forward with Minister Ryan in the south."
Keith Ratcliffe said that building a railway station would "do Armagh the world of good".
"I would be strongly committed, if elected, to bringing it across the line because it will connect us to the rest of Northern Ireland and I think it could boost tourism and investment which we need in Armagh." 
Nicola Grant said that she would campaign to get a railway station in Armagh, and said that there was "not enough" infrastructure in place.
"Our local primary school has 60-70 applicants for 30 places. That's from a housing estate of 300 houses in the area with no infrastructure in the area with roads, and again Daisy Hill comes into the face of that too. We don't have the space for the people but we're putting them in anyway"
How would you tackle the cost of living?
Jackie Coade stated that she would support universal basic income, and wealth distribution.
"I'd like to see a cap on the profits of big companies and redistribute that back into the system, maybe by a universal basic income, to reduce people's costs."
Daniel Connolly said that the Aontú wanted the devolution of fiscal affairs to the Assembly to bring forward policies to reduce the cost of living. He also stated that he was "sceptical about the merits of universal basic income".
"We want to reduce VAT on fuel and we also want to reduce fuel duty itself and that's a great thing because it'll help families heat their homes, it'll help families afford to buy more things."
William Irwin said that as part of his party's plans to help working families "we will deliver in the next mandate 30 hours free childcare per week for 3 and 4 year olds and we will ensure there is fair access to pre-school places".
He added: "We want to ensure working families are not forgotten. We will deliver an Energy Support Payment to hard-pressed households and support the introduction of energy efficiency schemes to support better-insulated homes to help tackle the cost-of-living crisis."
Gavin Malone described himself as a "realist" and said that he wanted to "get the job done", and that "big companies need to be held accountable".
"We need to get everything down in price and it needs to happen quickly because people are struggling."
Justin McNulty stated that the SDLP planned to hand out £200 to everyone in Northern Ireland, as well as introduce a windfall tax on energy companies and introduce 30 hours of free childcare per week.
"Energy companies' profits are soaring, meanwhile people can't put bread on the table. We're saying to tax these companies to get money back into the pockets of the people who are struggling and need that money right now."
Keith Ratcliffe said that whilst certain things "beyond our control" and that he doesn't "want to be telling lies to people", that he wanted to cut fuel duty. He also stated that the Northern Ireland Protocol was partially responsible for the soar of prices.
"I know, in my own business [the protocol] has put considerable cost onto it because I've had to pay my accountant more money, my transport guy is paid more money to bring stuff over from the UK and this is putting pressure on businesses that have to pass costs down to the Northern Ireland consumer."
Nicola Grant called for devolution of fiscal affairs to Stormont.
"I think there needs to be an overhaul in Stormont. The Workers' Party are prepared to do that. We need a system which actually allows Stormont to help people."
How would you tackle the housing waiting list and rising homelessness in Newry and Armagh?
Jackie Coade said that she "doesn't want people being forced to choose between heating their homes and feeding their children".
"We've had a situation where council houses have been sold off and property developers coming in and buying up those houses. We need to tackle that. There are even professionals, like teachers, police and nurses who can't afford to buy their own homes."
Daniel Connolly stated that "there is a need for investment in housing and to make state-planning available for housing".
He added: "[Homeless people] have a home, and their home is Ireland and it seems to me that they're houseless. Ireland should look after them; it's the mark of a decent, humanitarian society to care for its most vulnerable and houseless people are definitely in need of protection and public assistance."
William Irwin says there is an "unacceptable delay in allocated housing to those on waiting lists in Northern Ireland".
"There needs to be a significant investment in affordable housing in order that more people can be offered accommodation at affordable rates in properties that meet their needs and are efficient to run. That is a significant job of work that must be taken forward I will play my part in advancing this issue."
Gavin Malone said that "we're lacking social housing and we need more social and affordable housing".
"I would engage with the Simon Community in Newry and I believe that in the immediate term we need more rooms made available."
Justin McNulty pointed to the SDLP's manifesto, which states that they "will place a legal requirement for councils to complete social housing planning applications within three months and provide funding for additional staff as required".
Keith Ratcliffe pointed out his belief that there was to be "£11 million per year spent on the Irish Language Act", which he believes should be "spent elsewhere".
Nicola Grant called for an end to the "dependency on unscrupulous private landlords".
"We want a cap on rents that can be charged in the private market. There's a long housing waiting list that has to be tackled and dealt with from the housing association. We need to get a building programme of high quality, affordable public housing for people."
What are your views on abortion?
Jackie Coade is strongly pro-choice, and said that the debate around abortion places 'far too much focus on women and not enough on men'.
"Women don't get pregnant by themselves and we don't ever hear about men's roles in pregnancy and their responsibilities. I feel very strongly that healthcare for women should be between her and her doctor with no interference."
Daniel Connolly is pro-life, and characterised his position as "pro human rights". He also stated that he was against the abortion legislation partially due to the fact that it was legislated in Westminster.
"I think all human rights are pinned on that very first right to life. It's about everyone, the child and the mother and that's why I'm pro-life."
William Irwin is "passionately pro-life as is my Party and I believe laws and regulation should be designed to give the utmost protection to the life of the unborn child and the health of the mother".
Gavin Malone is pro-choice, and said that he believes that 'whatever the lady's choice, I believe you have to support her".
He added: "I just don't feel comfortable telling someone what to do with their body."
Justin McNulty is pro-life, and added that abortion is a matter of conscience, and that it wasn't his job to "convince anybody of my pro-life views".
"I can't apologise to anybody for that because that's who I am and I'm pro-life and I'm sorry if that's uncomfortable for people and I don't mean for it to be that way."
Keith Ratcliffe stated that he is pro-life, and that he believes the current legislation is "the most extreme in Europe". 
"It's totally wrong in my opinion and I feel strongly about that. I do realise that there needs to be support for women and I would like to put that clearly."
Nicola Grant is pro-choice because "people should have the choice about what they do with their bodies".
"I don't think any woman goes into the situation and decides in X months time that she wants an abortion. These are done for medical reasons, purely to help with either the child or the mother."
Should mandatory coalition remain in place in the Assembly?
Jackie Coade called for an end to mandatory coalition as she believes that "Northern Ireland is changing".
"There are a group of very willing parties who could go into coalition with each other, and we need continuous government. We need to get away from one party having control over whether Stormont remains running or not just because they want to throw their toys out of the pram."
Daniel Connolly said that Aontú wanted to change the current system of mandatory coalition to a system of government requiring a supermajority to nominate an executive.
"I can think of no system across the world where a party would collapse its own government and then, in the next election, be returned to that government; it's an absurd situation."
William Irwin said the DUP is "open and willing to discuss the reform of Stormont" but that "there is much work to do before efforts can focus on those issues, especially when the Northern Ireland Protocol remains in place and continues to cause significant economic and political disruption".
Gavin Malone stated that he wants to see "people working together" in the Assembly, but that he "isn't too worried about the other parties".
"I believe in compromise and that we should all sit down together and work together on behalf of the people. The people are finding it difficult and challenging at this time and we have to sit down and do our best for people."
Justin McNulty said he wanted an official opposition in Stormont, which he says the SDLP could form, but that power-sharing should remain in place.
"It has challenges, yes, but those challenges are all surmountable and can be overcome and I think it's not beyond any party to work with others who have different viewpoints to seek solutions that are built on compromise which our party has always done."
Keith Ratcliffe wants to see an end to mandatory coalition as he believes it "breeds corruption".
"I think people want [Stormont] to work but there are people there that don't want it to work but we do. I think voluntary coalition with an opposition is the way Stormont can work."
Nicola Grant said she wanted to see "a completely different system" and said that Stormont "isn't delivering as it should be".
Do you support integrated education?
Jackie Coade said that she supported parental choice, but that she wanted to see an integrated secondary school opened in Armagh City.
"It was tried before and failed, in my opinion, due to its location. We have a lot of children going to the integrated school in Dungannon."
Daniel Connolly said that Aontú had opposed the recent integrated education bill in the Assembly, as he believed it "would benefit integrated education to the detriment of other sectors".
He added that he supports parental choice on the form of education their children receive.
William Irwin believes the recent Assembly Bill on integrated education was "yet more bad legislation tabled by the Alliance Party and supported by parties who really should know better".
"The Bill will not, as suggested, break down barriers and tackle underachievement, quite the opposite in fact will be the case as it will ride roughshod over the controlled and maintained sectors. No other sector currently enjoys this status and that is wrong from every perspective.
"It is important to note that the only Executive Party to oppose this negative Bill has been the DUP."
Justin McNulty said that he was "delighted" to have supported the recent integrated education bill, but that it "cannot be pushed to the detriment of other sectors".
He added: "I'm very proud of the Catholic education I got which helped me grow and develop as a person and there was no sectarianism or bigotry in my education."
Gavin Malone said that he "absolutely" wanted to see an expansion in integrated education'.
"I come from a nationalist background and I went to a mixed primary school and secondary school and it did me the world of good".
Keith Ratcliffe said he is "definitely not against" integrated education but that he doesn't want it "pushed to the detriment of our public schools". 
Mr Ratcliffe believes "schools should be treated fairly" and criticised funding allocated to a secondary school in Crossmaglen whilst Markethill High School had "nobody lobbying for it".
"The school in Crossmaglen has got around £19.6 million in funding with fewer students [than Markethill High School]. I think schools should be treated fairly.
Nicola Grant said that she "strongly supports" expanding integrated education as it "doesn't stigmatise the unknown".
"It's easier to hate when it's bred into you and it's easier to hate when you don't actually know anybody of that background. If everybody is educated together it's harder to hold that up. We encourage teachers to also be educated together instead of being divided between Stranmillis and St Mary's."
Sign Up To Our Newsletter