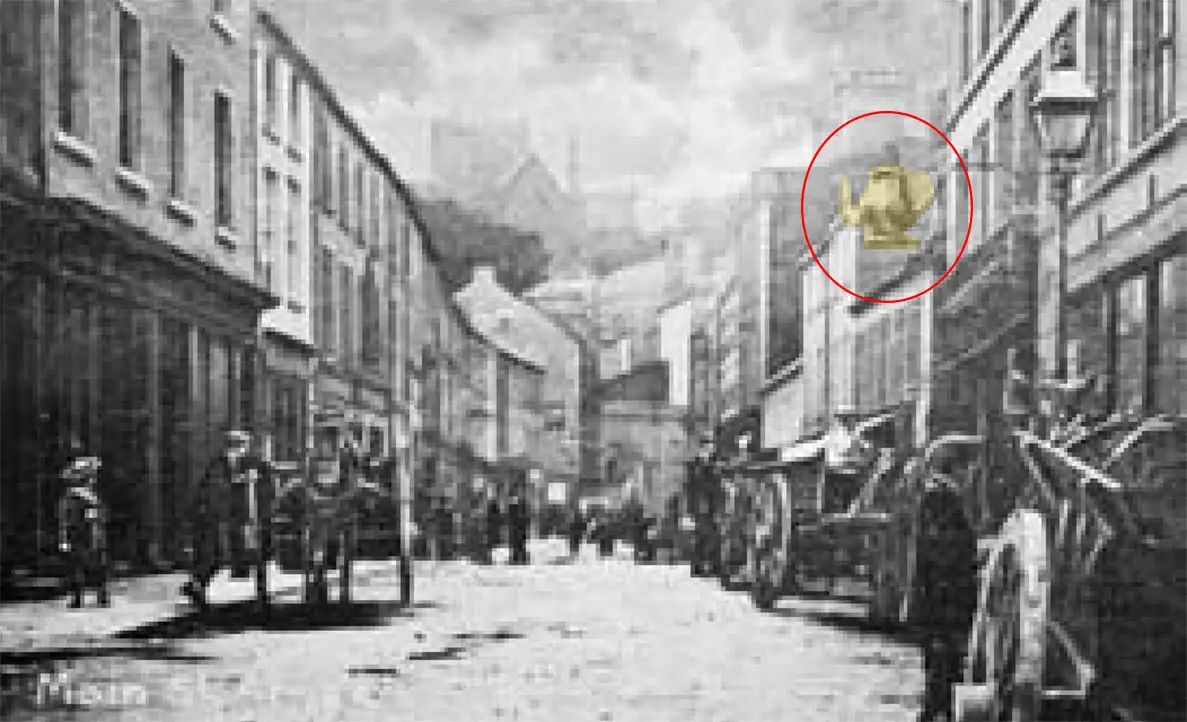 Ask anyone of a certain age about something sadly long missing from Armagh city centre and there are a few things which could well come up in conversation.
'Humpy the Camel' – a tuppenny child's ride which graced the doors of Lennox's department store – would be well up there.
But so too would the famed Golden Teapot!
And it is about to be lovingly restored and make a reappearance, again taking pride of place in Armagh city centre for all to marvel at and enjoy!
The Golden Teapot was something of a landmark in the city centre.
Scotch Street was its home for many, many years (main image), but it was later decommissioned and taken to the Armagh County Museum – like Humpy – for storage.
It had been on view to the public at different locations on the street over many generations but sadly was taken down in the 1980s.
The Golden Teapot first hung over the entrance of the old CB Cafe, which was where T G Hawthorne's furniture store is now. It has been located at McVitie's Tearooms and also over Hanson's Flower Bowl International, when it previously operated a cafe facility at upper floor level.
It was the Hanson family which passed it on to the County Museum.
There have been moves and calls over recent years for it to be resurrected and given a new lease of life.
And now it appears that that is going to happen.
It looks set to go up again – this time outside number 10 Russell Street.
Roberta Wright, who owns Wrights Interiors & Coffee Shop, has applied for listed building consent and planning approval for the erection of the teapot outside her popular premises.
Both applications have been submitted to Armagh City, Banbridge and Craigavon Borough Council for consideration and will be publicly advertised this week.
The Golden Teapot will be erected at first floor level.
And it is good to know that it will not have lost its special party trick, so to speak!
Indeed, it will be great to see again how the teapot actually produces steam at certain times of the day!
A Georgian-style steel frame bracket will be bolted to the wall of the property, the exact design yet to be finalised. There would also be a steel rod bolted to the wall either side of the teapot and bent around the base to provide support.
The refurbished teapot will be 'made good' and finished in bespoke gold weather resistant paint before again taking pride of place in Armagh for future generations to enjoy!
Hopefully it will be full steam ahead, when no doubt scores of visitors will be flocking to Russell Street for a cuppa and a stroll down memory lane!
Have you any pictures of the Golden Teapot or old Armagh you would like to share? If so, please email info@armaghi.com
Sign Up To Our Newsletter