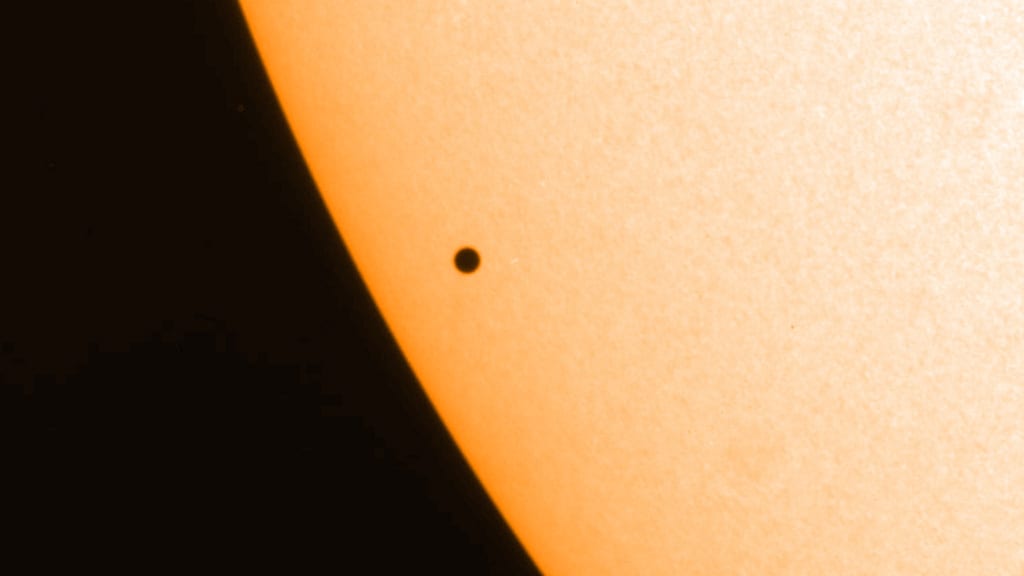 Sky-watchers will be in for another rare treat this month when Mercury struts its stuff across the face of the sun – or so it will appear.
According to Armagh Observatory, people here will have an opportunity, weather permitting, to observe this rare astronomical event on Monday, May 9.
It's known as a 'transit' of Mercury and will not be witnessed for another 33 years.
Transits of Mercury occur when the planet Mercury, the closest planet to the Sun, passes in its orbit directly between the Earth and the Sun.
With suitable observing equipment Mercury can then be viewed as a small  black dot crossing the face of the Sun over a period of several hours.
All observers are advised that it is NEVER safe to look at the Sun without proper eye protection. Failure to use proper observing methods can result in permanent eye damage and severe retinal loss.
Transits of Mercury can only occur in May or November, and occur on average approximately 13 times per century.
Apart from offering better weather prospects (the Sun is more likely to be visible in May than November!), May transits also have the advantage that Mercury lies close to the farthest point of its elliptical orbit around the Sun.
As a result, Mercury is slightly closer to Earth during a May transit and so appears slightly larger, by some 20 per cent, against the solar disc than during a November transit.
There was a transit of Mercury visible from North America in November 2006, but the last transit visible from Northern Ireland was on May 7, 2003.
This year's event, which will be visible in its entirety from Northern Ireland, will also be visible in part throughout Europe, Africa the Americas and most of Asia.
The next transit of Mercury will take place on November 11, 2019, but this will only be briefly visible from Northern Ireland for a short time before sunset.
The next May transit visible from Northern Ireland will not occur until May 7, 2049 – in 33 years' time!
This year's transit begins at approximately 12.12pm, when the edge of Mercury appears to touch the edge of the eastern quadrant of the Sun. The transit ends at 7.42pm as Mercury emerges from the southwest section of the Sun's disc, with both objects sitting at a comfortable 10 degrees above the horizon.
Mid-transit occurs around 3.57pm, at which point the planet will lie at about one-sixth the solar diameter from the Sun's centre.
Mercury, a cratered world with a diameter slightly less than 5,000 kilometres, will be 1/157th the apparent diameter of the Sun and will appear similar in size to a small sunspot.
Interestingly, our knowledge of this small planet has increased manifold since the 2003 transit owing to its coming under close scrutiny by NASA's "Messenger" probe, the first spacecraft to orbit Mercury, between 2008 and 2015.
Mercury is also due to receive its next visitor in 2024 when "BepiColombo", a joint mission between the European Space Agency (ESA) and the Japanese Aerospace Exploration Agency (JAXA), now scheduled for launch in 2017, will be inserted into orbit around the planet and make scientific measurements during a one-year nominal mission.
Astronomers at Armagh Observatory will be observing the transit of Mercury by the method of projection, weather permitting, and there will be a small exhibition open to visitors from 2pm until 5pm.
Those who may wish to visit the Observatory to view the exhibition and participate in a free tour are advised to write, telephone or email: Mrs Aileen McKee, Armagh Observatory, College Hill, Armagh, BT61 9DG; Tel: 028 3752 2928; email: ambn@arm.ac.uk.
Image: NASA's Goddard Space Flight Center
Read more news:
Woman charged over burglary offences in Belleeks, Crossmaglen & Newtown
Union accuses Tayto of 'threatening job security' ahead of failed strike action ballot
Man (23) charged with the rape of a woman in Peatlands Park
Planners poised to refuse demolition of derelict GAA social club in Keady
Champion stallion to be sold in bankruptcy proceedings against Co Armagh father and daughter
Man arrested after serious sex attack at Peatlands Park
Majority of Tandragee's Tayto staff vote against strike action
Sign Up To Our Newsletter