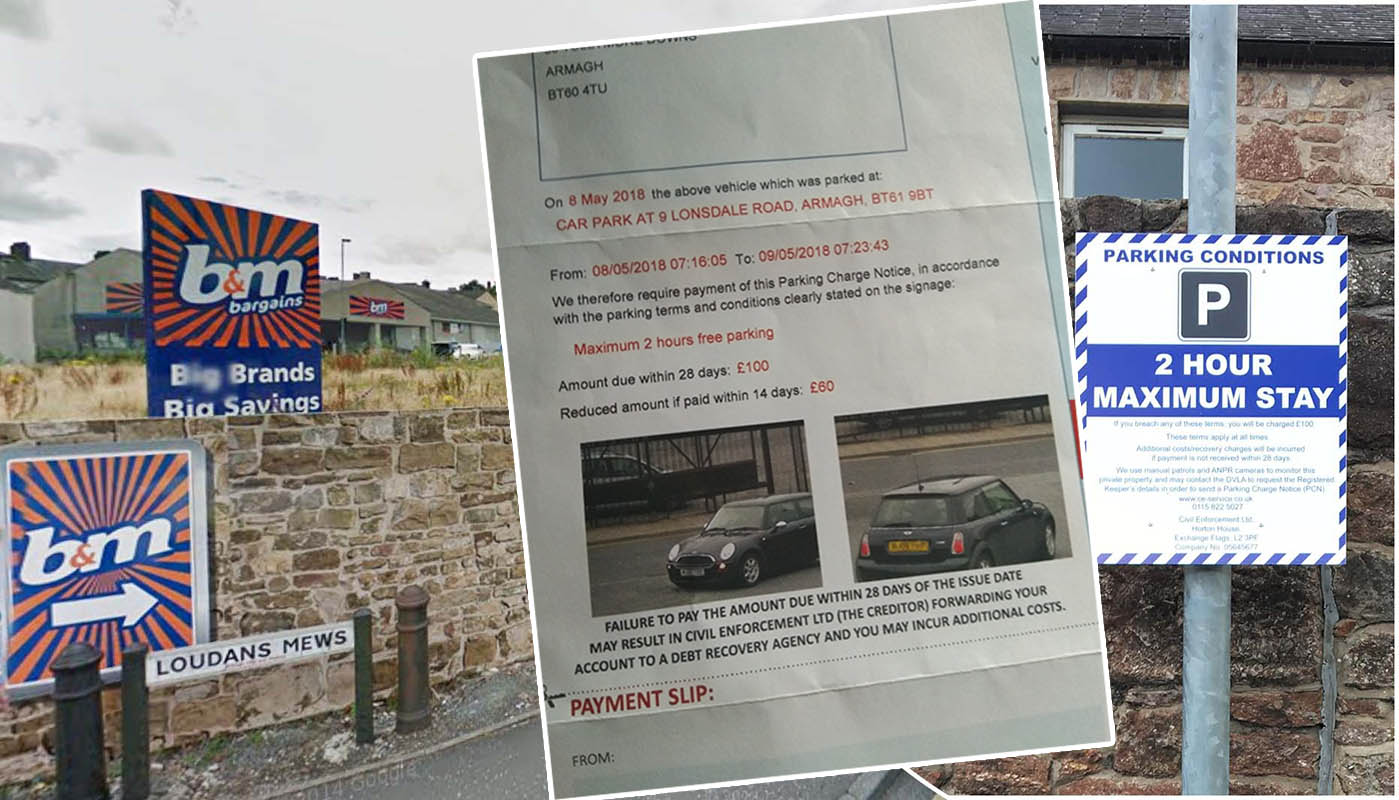 An irate Armagh mum slapped with a £100 penalty notice for driving straight in and out of a city car park has had it binned after Armagh I intervened.
Veronica Cerdu was left stunned after she received the penalty notice through her letterbox last week, accusing her of parking overnight in the B&M Bargains car park on Lonsdale Road.
Ms Cerdu, who lives and works in Armagh, was enraged, especially given the fact she hadn't even left her vehicle during her brief 60-second stay – let alone breach the store's strict two-hour parking policy.
But a letter demanding the fine be paid or face civil action showed images of Ms Cerdu's Mini Copper enter the car park around 7.30am on a Tuesday morning last month, before leaving again the following morning – again at 7.30am.
After failing to receive a response to her query from the company, Ms Cerdu turned to Armagh I to help highlight the incident.
Explaining, Ms Cerdu, said she has a 17-year-old daughter currently studying at the Southern Regional College in Newry.
"My daughter is the reason I'm at the bus station around 7.30am each morning, as I drop her off so she can catch the bus to Newry," she said.
"The road is too narrow so I use the B&M car park to reverse; but last week I received a £100 penalty for that – I just couldn't understand it."
She added: "They even sent me CCTV images showing that on the Tuesday morning I went into the car park and out of it again on Wednesday morning.
"But it didn't show my car being parked there at any point during this time, which it couldn't possibly have, as my car was parked at St Malachy's car park next to Eurospar, where I work every Tuesday and Wednesday.
"There is absolutely no reason for me to park there that long either – I don't live or work anywhere close to it."
Read more: Motorists' anger as £100 parking notices slapped on cars at Armagh bargain store
Ms Cerdu continued: "It's unbelievable. They have just coupled images of my car on the Tuesday morning with one on Wednesday.
"I just want to highlight this to let parents – everyone even – to be aware of this. I was in the car park for a minute but got a £100 fine, accusing me of using it overnight when I had left immediately.
"There is something not right about this and hopefully my case can be a warning to others."
However, when contacted by Armagh I this morning, the company agreed to rescind the fine and offered their apologies to the customer.
Sign Up To Our Newsletter