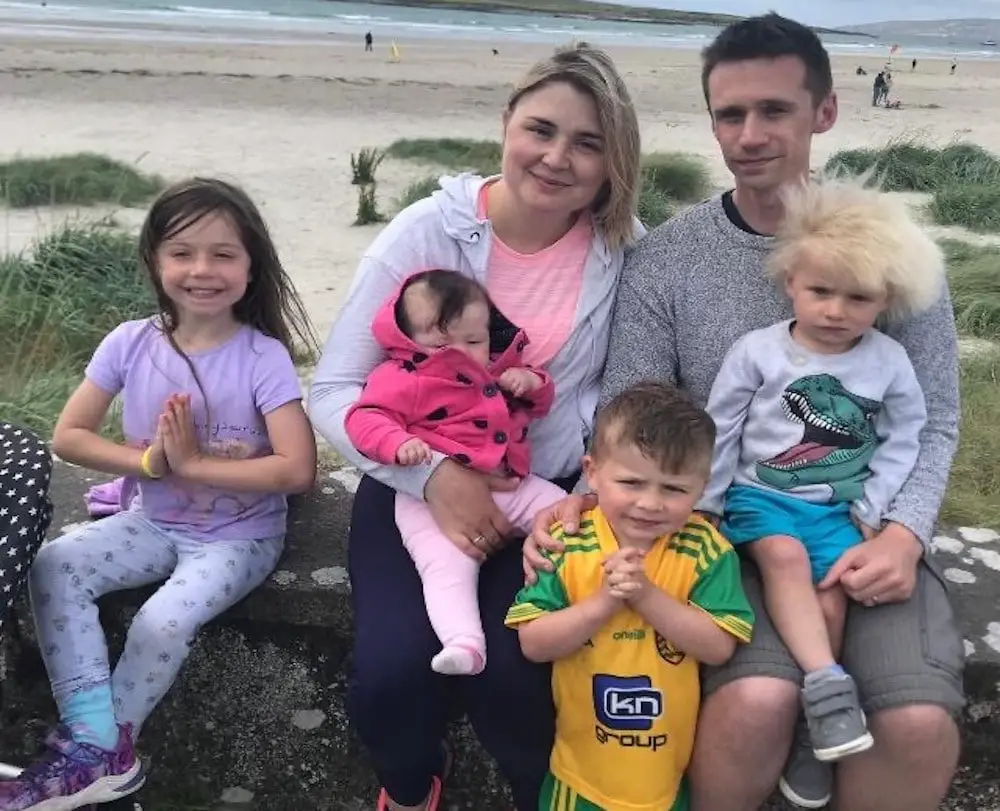 An Armagh man has shared his experience of cancer in the hope that it will bring confidence to others facing their own diagnosis and treatment.
Jonathan Fahy, was diagnosed with a Nasopharyngeal Carcinoma – a rare form of cancer affecting the back of the throat – in 2007, just one month before his 19th birthday.
Jonathan underwent months of intense treatment at the Cancer Centre in Belfast, but thanks to the incredible care and support from his oncologist and the team looking after him, he is now cancer free and enjoying life with his young family.
Jonathan, now 32, has now joined forces with local charity Friends of the Cancer Centre, which is marking its 35th anniversary this year, to share his story so other young people and their families, as well as those with rare cancers, can take encouragement from his experience and see that there is life after cancer.
Talking about his diagnosis, Jonathan explained: "It was all quite a shock and very difficult to process, as I didn't really know what cancer was in general, never mind a rare cancer such as mine.
"Before I was diagnosed, I had a few trips to my GP with nose bleeds, persistent headaches and loss of hearing.
"I was eventually referred to an ENT (Ear, Nose and Throat) specialist, who used a microscope to inspect my nose and throat and immediately organised a CT scan for the next day. It was at this stage that we began to realise it could be serious."
Following a scan and a biopsy it was confirmed that Jonathan had a Nasopharyngeal Carcinoma. Within a couple of weeks, Jonathan met his oncologist, who told him that his treatment would be difficult, but the aim was to cure him.
"Talking to my oncologist gave me real hope," Jonathan continued. "He told me that treatment was going to be very tough and would take me to the absolute edge, but that it was not only going to cure me, it would also ensure that the cancer would never come back.
"That one comment gave me immense relief and confidence and from then on, I was focussed on getting through my treatment and making a full recovery. In a way, I think it was more difficult for my girlfriend, Maria, and my family but they were incredibly supportive and I couldn't have got through it all without them."
Jonathan's treatment consisted of four cycles of chemotherapy along with 35 sessions of radiotherapy.
Throughout it all, the care and support Jonathan received from the team at the Cancer Centre made a really difficult time much easier to cope with.
Today, Jonathan is married to Maria and they have four wonderful children Aria, Johnny, Robbie and Lucia.
Talking about what encouraged him to share his story, Jonathan said: "My experience with cancer and the Cancer Centre in Belfast was extremely positive and that's why I want to share it with others.
"I had a very rare cancer and really gruelling treatment. As a result of the radiotherapy I have difficulty swallowing, very little saliva, quite severe lockjaw and scarring on my face and neck.
"However, I am alive, and I wouldn't be without the course of treatment I received. I wouldn't change a thing. I would like to share my story, so other young people and their families, as well as people with rare cancers, can take encouragement from my experience. I am proof that there is life after cancer."
Jonathan is supporting Friends of the Cancer Centre, which is calling on people to Be A Friend, raising money for the charity in its 35th anniversary year. Colleen Shaw, chief executive of Friends of the Cancer Centre, said: "I would like to thank Jonathan for sharing his story.
"He has come through so much at such a young age, and we cannot underestimate how difficult it was for him and his family. However, it's really important that we hear more stories like his, as it gives so much hope to others.
"This year marks the charity's 35th anniversary and one of our goals in this milestone year is to share positive stories like Jonathan's.
"A cancer diagnosis and treatment is an incredibly worrying time, but the excellent treatment and care that is available means that more people are surviving their cancer. As a charity we are really proud to support this vital work and hope that people can continue to support us, ensuring that we can be here for more people like Jonathan."
To find out how you can Be A Friend and support Friends of the Cancer Centre please visit www.friendsofthecancercentre.com
Sign Up To Our Newsletter