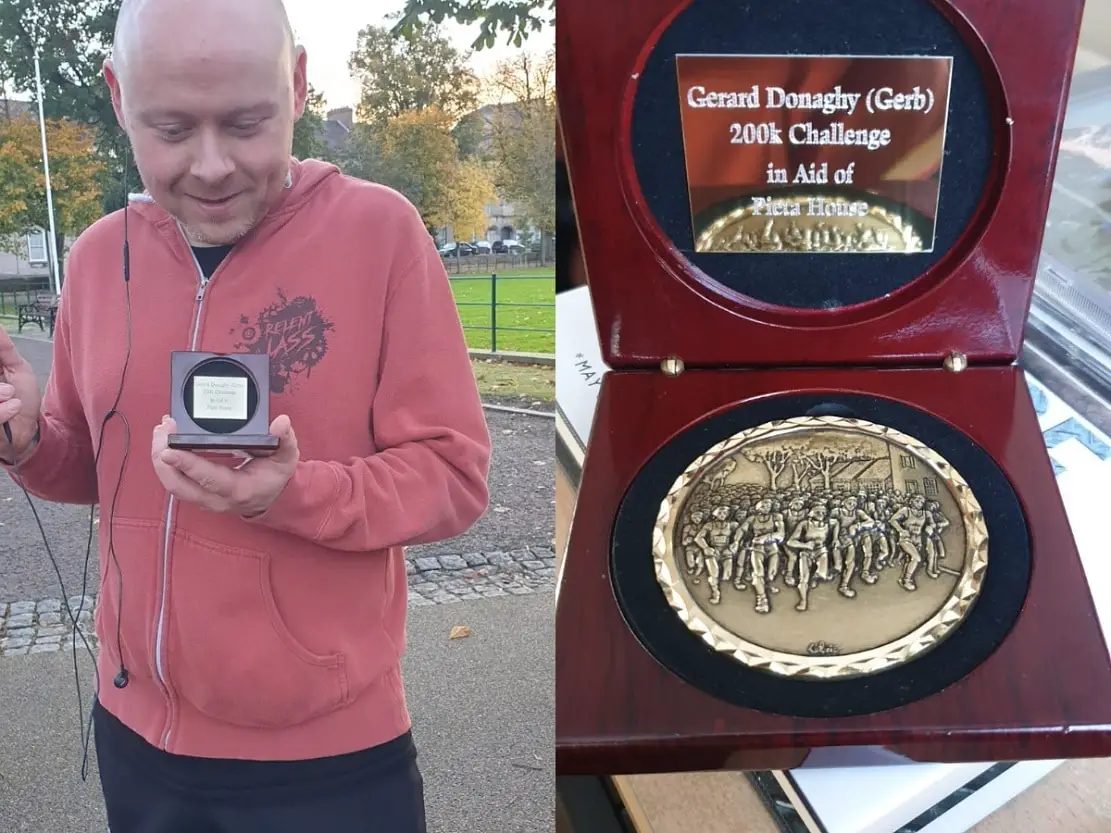 An Armagh man who says he "lives with depression" on a daily basis has completed a 200km challenge in under a month to raise money for a suicide and self-harm prevention charity.
Gerard Donaghy set himself the goal of running a total of 200,000km in the month of October and that culminated in a darkness into light style finish on Sunday morning.
In the process, the 37-year-old has managed to raise over £2,000 for Pieta House, who offer a therapeutic approach to people who are in suicidal distress, and those who engage in self-harm
Speaking to Armagh I after successfully completing his challenge yesterday, Gerard said that he had to deal with  "some level of mental health issues" from around his early teens but was not diagnosed until 2009.
"It's a rollercoaster and it's just ups and downs. I understand this year has been very hard for a lot of people, for a lot of reasons, but it was kind of tipping for me.
"If you can even imagine a time before Covid, I can remember being at a concert back in January and I sat there thinking I should be enjoying this but I couldn't, it has been more downs than ups this year," said Gerard.
He added: "I live with depression, as opposed to suffer from depression, because I think it is just something that you have to get under wraps. I don't think there is a cure as such."
Gerard took up running in late August, however, he had been finding it quite hard to keep motivated – although he was persevering.
He said: "Somebody from work suggested that I should run and do a bit of a collection for a mental health charity. They thought it also might have helped with the motivation, which I suppose it did.
"So I decided for the month of October to set myself something that was a challenge. I know elite runners could knock out 10k before they wake up in the morning. I am clearly not one of those.
"But I looked at my weekly averages and just thought I would go for it."
Gerard posted his fundraising page on Facebook on September 30 and was blown away by the reaction it received.
He continued: "It really took off even before I started anything really. I was publicising milestones, I didn't want to bombard people. It hit £1,000 very quickly and then I reached 100k."
Pieta House would usually have an annual Darkness into Light walk to raise funds but unfortunately the event was cancelled this year because of Covid.
Gerard said: "It was suggested by someone that I incorporate it into my 200k. It just so happened that the only chance I got to do it was at the very end.
"It was kind of a makeshift version of it because everyone was kind of confused about it getting brighter earlier with the clocks going back."
According to Gerard, having friends and family there to support him as he completed the challenge added "a sense of ceremony" to the whole thing, and he was even presented with a medal to commemorate the achievement.
"Quite literally everything about this whole thing and the response to it has completely blown me away," he said. "I was a bit overwhelmed by the whole thing.
"I was overwhelmed that so many people turned up and the fact that it was completed but once I got handed the medal, which my best friend had made; it just tipped me over the edge in the best possible way."
Despite finishing the challenge ahead of schedule, Gerard has vowed to continue running and keep his page open until October 31.
"I surprised myself at how quickly I did it, but I have had a lot of requests to keep it open to the end of the month so I think that is what I am going to do.
"I am also going to continue running, because I am just generally interested in what my running total so of speak would have been."
If you would like to make a donation, you can do so by checking out Gerard's Facebook fundraiser page.
Sign Up To Our Newsletter