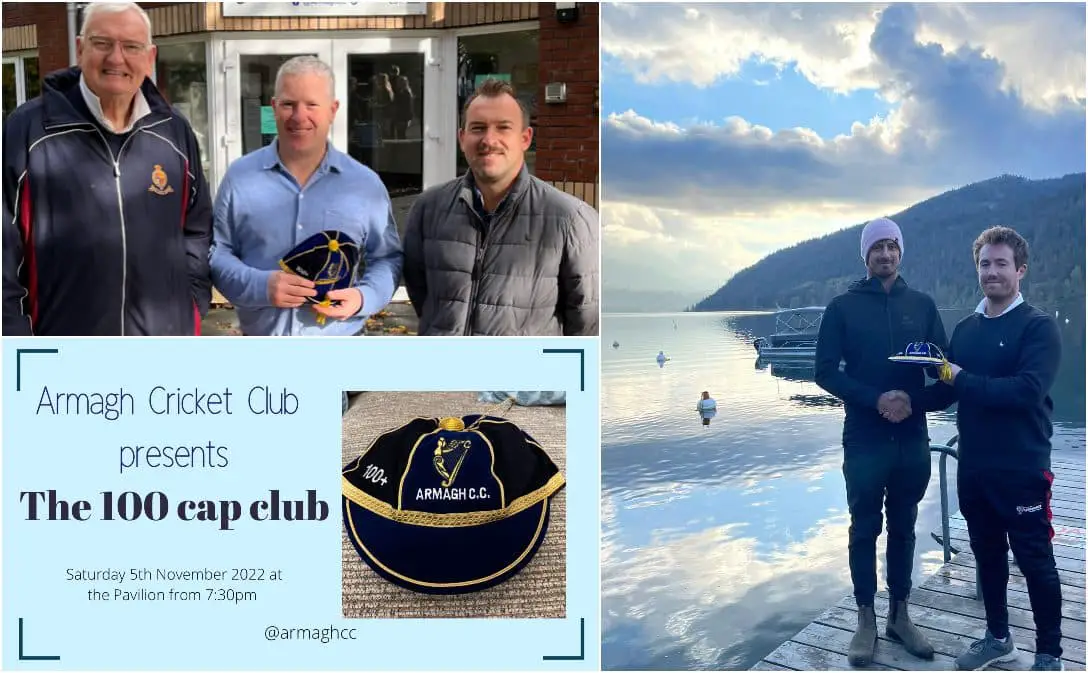 Armagh Cricket Club have been delighted to officially launch the '100 cap club', celebrating through the illustrious 163 year history of the club, the long-serving players who have made such a contribution both on and off the field.
The club will be hosting a presentation in the Pavilion on Saturday, November 5 from 7.30pm to distribute the caps amongst the 54 players who have represented the 1st XI on 100 and more occasions.
Some of the older players are naturally no longer with here and the club has invited their surviving relatives to come forward and get in touch with them.
For more information on the project, contact Gareth McCarter, Norman Graham, Brian Weir or Reggie Stinson.
The first presentations for the Armagh CC 100 cap club were actually made a few weeks ago but it has taken a wee while – for good reason.
Harry Boyd is currently in Vancouver, Canada but the Club were able to track him down before he left and thanks to fellow Armachian, Robbie Faloon, who presented Harry with his cap in front of a fairly pleasant backdrop (main image right).
Whereas David Bullick is on holiday on the night, so received his cap from club chairman Gareth McCarter and former president Norman Graham ,on the equally pleasant setting of Armagh's Mall (main image top left).
The Club is still missing contacts for surviving relatives from a number of sadly deceased gentlemen on their 100 cap list and are hoping that the magic of social media can get some of them in contact with them.
The list of the 54 players in the 100 cap club are as follows. Those highlighted are the members the Club would like to track relatives down for.
The legends we are missing relatives or contacts for and the years they played for Armagh CC are:
Armstrong, Lloyd 1946-54
Barnes, Bobby 1925-1939
Barnes, Trevor 1959-87
Baxter, Harold 1946-73
Boyd, Harry 2007-2022
Bratten, Andrew 2000-19
Breakey, George 1964-95
Briggs, John 1974-2004
Bullick, David 1986-2019
Cairns, Chris 1994-2007
Carson, David 1925-52
Dawson, Jack 1929-59
Doyle, Harry 2005-22
Doyle, Philip 2004-21
Dundas, Alan 1990-2001
Edgar, Kenny 1995-2008
Elliott, George 1956-89
Elliott, Johnny 1946-76
Elliott, Mark 1989-2020
Ewart, Hampton 1955-75
Forster, Ivan 1950-1967
Gordon, Kenny 1968-92
Graham, Jim 1945-81
Graham, Norman 1955-68
Hill, Billy 1946-81
Hoey, Michael 2009-22
Jones, Alan 1987-93
Lester, Dean 1997-2012
Lester, Stuart 2001-21
Little, Derek 1972-90
Livingstone, George 1925-39
McAuley, Kieran 1971-87
McCarter, Gareth 2002-22
McCauley, Harry 1925-40
McConville, Martin 1969-83
McDonough, Wilfred 1920-41
McKinley, Billy 1925-53
McKinley, Bob 1912-40
Neville, Bobby 1954-77
Raynor, Charlie 1913-39
Rennie, Andrew 1985-2006
Robinson, Gareth 1991-2013
Rogers, Jamie 2015-22
Russell, Colin 1995-2022
Scott, Ronnie 1948-71
Spearman, Leslie 1950-69
Steenson, Matthew 2007-2022
Stinson, Alec 1965-92
Stinson, Reggie 1973-2009
Thornbury, Joe 1992-2006
Villiers, Michael 1999-2019
Walbran, Andrew 1984-2015
Whitcroft, Alan 2002-22
Williamson, Mark 1986-2003
Sign Up To Our Newsletter