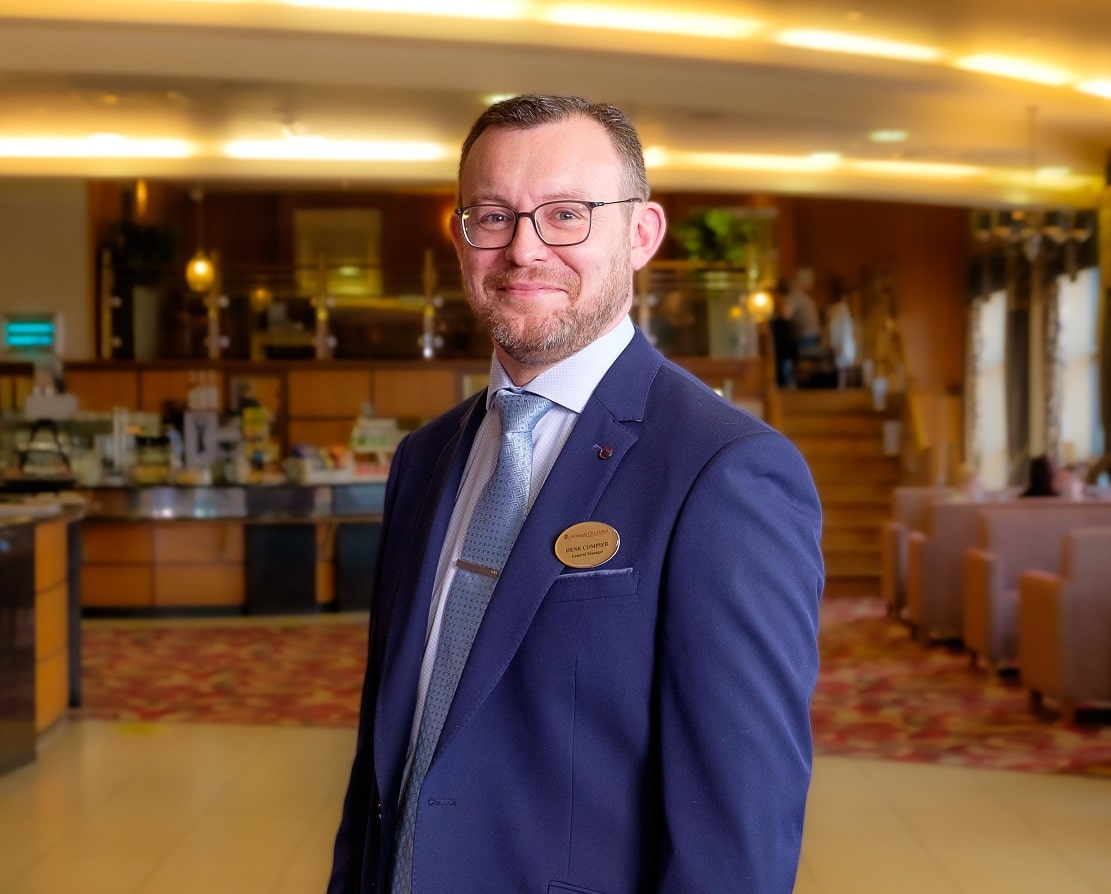 When the newly appointed general manager of Armagh City Hotel Henk Compier first arrived in the city just over 17 years ago, he was initially in for a bit of a surprise.
Having just left the bustling city of Galway, where he had worked in two top hotels, he was expecting Armagh to be of a similar size and that he'd soon land a job in hospitality.
"I was so easy going. I had no job lined up and I thought Armagh was a really big city," he said. "I was in a relationship with Marie, now my wife,  and she  said 'you can come home to Armagh with me or stay here', so I went."
Saying that, it took him just two weeks to find a job at the then relatively new Armagh City Hotel, with his experience working at the Westwood House Hotel and Claregalway Hotel obviously standing him in good stead.
"I was given the name of a guy to speak to in the hotel and I went and asked if there were any jobs. He gave me a three-hour shift and I worked for 14 days in a row," said Henk.
The rest, as they say, is history. Last week, Henk celebrated his 17th year at the hotel which is this year celebrating its 20th anniversary.
The hotel was the brainchild of four businessmen – Bertie Fisher, Brian McCormack, Felix Mooney, and Kieran McAnallen – who had a vision for an hotel in Armagh, with enough space to accommodate conferences, gala dinners, plus a public bar and restaurant which locals would frequent as much as visitors.
They wanted to create a large enough hotel, outside of Belfast, to bring visitors and events to the area – a dream which turned into reality when Armagh City Hotel opened early in 2002.
Henk is one of a number of staff who have been with the hotel for over 15 years, Indeed, eight staff have been there from the outset.
Since those early days, Henk has worked his way up from bartender to bar supervisor, assistant bar manager, bar manager, operations manager, food and beverage manager and, as of February 28, general manager.
Like many of the long-term staff at the hotel, Henk, whose father is Dutch but who grew up in Enniscrone in Co Sligo, has seen the hotel grow and progress over the years.
"It is busy all the time and it has got busier since I first started," he said. "We keep improving everything which keeps people interested and keeps them coming back."
In fact, a common refrain which Henk hears is: "Where did everybody go before the hotel was built?".
He added: "The staff are very friendly and we have a good team. People can choose the Callan Lounge for a more relaxed dining experience or we have the more formal Friary Restaurant.
"It used to be people liked to go out and have a few drinks, now they're more food-orientated and enjoy going to see a comedian, or a music event, which we now hold here too."
With 150 full-time and part-time staff, 93 bedrooms and a conference centre which can seat up to 1,200 people, Henk has responsibility for the entire hotel, but enjoys the job just as much as when he first started.
"I have done factory work in the past. My father used to have a plastics factory – which is still going to this day – and the work can be very monotonous, but in the hospitality industry, while the job is the same every day, you can still say the job is different every day," he explained.
"You meet different people, there are different types of function, so it keeps it more interesting."
A recent memory which popped up on Henk's Facebook page was of him with Daniel O'Donnell.
"I was walking past one of the rooms and peeked in and there was Daniel ironing his own shirt before a performance, " he said. " I walked about one step and thought I would chance it and  asked him, 'Any chance of a selfie?' And he said, 'No problem!'."
Henk, who was originally studying computer science at college in Galway and "fell into" hospitality after working part-time as a night porter in Westwood House Hotel, said the sector and the hotel has been good to both him and Marie.
She is the housekeeping manager at Armagh City Hotel, having started around the same time as he did, but their different work shifts have meant that over the years they have been able to share childcare for their three children, now aged five, seven and 16.
In fact, their eldest son Shawn is the latest recruit to the hotel, where he works in the bar.
"A man came to the counter the other day and and asked who was in charge," said Henk. "He told me he saw this place being built and thought it would never work."
"Then he said, 'Well I just want to say I was wrong'. He said he has never been let down by it since."
And the vision for improvement continues. Over the past three years the hotel has undergone major refurbishment which is hoped to be completed by mid-2023, raising it from a three-star to a four-star establishment.
To find out more and view all the latest news, events and offers, visit the website www.armaghcityhotel.com or Facebook page.
Sign Up To Our Newsletter