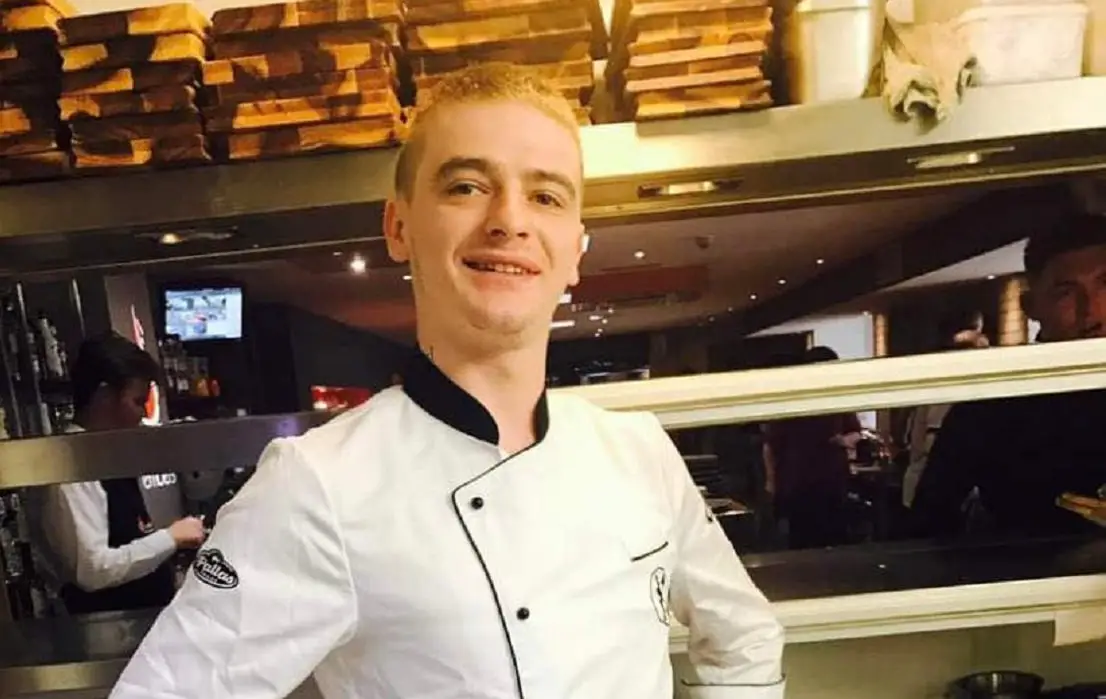 Tributes have been paid to a popular and "enthusiastic" young Armagh chef who was laid to rest on Wednesday.
Paul McShane, who worked at Embers restaurant in the city for the best part of a decade, tragically passed away at the age of 27 on Sunday.
Stunned colleagues at the Market Street restaurant led tributes to a "friend and coworker".
"Paul worked with us for nearly 10 years – arriving after struggling to find work as a kitchen assistant," their post read. "He quickly realised his love for cooking and trained to become a professional chef and an incredible asset to the Embers team.
"He was a hard worker and passionate about serving great food in great time whilst always having time for the craic. We could always count on Paul when we were stuck – he was always there for all of us. He will be sadly missed by all the team."
Paul was laid to rest following a funeral service in Armagh yesterday (Wednesday) afternoon.
Fr Peter McAnenly told mourners how Paul "had a great sense of humour and he always enjoyed a good laugh".
He said: "At times of loss and in the face of death and particularly when it's a tragic death or the death of someone young like Paul, we are filled with so many questions. Why did this happen? Why did it happen to us? Why couldn't he have been spared for just a few more years? And so on.
"And if the truth be told, none of us have the answers to many of our questions but, as Christians, we find comfort in believing that death is not the end but rather it's the beginning of a new life with God in eternity."
Recalling details of a conversation with Paul's mother and sisters, the parish priest said they had shared various tales of the popular young man.
Paul went to the Christian Brothers' Primary School and St Brigid's High School before attending a catering course at the old tech in Newry.
"I believe he worked in a few places over the last few years," said Fr McAnenly. "He worked as a chef in Keegan's for a while but for the last few years, he had been working as a chef in Embers restaurant here in town.
"He enjoyed the work; he loved cooking and, in and through his work where he got on well, he got to know many and many got to know him and through his work he made many good friends."
Fr McAnenly revealed that Paul was "the sort of person who was always on the go. He was usually smiling and, very often, he had the cigarette and the phone in hand."
"He had a great sense of humour and he always enjoyed a good laugh. And although he loved meeting up with family and friends, deep down he was a quiet person," he added.
"I know that his family here have wonderful memories of great family times from over the years and you have great memories of things that you did or places where you went as a family over the years of his life.
"And Paul loved the days out with his family, or the family holidays that you shared, and rest assured that the memories of all of those will be a source of great comfort and strength to you in the years to come."
Said Fr McAnenly: "He was a good son and a much loved brother but he was also a great uncle to his nieces and nephews and I believe they all loved uncle Paul and he loved them, and he had a great relationship with all of them.
"And so whilst he has left us at the young age of 27, he had already achieved much and he had already packed a lot in."
Tributes poured in on social media.
One colleague stated: "Such a lovely guy and one of the nicest I've ever worked with. Won't be the same going into Embers and not seeing his smiling face."
Another commented: "I am so sorry to hear this. Paul was a trainee of mine in Wade. He was a very bubbly enthusiastic young chef with a great hunger to learn and try new things.
"A great asset to any catering establishment. My deepest condolences to his family and friends at this sad time."
Others described Paul as a "gentleman" and commented on his mild-mannered nature.
May he rest in peace.
Sign Up To Our Newsletter