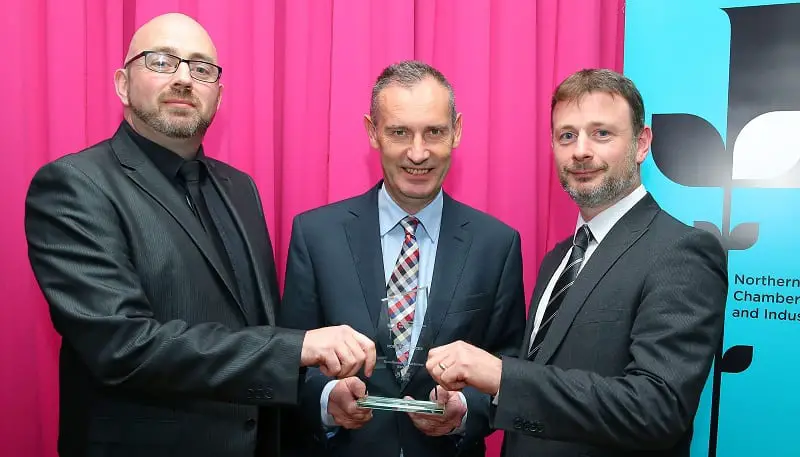 McElmeel Mobility Services has been crowned a winner in Northern Ireland Chamber of Commerce and Industry's Chamber Business Awards for 2016.
The Armagh-based firm received the 'Excellence in Customer Service' award from Northern Ireland's largest business network, which represents over 1,200 businesses across Northern Ireland.
The Chamber Awards is a highlight of the business calendar, showcasing the pivotal role local businesses play in the UK's continuing growth story. McElmeel's will now compete with other regional winners in the national finals in a bid to win the top UK business accolade in their category and a chance, as overall winner, to open the London Stock Exchange in early 2017.
The national winners will be announced at a ceremony at the Chamber Awards Gala Dinner on 24 November 2016 at the Brewery in London.
McElmeel's was first founded by Thomas McElmeel in 1950. Today it is the oldest company in the UK and Ireland who work with disabled drivers and passengers and almost 70 years later, Thomas's grandson Conor is at the helm surrounded by three generations of his family.
Commenting on the firm's success, Conor McElmeel, Managing Director of McElmeel Mobility Services, said: "Our reputation has been cultivated by my grandfather and my parents, and the responsibility for this legacy was passed to me six years ago.
"My family took the decision to put the delivery of our product to our customers over and above a hunger for short term profit or gains, and this decision has allowed us to become the company we are today.  We are in the privileged position to be able to make a real difference to our customers every day and we appreciate this.
"As Managing Director my job is to maintain these high standards and ensure that when I pass the reins on, I do so with our reputation of excellence intact, maybe even enhanced."
As innovators in a specialist industry, McElmeel Mobility Services supply vehicles to both private customers and transport providers across Ireland and the UK.
Working closely with a wide range of manufactures, McElmeel's have been able to bring out a range of vehicles under Full European Type Approval allowing the company to carry out a large percentage of Motability's adaptations and conversions in Northern Ireland.
Conor continued: "As a third generation family business we work hard to bring the right type of person into our company. From our engineers, fabricators, mechanics and fitters throughout our workshops to our Motability Specialists and support staff in the office, from our assessors, vehicle demonstrators and delivery drivers to our senior management team, we are blessed with a fantastic team of great people.
"All of us at McElmeel Mobility Services would like to say thank you to the Northern Ireland Chamber of Commerce and Industry for this prestigious award and are proud to represent Northern Ireland in the upcoming national awards."
Nick Coburn, President of Northern Ireland Chamber of Commerce and Industry (NI Chamber) said: "Businesses are the driving force of the UK economy and they deserve recognition for the crucial role that they play.
"Our judging teams across the country are consistently impressed by the number of high calibre entrants in the awards, and this year's competitors are no different. The creativity and determination shown by these businesses is a source of encouragement, knowing that the Northern Ireland economy is being driven by such hard-working and talented professionals.
"It's important that we recognise and celebrate these businesses and ensure that we can provide the support and assistance they need to help them realise their growth ambitions. I wish McElmeel Mobility Services well as they go into the UK finals with a sense of pride in what they have achieved to date."
 A Highly Commended award for 'Excellence in Customer Service' was claimed by Northern Ireland independent travel agent, Oasis Travel.
Picture: Anton Grimes, McElmeel Mobility Services, Nick Coburn, NI Chamber, and Conor McElmeel, McElmeel Mobility Services.
Sign Up To Our Newsletter