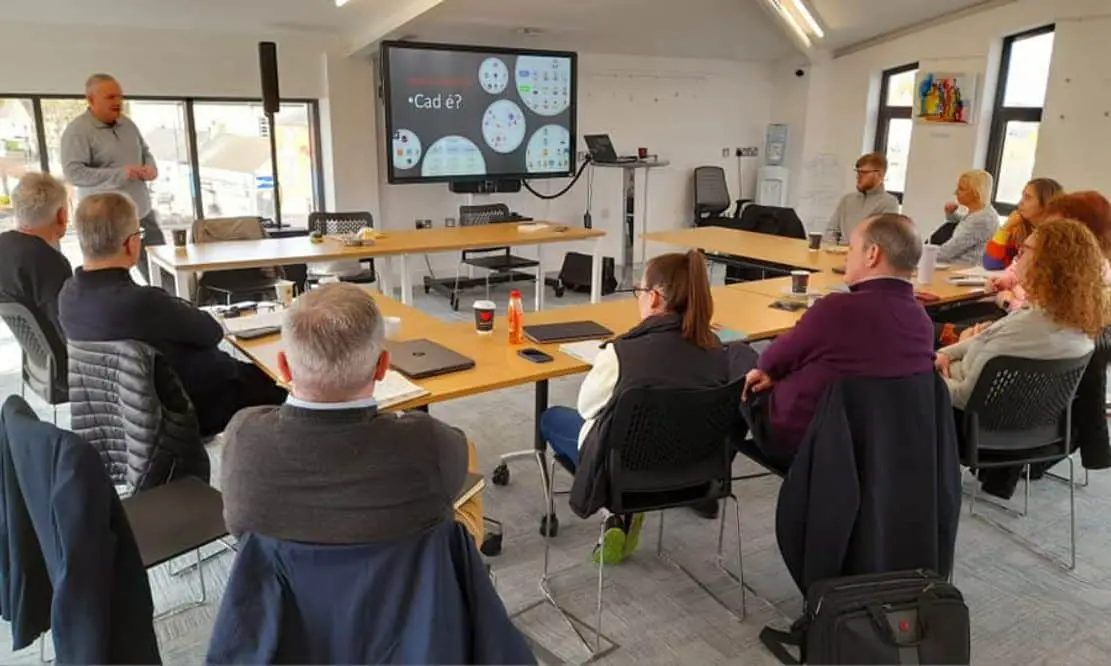 Aonach Mhacha, the acclaimed Irish Language and Cultural Arts Centre [Cultúrlann] in Armagh City, has just announced that from September 2023 it will become an outreach campus for delivery of Ulster University's Irish Language Diploma.
The news is a massive boost for the Cathedral City which has for over 2000 years prided itself as a seat of education and learning.
Speaking exclusively to Armagh I, Aonach Mhacha General Manager Gearóid Ó Machail announced that the new collaboration was another crowning achievement for the Irish language community in Armagh: "For many years, my colleague Réamonn Ó Ciaráin and I have been lobbying Ulster University to bring their Diploma Course in the Irish Language to Armagh City. Our campaign really gathered steam, however, when after years of voluntary effort and hard work we completed construction on our dedicated Irish language facility, Cultúrlann Aonach Mhacha, in 2020.
"We immediately set about establishing a case that there was a high demand for the Diploma course in the city and surrounding area. Armagh City has over 600 children within Irish medium education. In addition, neighbouring areas such as Dungannon, Portadown and Keady all boasting growing populations of children and young people attending Irish speaking schools.
"Aonach Mhacha currently provides Irish language learning, training and recreation to all age groups within our community. We are grateful for funding from the Education Authority and from Foras na Gaeilge for our Irish medium youth provision, our popular summer camp and our adult learning classes for all ages and abilities. Thanks to funding from the National Lottery's Dormant Accounts Fund, our team is also working with the Creative Workers Cooperative to develop an online digital learning platform for Irish language learners that will act as a complimentary learning resource for students studying the Diploma as well as offering subscription learning opportunities to people wishing to learn Irish across the globe.
"With the easing of the pandemic restrictions in 2021, negotiations with Ulster University recommenced in earnest and we were delighted when Dr Gearóid Ó Domagáin, Lecturer in Modern Irish at UU, recently confirmed that the University had agreed to the proposed collaboration and would deliver the Diploma in Irish Language from the attractive and well-equipped teaching space within Aonach Mhacha.
"Coupled with the recent expansion and modernisation of the Southern Regional College facilities, the delivery of Ulster University's Diploma in Armagh means that the City will once again retain students who might otherwise have travelled to Belfast, Derry, Dundalk and further afield for third level training and education. This is good news for our struggling local economy and for the demographic profile of the population which has seen the loss of so many talented young people to emigration.
"The Diploma in Irish is a brilliant opportunity to achieve a solid grounding on the different aspects of the Irish language while developing key areas such as conversation, grammar, reading and writing. This course is ideal for those currently attending night classes who want to take the Líofa (fluency) challenge to the next level. It really offers an exciting opportunity to study the Irish language from beginner level in a structured and formal way with expert tutors. Completion of the course will ensure that students will be able to understand, speak and write Irish in their everyday life or in their professional life, whilst being equipped to continue to degree level study.
"Parents and guardians of children attending a Naíscoil or Gaelscoil are particularly encouraged to enrol. The Diploma is perfect for those with some knowledge of Irish who want to improve their grammar or enhance personal confidence and fluency. This particular part-time course is 2 years long and, as well as serving as a possible pathway for entry to a BA degree in Irish, the course can be seen as a free-standing unit in its own right. Former students have journeyed on to prestigious positions such as journalists, presenters and producers with TG4, BBC and Ráidió Fáilte."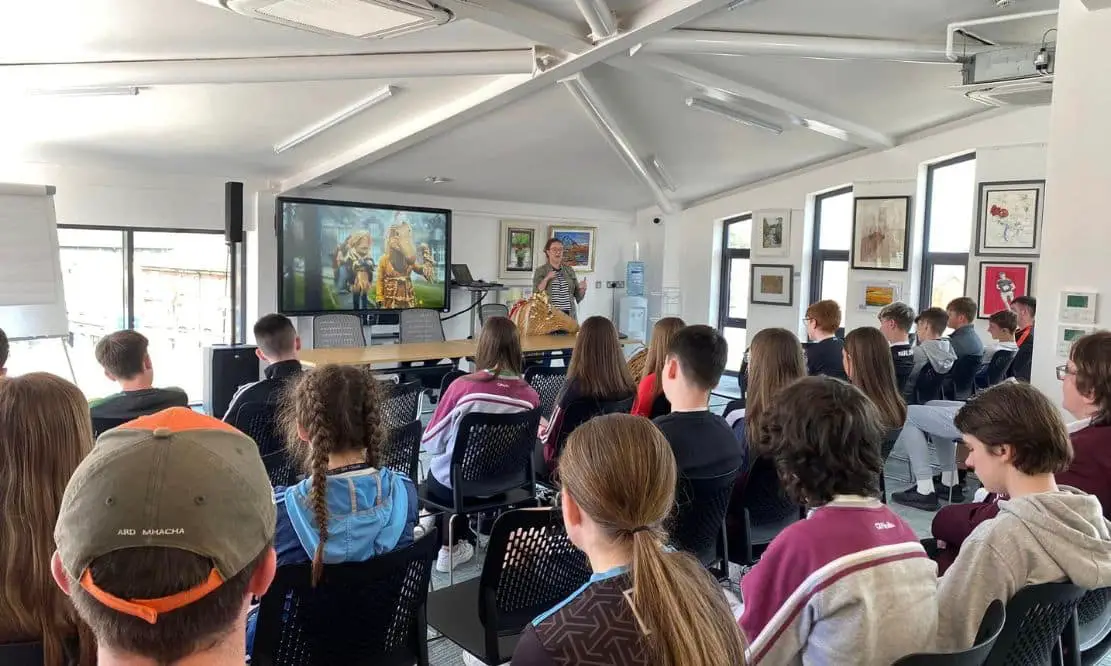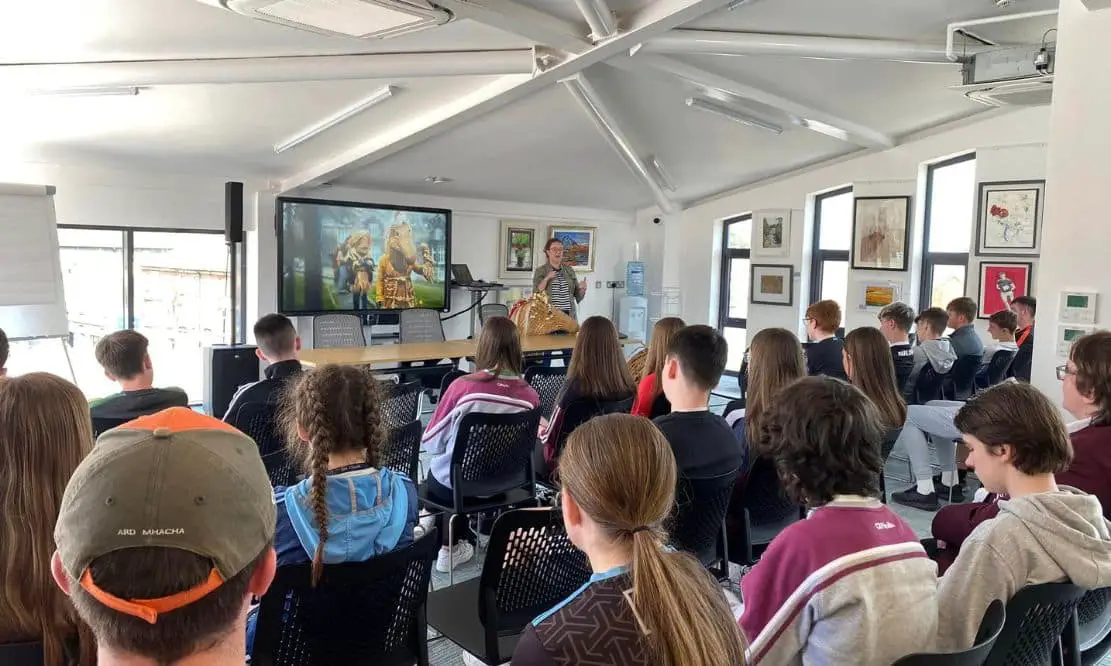 Mr Ó Machail was also keen to stress that government support is available for those on lower incomes who wish to enrol. Visit the webpage here for more details.
A range of scholarship funding schemes and bursaries are also available to assist with course fees. For example, GAA members can apply through Gaeilge sa Chlub. The Gaeilge sa Chlub scholarship scheme for adult learners of Irish is a joint Ulster GAA and Ulster University initiative which aims to promote Gaeilge within Ulster clubs by providing assistance to GAA members studying the language.
Applications are now live for the Gaeilge sa Chlub scheme for 2023/24. Read more here or contact niamh.mcelduff.ulster@gaa.ie.
Ciarán Withers, Irish Language Development Officer at Aonach Mhacha, also welcomed the new partnership with Ulster University: "As both an Irish language activist and someone who works in the sector, I'm very excited that Dr Ó Domagáin and his team will be bringing the Dioplóma sa Ghaeilge to Ard Mhacha. I have worked with Dr Ó Domagáin on a number of Irish language projects and I'm aware of the professional teaching and outcome standards set by the University. This will greatly enhance the existing learning provision offered at our Cultúrlann. I encourage learners to take up 'Dúshlán an Dioplóma' [the Diploma Challenge]. After all, you'll be following in a tradition of learning in Ard Mhacha that spans the millennia.
"The City's very origin story stems from Eamhain Mhacha, the ancient capital of Ulster, at the city's edge, that was famed as a pre-Christian ritual or ceremonial site where druids, bards, seanchaithe, filí and ollúna once devoted their energies to the learning of laws, customs, traditions, storytelling and epic bardic poetry.
"According to tradition, a monastic church was founded on the hill of Armagh in 445 by Saint Patrick when Christianity spread to Ireland. According to the Annals of the Four Masters, Patrick decreed that only those educated in Armagh could spread the gospel. Armagh has been an educational centre since then and thus it has been referred to as "the city of saints and scholars". The Book of Armagh came from the famous learning monastery in our city. It is a 9th century Irish manuscript now held by the Library of Trinity College, Dublin.
"The educational tradition continued with the foundation of the Royal School in 1608 and the Armagh Observatory in 1790. This was part of the Archbishop's plan to have a university founded in the city. This ambition was finally fulfilled, albeit briefly, in the 1990s when Queen's University of Belfast opened an outreach centre in the former hospital building. Now Aonach Mhacha has written the latest chapter in university education in Armagh City. We are very proud of that fact and will continue to strive to make Ard Mhacha an attractive place to live, work and speak Irish", he concluded.
If you are interested in studying this fantastic opportunity you can get further details on the course itself and how to apply here.
For further information, you can contact Dr Gearóid Ó Domagáin at g.domagain@ulster.ac.uk or 028 95367480.
Classes will be delivered every Monday from 6-9pm in Aonach Mhacha.
Sign Up To Our Newsletter