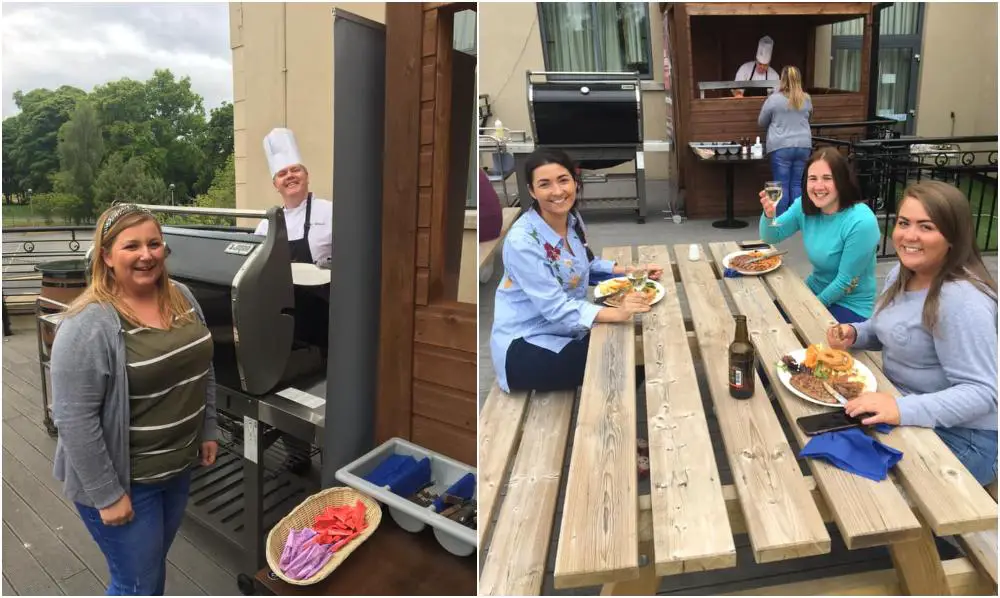 The doors may have been firmly shut and operations mothballed at the Armagh City Hotel, but behind its locked doors a small family of key staff and NHS workers has really flourished.
With all but 10 of the hotel's 150 staff on furlough, and approximately 20 key-working NHS staff on the premises, it has felt more like a home away from home than a hotel for those few dozen.
The frontline battle may be Covid-19 for the NHS staff, but for many of them housed in the City Hotel, a battle with loneliness is often not too far behind – but that in turn has really fostered a sense of community.
Barry Donaghy, the Hotel's Operations Manager, says everyone has become pretty close over the last few months – even if it means just chatting over a physical divider, with the hotel effectively cut in half.
"It has been surreal," Mr Donaghy told Armagh I.  "We have 150 staff of which 140are on furlough, which leaves a core team of 10 people and 20 NHS staff. They came here to get away from their houses and to limit the risk of bringing the disease home.
"And in turn we've created that safe environment for them here, where they can decompress after a day's work. We have cut the hotel in half, but the left hand side [NHS staff side], we have created a canteen, a common area and their own bedrooms, but they're lonely – there's 22-year-olds, others with families, so over the past few months we've all become pretty close.
"We can sit and talk across the divide, catching up each day – it is actually quite nice," Mr Donaghy added.
Some of the NHS staff have been in the hotel since day one, back in early April, which Mr Donaghy admits can take its toll.
"Most of them actually have been here since the first week of April; they are a fabulous bunch but it is hard for them," he said.
"Going away to a hotel, one night, or a couple of nights, it's a bit of fun, something different, but once you start going into two, three months, it becomes very boring, and very lonely.
"We're doing all we can to make their time with us a little less lonely. It helps us too as we are here on our own. I'm used to dealing and interacting with hundreds of people on a daily basis, now it's just that small core group. We're here 8, 9, 10 hours a day so that little bit of interaction helps brighten our day too."
On top of that, the generosity of the local community, Mr Donaghy says, has been incredible for everyone in the hotel.
"Obviously we've been closed so there's no chef, so you have places donating food, like Daily Bake, or the likes of Cordelia's with fish and chips, and unreal Thai food from My Thai (pictured below).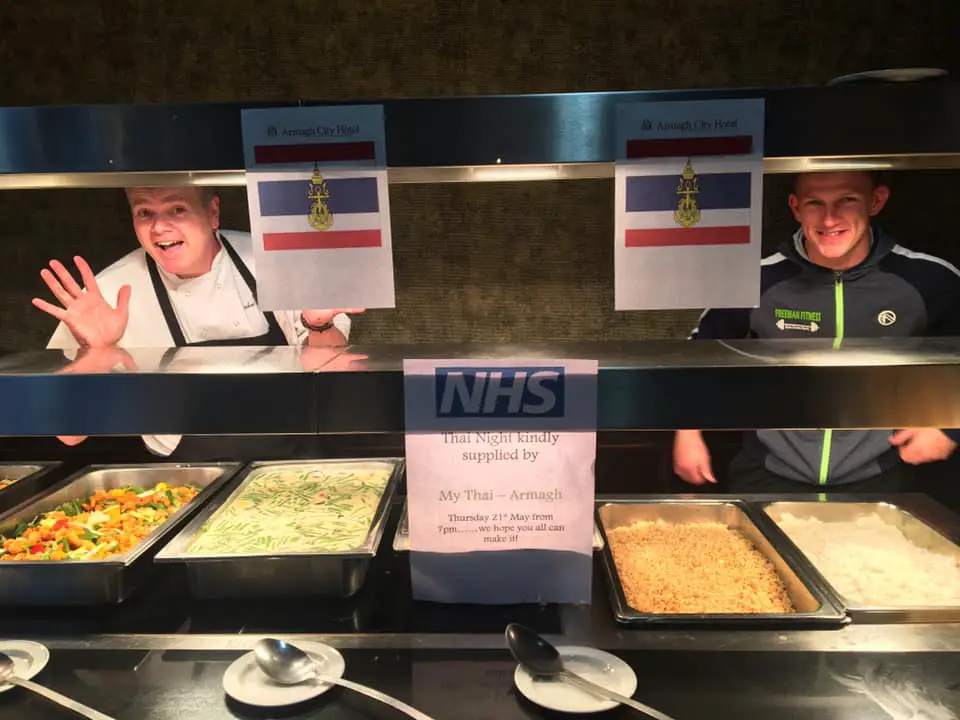 "Those nights have also given these NHS staff an opportunity to bond too, because we have with us a doctor from Daisy Hill, a nurse from Craigavon and a care worker from Dungannon, who never knew each other, but these wee nights really helped create that community. It's been really nice."
The hotel, like many businesses in the hospitality industry, has seen day-to-day operations cease, but for Mr Donaghy, there is some light at the end of the tunnel, where he hopes to open again to the public in August.
Preparations are already underway to get the hotel up to standard to deal with the new normal. Mr Donaghy says it's vital they get it right in the first week as "we only have one shot at it".
"We are anticipating August but will be sitting ready from mid-July," he said.
"This past number of weeks it has been locked down – mothballed – but the last week or so there has been a bit of light at the end of the tunnel, so we're now looking at the fabric of the building and how we will bring about social distancing inside. We're lucky we are a large hotel.
"We anticipate it to be a slow burner; I don't think we'll open our doors and it'll be anything like it was before lockdown. People will be wary about heading out.
"There are certain shops who have reputations because they have either done things right, or done things wrong, and we have to be wary about getting it right.
"We are lucky in the sense that we can lift out every second table, bar stools, that's easy for us.
"We can accommodate two metres but we're hoping that distance is reduced by the time August comes but even if it's not we can do that."
Mr Donaghy says the hotel's first priority is to protect its staff and secondly how they add customers into that mix because "without customers we have no staff".
As the man responsible for the day-to-day running of the city's largest hospitality venue, Mr Donaghy believes it is vital they create "some semblance of normality in that it's not a clinical environment, it's a hotel; you're coming here for an atmosphere and to get away but that is the challenge right across the hospitality sector".
One of the big changes in the Armagh City Hotel will be the moving of its busy carvery down to its main function room on the lower floor.
"We currently have the carvery in the bar area and it does big numbers but we feel we cannot achieve social distancing where it is at the moment. We have the function room which I can't see being used in earnest until the New Year."
With social distancing to be in place for much of the remainder of the year, Mr Donaghy says it will be a challenge to manage the bar but that would have been a much bigger concern for him 10 years ago.
"Luckily, we're more food-led these days. We don't have those sort of events where people would be boozing all night except maybe for Christmas parties, but I'd say they will look a lot different this year in terms of numbers.
"There will be no bands; it'll maybe be people sitting at their tables watching a cabaret act, or a comedian, so it'll be a whole new challenge.
"It'll be up to us to reduce the opportunity for people drinking a lot. Ten years we had The Bunker but that's closed. Hopefully it's not a challenge we will have to face but it will face other places in Armagh."
As for the excitement of returning to a sense of normality, Mr Donaghy says it's not just himself who is feeling it.
"I'm in contact with all our staff on a weekly basis to see how they're getting on and they're all bursting to get back.
"I was speaking with our head chef John [Whyte] last week and he pulled out 15 lovely big steaks from his freezer and we did a steak night for the NHS staff all last Saturday night and we were buzzing.
"I just said to him, 'that's basically one table on a normal Saturday night for us, imagine when we're back again!'"
Sign Up To Our Newsletter