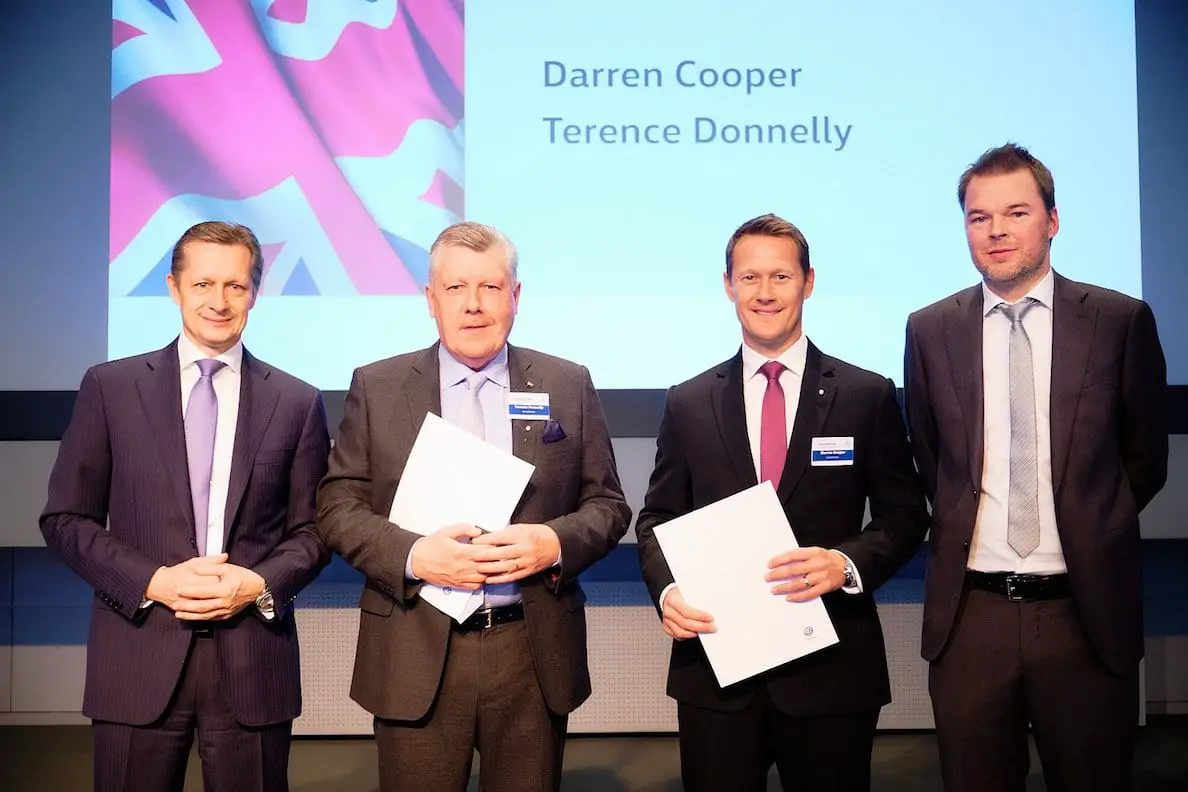 Terence Donnelly, Executive Chairman of Northern Ireland's largest family-owned new and used vehicle retailer, the Donnelly Group, has been selected as the 2018 recipient of the prestigious Volkswagen Diamond Pin.
The Diamond Pin is the highest individual award from Volkswagen celebrating service to the brand.
The award recognises a continuous display of operational excellence in sales, servicing, customer satisfaction and parts sales by Volkswagen dealers world-wide.
Of the accolade, which was presented at the Volkswagen Group headquarters in Wolfsburg, Germany, Mr Donnelly said: "Since the beginning of our longstanding partnership with Volkswagen, we have been committed to providing a superior customer service at each of our dealerships across Northern Ireland, from purchase through to aftersales care.
"At Donnelly Group we are driven by innovation and a passion for what we do. This means that every day we go above and beyond for our customers and indeed our manufacturer partners."
Described by Volkswagen as an 'inspirational character', Mr Donnelly is a founding member of the Northern Ireland e-car consortium, which paved the way for the installation of electric car charge points throughout Northern Ireland.
Mr Donnelly continued: "As we continue to expand and grow as a company, we continue to actively invest in our
employees.
"With approval from the Institute of the Motor Industry (MI) as a training centre for industry accredited courses, we are able to offer high-quality industry training and apprenticeships to current and future team members.
"Being awarded the Diamond Pin is an honour and I am very proud to be recognised by Volkswagen as a worthy recipient. This is testament to the hard work of our employees and I look forward to continuing to work alongside Volkswagen now and long into the future."
Stefan Timmerman, Head of Sales North-West Europe at Volkswagen, said: "We are delighted to award Terence Donnelly the Diamond Pin for his work and contribution as a UK Volkswagen retailer.
"Terence has taken Donnelly Group from strength to strength, and since he began his work with Donnelly Group in 1969, has expanded the business to a province-wide organisation with nine locations across Northern Ireland.
"The way in which Donnelly Group sells and services Volkswagen vehicles is something to be admired, and Terence is extremely deserving of this accolade."
Donnelly Group currently has sites in nine locations across Northern Ireland, including; Bangor, Ballymena, Belfast, Dungannon, Dungannon M1, Eglinton, Enniskillen, Newtownabbey and Omagh.
Sign Up To Our Newsletter