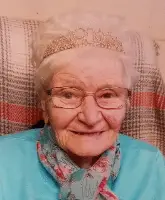 Donnelly, Nora.
We the family of Nora our beloved mother and dearly loved grandmother, great grandmother, mother in law, sister in law, aunt and friend who passed away on 21st August 2023, would like to express our deep appreciation and heartfelt thanks to all those who supported and sympathised with us during our recent sad bereavement.
We would like to acknowledge all those who paid their respects in any way. Sincere thanks to our dear relatives, friends and neighbours who helped in so many ways and supported our family.
Thank you to everyone who attended the wake/funeral, brought or sent mass/sympathy cards, sent messages, telephoned, paid floral tributes, helped with car parking , took part in the funeral cortege and to all those individuals and businesses who brought gifts of food during the wake, in particular Eglish Country Fry and Jimmy's café, Moy.
We extend our sincere appreciation to the Trust domiciliary staff, Clogher Valley Care, Dr Tracey McConville and the staff of Moy Health Centre, the District Nurses, McKeevers Chemists and all other health care staff whose kindness, support and help during our mothers ill health will never be forgotten.
We would also like to extend a special word of thanks to our brother Malachy, his wife Shirley and their family for taking such wonderful care of our mother in their home in her final declining months.
Our thanks to Fr Heagney who ministered to our mother and brought her great comfort during her illness, to Fr McHugh who celebrated the requiem mass and all those who assisted with the beautiful ceremony through readings, presenting the symbols of life and providing music and song all of which were a fitting tribute to our mother and her life.
Finally thank you to E Quinn & Sons Funeral Directors for the dignified and professional manner in which the funeral arrangements were carried out and to Quinn's Corner for providing refreshments after the funeral.
As it would be impossible to thank everyone individually, please accept this acknowledgement as a gesture of our family's deepest gratitude.
"Our Lady of Knock pray for her."
Nora's Month's Mind Mass will be celebrated in St Patrick's Church, Eglish on Tuesday September 19, 2023 at 7.30pm. 
Click here to place a family announcement 
Sign Up To Our Newsletter