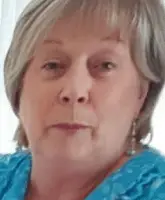 In loving memory of Carmel Agnew who died on July 15 2022.
Ease your grief she is not gone
For in your heart she lingers on
Her smile, her laugh her special way
Will comfort you from day to day
You'll feel her presence in the breeze
That dances gently through the trees
And it's her face that you will see
When your in need of company
At any time you can recall
The love you showed you saved it all
And in time more than anything
You'll find peace in remembering
Always remembered and sadly missed by her family and friends.
Carmel's first Anniversary mass will be celebrated in St Patrick's Cathedral on Saturday July 15 at 6:30pm.

Contact us via email marketing@armaghi.com and our dedicated team can help you choose a fitting tribute.
Sign Up To Our Newsletter