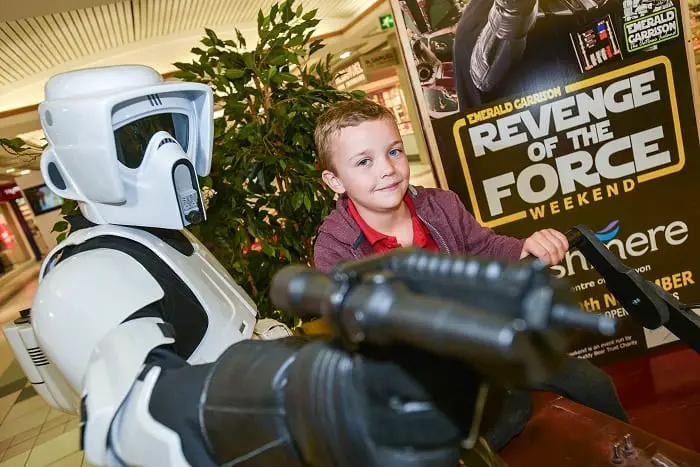 The force is awakening in Rushmere Shopping Centre, as Chewbacca and an army of clones will be invading the popular Craigavon-based retail centre this weekend ahead of the eagerly awaited release of latest Star Wars instalment – The Force Awakens, in cinemas on December 18.
The 45-minute show, Revenge of the Force, is an impressive installation taking place in the shopping centre throughout the day at scheduled intervals every hour on Saturday 28 and Sunday 29 November, and is set to attract hordes of shoppers and their children to the centre to see the spectacular production.
Sci-fi and fantasy film fanatics of all ages will get the chance to see some of the latest popular characters come to life at the exhibition which has been organised by local Coalisland-based company D-Sign and Displays and the Emerald Garrison, famed for their Star Wars costume club and life-like film set designs.
Charitable donations over the two-day event will be going to the Buddy Bear Trust which is based in Dungannon and operates a Conductive Education School which serves the needs of children living with cerebral palsy, and tickets are available from the Customer Service Desk for £5 per person or £18 for a family of four.
Martin Walsh, Centre Manager at Rushmere Shopping Centre said: "With the eagerly awaited seventh installment of the Star Wars franchise coming to our screens next month, we're delighted to welcome the Emerald Garrison's Revenge of the Force exhibition to the Centre. Shoppers can expect to see state of the art costumes and sets, along with some of their favourite Star Wars characters. There's no doubt the force will be strong in Rushmere this weekend, for this amazing exhibition which promises to excite and ignite imaginations of all who come and visit."
Entrance times run on the hour from 10.00am to 5.00pm on Saturday 28th November and 12noon to 5.00pm on Sunday 29th November. Each admission lasts 45minutes. To find out more information on the production, please contact Rushmere on 028 3834 3350 or visit www.rushmereshopping.com
Newsletter
Sign up for our weekly newsletter here.