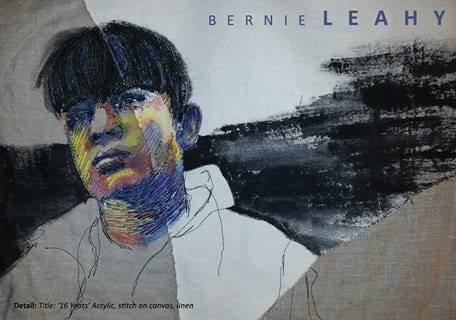 The Art of Craft 2017 exhibition opens at the Market Place Gallery on Friday 28 April at 7pm.
'Elements' is a solo exhibition by Fine Craft Artist Bernie Leahy.
Elements features drawing, sculpture, video & sound, painting – with stitch. Leahy's new work explores a variety of media and delves into a wider palette of colour, grasping fleeting moments and fragments of our emotional range.
The launch at 7.00pm on 28 April will feature an introduction from Dr Audrey Whitty, Keeper of the Art and Industrial Division (Decorative Arts and History) National Museum of Ireland. All are welcome to attend and refreshments will be served.
Elements runs until 17th June 2017. The exhibition can currently be viewed at the gallery so if you would like a sneak preview before Friday's official opening pop in. Entry FREE.
About the Artist
Bernie Leahy has exhibited widely in Ireland and internationally including New York, Chicago, Philadelphia, representing Ireland as part of the 7th International Fiber Art Biennale 2010, and the International Textile Biennale 2004 representing Ireland in Venezuela.
Her artwork has also been internationally exhibited in the London, China and Rome, and forms part of private & public collections in New York, Philadelphia, Chicago, St Louis, New Jersey, as well as the UK & Ireland. Her major two-person exhibition 'The Narrative Line', with UK artist Alice Kettle in the National Craft Gallery travelled in 2010/2011. A member of 'Irish Craft Portfolio' since 2005, she consistently produces fine craft work to an international exhibition standard. Membership of this group is selected by an international panel for the Crafts Council of Ireland.
Her work in sculpture, usually for public commission, employs a wide variety of materials – bronze, steel, glass, plaster, gold leaf.
Public Commissions include Per Cent for Art, Ballyboughal NS, with Fingal Co Co; Office of Public Works; Muckamore Abbey Hospital, with NI Arts Council; Waterford Healing Arts Trust; Quaker Museum with Kildare Co Co; and others. See details below.
Where: Market St, Armagh BT61 7BW
Organised by The Market Place Theatre & Arts Centre, Armagh
Sign Up To Our Newsletter