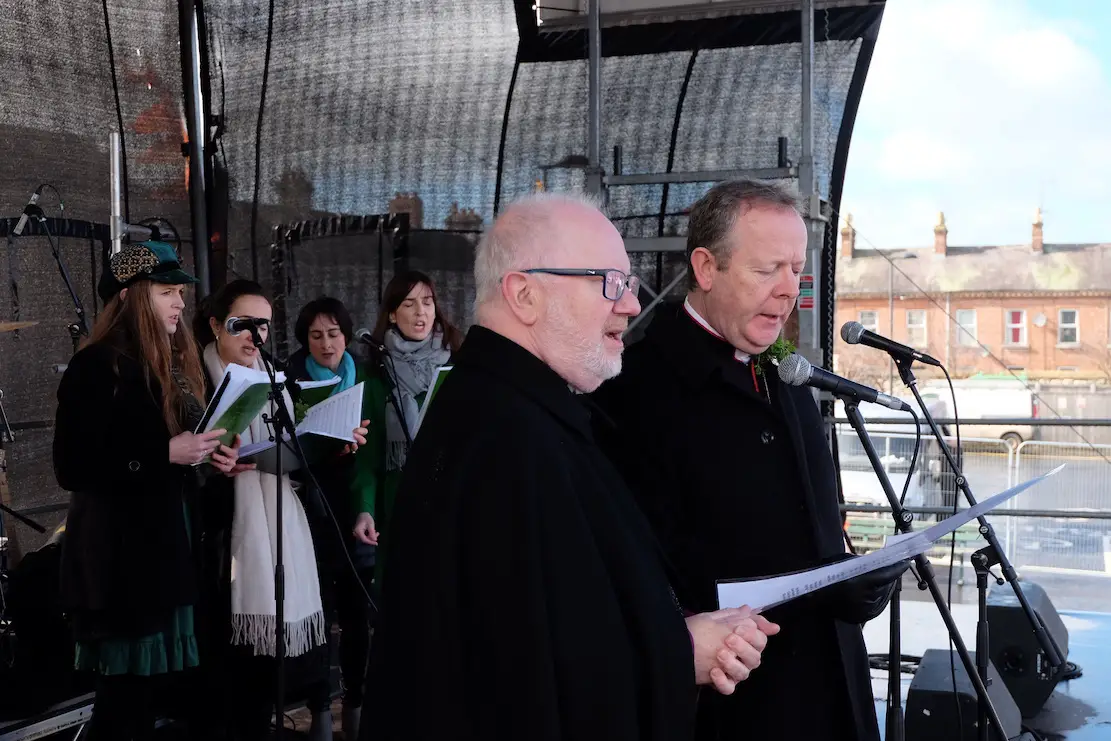 The Archbishops greeting kickstarted a day of St Patrick's festivities in Armagh this morning.
The Primates of all Ireland, Archbishops Clarke and Martin, commemorated St Patrick's Day, at a special joint event in the shared space between our two magnificent Cathedrals.
This symbolic expression of unity of the Churches is a reflection of St Patrick's own journey of unifying people within Christianity.
It is part of a 10-day Home of St Patrick Festival, and includes an additional community-led St Patrick's parade this afternoon.
The festivities reflect Armagh's growing importance and relevance in the global celebration of St Patrick, with a range of events broadcast to millions of TV viewers in the UK, Ireland, the United States and further afield.
Archbishop of Armagh, Eamon Martin, in his St. Patrick's Day message, said: "In these days of ongoing political and economic uncertainty over Brexit, I have been hearing families across the island of Ireland – including those who live and work along the border and those who make their living from farming, business and haulage – express anxiety about what the future might hold.
"People are speaking about relationships within these islands – north and south, east and west – becoming more strained and fragile."
Archbishop Martin recalled Pope John Paul II's visit to Ireland 40 years ago.
"In 1979 the border between north and south was heavily militarised and monitored.
"Pope John Paul II chose to speak about Christ as Prince of Peace, and against the construction of 'barriers of hate and mistrust'.
"On September 29,1979, the Polish Pontiff said at an open-air Mass in Drogheda, 'Let history record that at a difficult moment in the experience of the people of Ireland, the Bishop of Rome set foot in your land, that he was with you and prayed with you for peace and reconciliation, for the victory of justice and love over hatred and violence.'"
Join Our WhatsApp
Don't miss a headline with a daily round-up as well as major breaking news. Message 'News' to 07938050001.