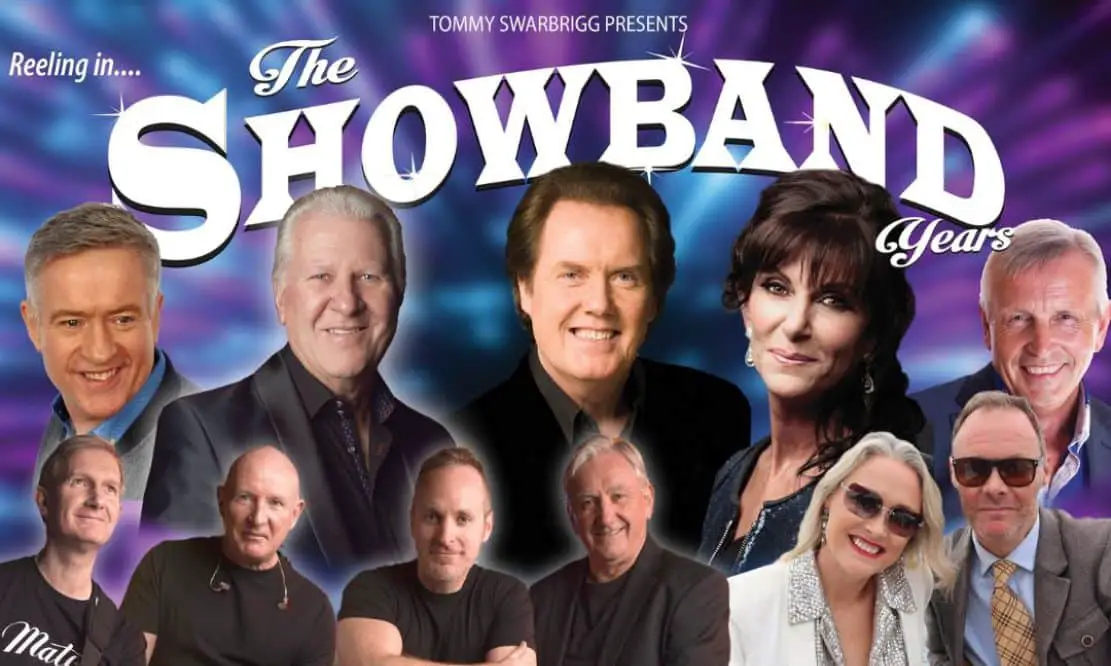 "Reeling In the Showband Years" has been a smash hit for the past 12 years, and we are delighted to say it comes to The Armagh City Hotel, Armagh for the very first time, on Bank Holiday Easter Monday on April 10 this year, to celebrate its amazing 13th Anniversary tour.
And what a line-up it is this year! RTE's Mister Music Ronan Collins is host and compere.
Red Hurley
A living Legend of showbiz for the past 40 years – one of the superstars of The Showband Era!
Red has a huge International career and has been feted from Las Vegas to The deep South of USA. His great, big, soaring voice has captivated audiences since he hit the stage with The Nevada Showband. Still a major force in Irish showbiz. Hear his stunning voice on "How Great Thou Art" and "When" to up tempo Songs Like "Tennessee Special" and all of his other massive hit records.
Linda Martin
A Superstar of Showbiz. Lead Singer with renowned band "Chips". Winner of the Eurovision Song Contest in 1992 with "Why Me". TV Presenter on multiple shows for RTE and abroad. All her smash hit songs will all be included. We are delighted to have this World Renowned Performer in the line-up for our 13th Anniversary Tour!
Ronan Collins
Sings his renowned tributes to The Great Joe Dolan, The Eurovision and much more!
Dominic Kirwan
We are delighted to welcome Dominic to the show for the very first time. He is truly a legend of Irish Show business.
His glittering career has spanned many decades and he still pulls the fans in everywhere he goes. Simply all you could ask for in an entertainer. An outstanding world class Artist!
Since the release of his very first album "Try a Little Kindness" all those years ago, he has remained one of our brightest stars and has shared the stage with International acts such as Charlie Pride, Tammy Wynette, Kenny Rogers, Don Williams and Crystal Gayle, to name just a few!
Bringing his own vibrant shows to theatres, not only in his native homeland Ireland, but throughout the UK, Australia, Canada and all over Europe!
Dave Lawlor
A huge surprise hit on last year's show. But no surprise to those who know of his ability. A big voice – a master stage craftsman. We are delighted to have him back again this year! His smash hit record of a few years ago "Showband Nostalgia" is a frequent radio feature. A timeless classic! An outstanding top class artist!
Keith and Lorraine McDonald
This incredible brother and sister combination from one of the oldest musical families in Ireland. Their Father, Frankie, was trumpet player with Joe Dolan for many years. Lorraine is one of the brightest talents to emerge from the late Showband era and Keith is a star in his own right!
The Conquerors Showband
One of the greatest Showbands of them all and still packing them in everywhere they go. The Galway boys sang "Baby Blue" and many more hits.
The show's exciting finale is an ALL Cast Salute to the Showband Era. All of the stars join in for a medley of songs from the unique Showband Years! Bringing you back in time to this magical musical period.
It will send you home with great memories of a wonderful and never to be repeated time in Irish popular music.
Armagh City Hotel, Armagh
Monday April 10, 2023
Doors: 7pm | Show: 8pm | £26.50 + booking fee
Sign Up To Our Newsletter