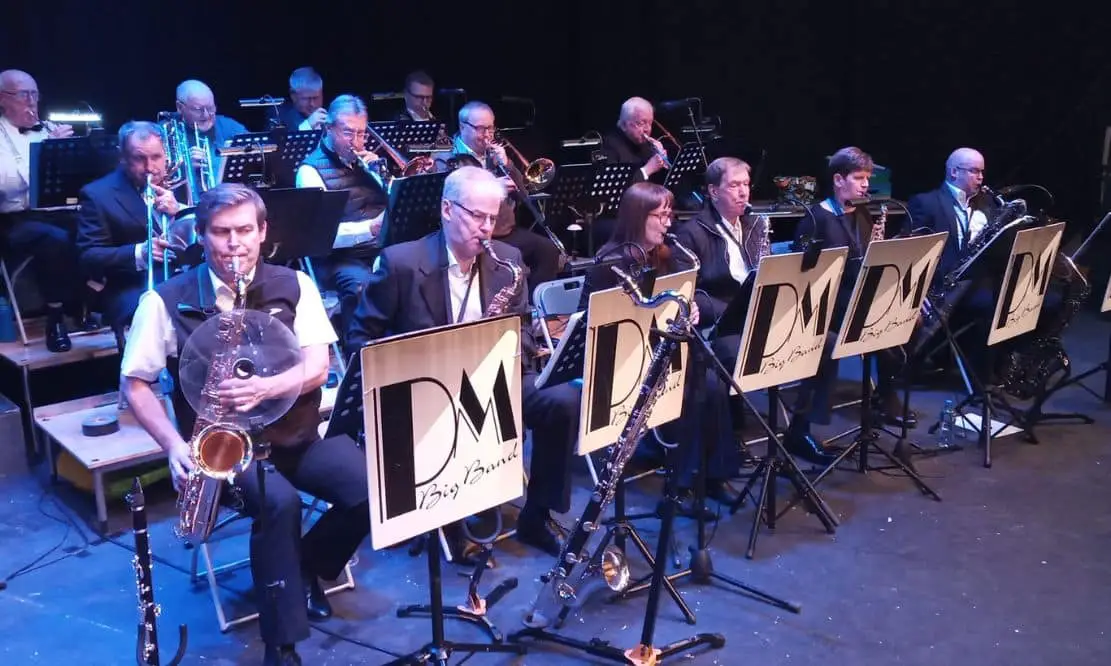 The PM Big Band are excited to be back in the Marketplace Theatre, Armagh on Saturday May 13, 2023 kicking off their 20th Anniversary celebratory Swing into Summer Tour.
Then on Saturday June 10, 2023 the PM Big Band will bring "Swing into Summer" to Portadown Town Hall. At this event, the band aims to celebrate 20 years in style with audience members toasting the band's future with a complimentary glass of wine or soft drink during the interval.
The PM Big Band is a 22-piece band which performs with vocalists – Ceara Grehan and David Hamilton.
The Marketplace Theatre Armagh, Portadown Town Hall and Belvoir Theatre Belfast are regular gigs with outings also to Garage Theatre Monaghan, The Iontas Theatre Castleblayney and The Ardhowen Theatre, Enniskillen over the years.
The band has also played at, and is available for, corporate events, weddings, private parties, etc. The Band's talented Musical Director and Saxophonist John Mitchell is also musical director for Portadown Community Band as well as performing regularly with the Iconettes and supporting various local musical theatre productions with his skills. John also performs throughout Ireland and Europe with the Bjorn Identity Tribute Band.
Celebrated vocalists, Ceara Grehan and David Hamilton bring vast performing experience and more than a hint of glitz and glamour to the PM Big Band sound. Ceara's professional musical theatre background including a recent performance for the Dublin production of the Sound of Music as Baroness Shraeder and exclusive membership of the Leading Ladies vocal group, proves to be the perfect partnership with David whose entertainment credentials since the late 60's includes collaborations with numerous bands and entertainers including the John Anderson Big Band, Candy Devine, Francis Campbell, Trevor Kelly and Crawford Bell as well as appearing in Harry's Kingdom and The Entertainers on Television and various shows on BBC Radio Ulster.
As part of the 20th Anniversary celebrations, the PM Big Band has recorded 6 tracks at the QUB Sonic Arts Centre in Belfast, which not only proved to be an enlightening and worthwhile experience for band members, but yielded some fine examples of the art of Big Band jazz. It is the Band's intention to use these "sound bytes" and accompanying videos for future promotion/media opportunities.
The Band's repertoire appeals to a wide audience; from the classic swing era of Frank Sinatra, Glenn Miller, Count Basie, to more modern arrangements including numbers by Michael Bublé, Amy Winehouse, Lady Gaga and Tom Jones – great tunes and certainly something to suit everyone's musical taste.
Avoid disappointment and buy your tickets now – these events promise to be popular and very entertaining. Follow the PM Big Band on Facebook.
Tickets for the Market Place Theatre event are available via marketplacearmagh.ticketsolve.com
Tickets for the Portadown event "Swing into Summer with the PM Big Band" are available online or through band members. Details can also be found via the band's Facebook page.
Sign Up To Our Newsletter