One Direction have rescheduled last night's cancelled show for this Friday.
After making fans wait for hours on a statement from Aiken Promotions finally came. It read: "Tonight's and tomorrow night's One Direction concerts in SSE Arena, Belfast will be going ahead as planned.
"Once again we apologise for the cancellation of last night's One Direction show.  We thank everyone for their understanding and their good wishes to Liam.
"Tuesday's concert has been rescheduled for this Friday, October 23. All tickets from last night's postponed concert will be valid for Friday.
"For anyone not able to attend the rescheduled Show on Friday, please contact point of purchase for detail of how to obtain a refund.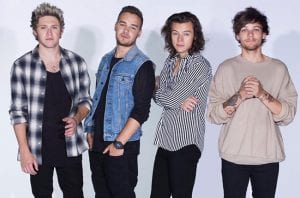 "We would also like to extend our sincere thanks to the Belfast Giants & Sheffield Steelers Ice Hockey Teams and fans for moving their Game on Friday."
Last night the band cancelled at the last minute after Liam Payne became sick and could not go on stage.
They had been due to play the first of three gigs at the SSE Arena on Tuesday.
The announcement was made at around 9pm (see video below), when most of the audience was already inside the venue.
So far Louis, Niall and Harry have said sorry about the cancelled show but there has been no word from Liam.
Adding to fans' concern there are reports that Niall Horan was also ill yesterday after he pulled out of a radio interview.
Around 30,000 fans have splashed out more than £1.6m on tickets.
Last night, a One Direction's rep said: "Unfortunately One Direction have had to cancel tonight's concert in Belfast.
"Liam has been taken suddenly ill, and the concert will sadly not be taking place.
"Fans have been asked to hold on to their tickets and there will be a further statement tomorrow. The band apologise to their fans and wish Liam well as soon as possible."
has the one direction statement been pushed back to the future?!?

— jess | 4 (@MAMET0WN) October 21, 2015
One Direction statement due at 10am, then 11am and then midday has still not materialised! — Q News (@qnewsdesk) October 21, 2015
"Liam has been taken suddenly ill, and the concert will sadly not be taking place. "Fans have been asked to hold on to their tickets and there will be a further statement tomorrow. The band apologise to their fans and wish Liam well as soon as possible."
Deepest apologies to everyone at the show tonight in Belfast. Very disappointed, but unfortunately these things happen. We're very sorry. H — Harry Styles. (@Harry_Styles) October 20, 2015
We're so so sorry for what happened tonight, it was out of our control ! Lots of love to Liam and thank you for being so understanding ! — Louis Tomlinson (@Louis_Tomlinson) October 20, 2015
So sorry we have had to cancel tonight guys. Unfortunately these things happen… Thank you to all who came down tonight ! — Niall Horan (@NiallOfficial) October 20, 2015
Turns out it's not raining at all in Belfast. It's just tears from one direction making all their fans cry! #1dbelfast — ande gray (@andegray) October 20, 2015
@onedirection cancelled in Belfast I could cry for all the children and fans?? #feelingsad — Ellen Fitzpatrick (@fitzpatrick109) October 20, 2015
you know the end is here if in a few minutes or hours we get a tweet saying "One Direction Official Statement" with a link to their fb acc — hey angel (@flirtypals) October 21, 2015
Sign Up To Our Newsletter