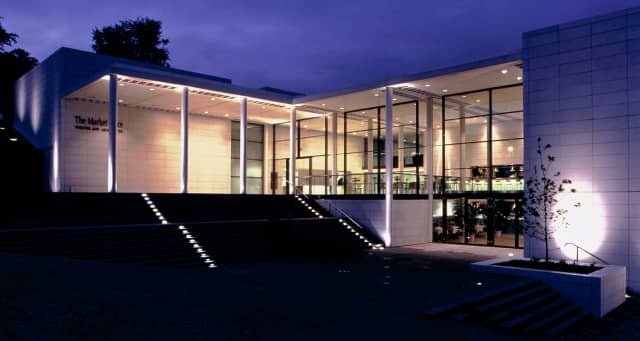 The Market Place Theatre and Arts Centre in Armagh has sadly been lacking in recent months with the closure of the bar and bistro, known as Footlights.
But the premier arts venue is about to bounce back and add to Armagh's night life offering.
For this Friday, July 4, the bar and bistro at the Market Place will be reopening under new management, with new menus, opening times and a new service for customers.
Simply known as the 'Market Place Theatre Bar & Bistro', it will encompass theatre coffee shop, lunches, bistro meals, pre-theatre dinners, full bar service, weekend entertainment and facilities for meetings and conferences.
The new opening hours have been announced as follows:
Coffee Shop: 10am to 4pm Mon to Sat. Lunches served 11.30am to 3pm
Bistro: Open For Evening Meals Thurs – Sat 4pm to 9pm | Pre-Theatre Meals Available Show Nights 5pm – 9pm. Booking essential
Bar: Thurs – Sat 4pm to 1am with live music on Saturday evenings | Other Show Nights: 6pm to late
NEW MENUS
The Bistro has extensive new menus including sandwiches, soups, meals and desserts for lunches, a pre-theatre dinner menu, extensive wines and spirits and special offers relating to shows including themed evenings, drinks promotions and entertainment.
SPECIAL OPENING OFFERS
•           Special opening offer to the Public, Lunch Time Free Dessert with every main course item until 26th July.
•           Evening Offer Free Glass of Wine OR Soft Drink with every meal to 26th July.
As part of the Bistro opening, The Market Place Theatre is running a children's craft session on Saturday 5 and Saturday 19 July, from 2-3.30pm.
They will take place in the theatre foyer, allowing you to relax and enjoy your lunch as the little ones are kept busy at the craft session. These are free to all, for ages 3 and up, and sessions will include a toy making activity.
ALL BOOKINGS AND ENQUIRIES TO:
Contact Stacey on 02837 521828 or 07803 029255 | stacey.heslip@ocs.co.uk
Central Booking: Contact Gemma on 02890 360723 | gemma.parker@ocs.co.uk
Read more county Armagh news:
Lurgan man has charges dropped in prison officer David Black murder probe
Sale of demolished Ogle Street site confirmed to Armagh I
Detectives appeal to caller in Caroline Graham investigation to phone back
Work to start on long overdue Darkley play park
Armagh earn replay with injury-time equaliser against Monaghan
Appeal following spate of creeper burglaries in north Armagh
Watch: Greece offers to fly county Armagh boy to watch World Cup match in Brazil
Watch: Customs swoop on £11m tobacco haul
Newsletter
Sign up for our weekly newsletter here.