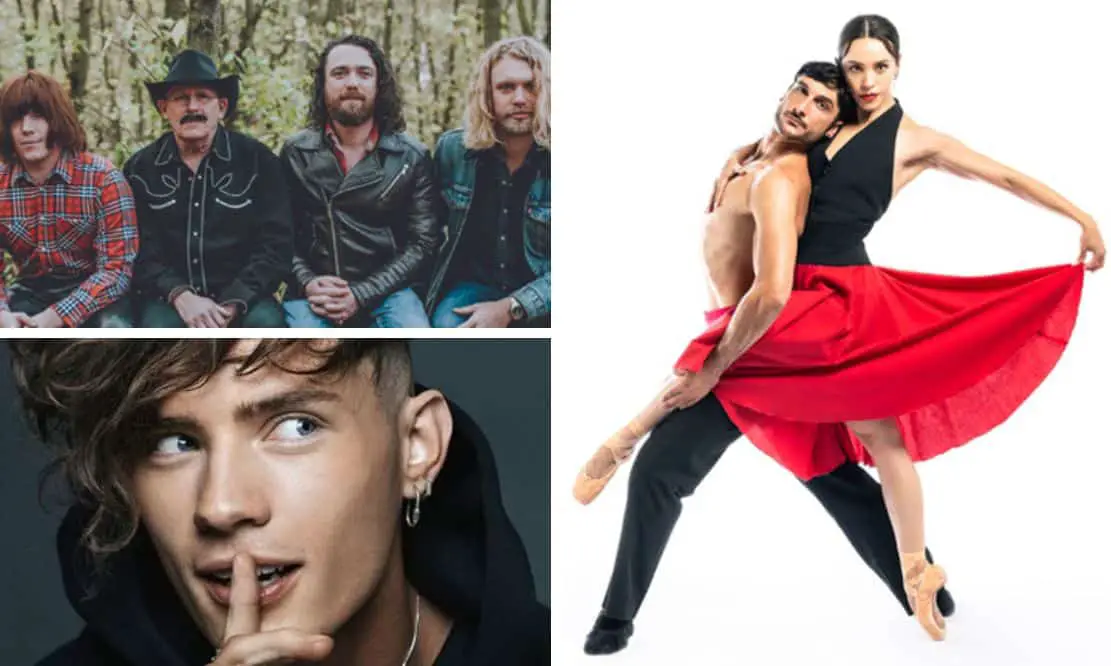 This November, the Market Place Theatre sets the stage for a number of magical performances.
Meet viral internet sensation, mentalist Joel M; enjoy a night of toe-tapping classics with 'The Country Stars' and step back in time for a tragic re-telling of Armagh's Railway Disaster.
Find out more about these events, and more, below:
Joel M: Impossible
Prepare to have your mind blown as acclaimed magician and mentalist Joel M takes centre stage with his highly anticipated new show, "Impossible".
With an online following of 20+ million across TikTok, YouTube and Instagram, and an impressive 4 billion views, Joel M has become a household name around the globe.
Having also showcased his talents as the current presenter on the beloved children's programme Blue Peter, Joel M is now set to add some magic to various venues across Northern Ireland this November that will leave audiences spellbound.
Market Place Theatre
Thursday November 2, 2023
8pm | £15.00
---
Magical Mozart by Candlelight
From the producers of 'A Viennese Strauss Gala', this sumptuous fully-costumed show immerses us in the wonderful music and the classical baroque world of one of the world's greatest romantic composers – Wolfgang Amadeus Mozart.
With beautiful settings, costumes, lighting and of course candles, the European Baroque Ensemble and world-class opera singers transport you back to the sumptuous past.
A packed programme of classical music and song, which includes excerpts from the most memorable of Mozart's operas, such as 'The Magic Flute', 'The Marriage Of Figaro', 'Cosi Fan Tutte' and many more.
Market Place Theatre
Saturday November 4, 2023
8pm | £22.00
---
A Night With The Country Stars
Get the Stetsons at the ready folks as back by popular demand "A Night With the Country Stars" returns for another night of toe-tapping magic featuring five of Ireland's top performers all on one super show.
The fabulous line-up will include the Louisiana man Robert Mizzell, supreme vocalist from Sligo Patrick Feeney, the multi-talented instrumentalist from Co. Down Stephen Smyth, the wee man from Strabane Hugo Duncan and the yodeling maestro Kenny Archer, who each will perform their trademark hits in the company of top backing band Keltic Storm.
Market Place Theatre
Thursday November 9, 2023
8pm | £26.00
---
Carmen
Passion, drama and riveting performances unfold in Ballet Ireland's 'Carmen'. Thrilling audiences when first performed, this ballet created for the company follows the story of a young, naïve soldier Jose, who is bewitched by the beautiful and fiery gypsy, Carmen.
Obsessed and reckless, Jose turns his back on respectable life to be with her. But Carmen, like love, is a bird that cannot be tamed and Jose's desire to possess her eventually destroys them both.
Market Place Theatre
Saturday November 11, 2023
8pm | £26.00
---
The Pat McManus Band
Growing up in a family steeped in traditional music, Pat's first instrument at the age of 4 years was the violin. By the age of 7 he was also playing the acoustic guitar and performing live with the family band.
By 14 years he was All-Ireland Champion on the violin and was offered a place at the Royal School of Music, but by 18 years he was seduced by Rock 'n' Roll…….and so he picked up the electric guitar.
Affectionately known as the 'professor', Pat has been, in recent years, hailed in the press as one of the top 5 Irish guitarists.
Market Place Theatre
Saturday November 11, 2023
8pm | £16.50
---
Impact
The popular Sunday school excursion to Warrenpoint began with a band parade from the Methodist church in Abbey Street, through the town to the Railway Station.
It was a sunny morning on the 12th of June 1889 when some 1200 excited children and adults thronged the station platforms in anticipation of a day by the sea. Little did they know that the day would result in at least 89 deaths and over 400 injured.
Armagh Theatre Group, with an original script, retells the tragic events of that fateful day.
Market Place Theatre
Friday – Saturday November 17 – 18, 2023
8pm | £15.00
---
Creedence Clearwater Review
Selling out venues across the world including a short residency in sunny Bahrain, Creedence Clearwater Review are established as the UK's No 1 definitive Creedence Clearwater Revival Tribute amongst die-hard fans and theatre audiences.
After years of touring, being dubbed as the most authentic, honest and power packed celebration of CCR and John Fogerty, Creedence Clearwater Review bring you The Greatest Hits tour reprising all of the greatest hits including 'Proud Mary', 'Bad Moon Rising', 'Fortunate Son', 'Have You Ever Seen The Rain' and many more. Be swept back in time to the heady days of Woodstock '69 and to one of the most important musical periods in history!
Market Place Theatre
Sunday November 19, 2023
8pm | £22.00
---
Prudence and Promiscuity
Grab your bonnets ladies, tie your cravats gentlemen and book your carriages, for there is to be a one-night-only performance of a new Jane Austen inspired comedy play.
Step back in time to Georgian Armagh for scandal, seduction and raucous washer-women, as a host of wonderfully wicked characters search for love and financial security in this light-hearted and charming comedy of no manners and very little sense, or sensibility.
Lizzie and Minnie Barnet, assisted by their loyal Footman, discover if Prudence or Promiscuity will win them 'a gentleman of large fortune'. Will Lord Gosford propose? Why is Lady Caroline Brownlow so gleeful? And what exactly is the Rev Mr Cunningham doing in the cupboard?
Mary Rose Productions brings a fresh new work to the stage, which is described by the Abbey theatre as "witty and fast paced, a unique and engaging blend of old and new, a play with a strong individuality and enjoyable escapist sensibility".
Market Place Theatre
Friday November 24, 2023
7.30pm | £16.00
Sign Up To Our Newsletter