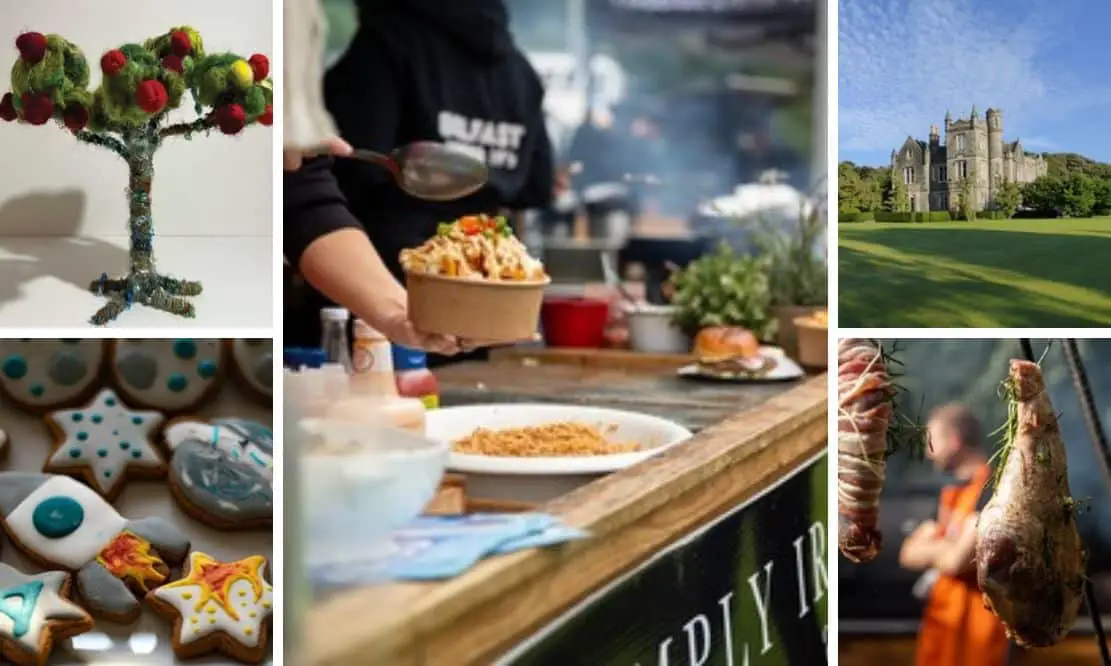 Keep your hands busy during this Armagh Food and Cider Festival with a variety of interactive workshops and cooking experiences.
And for those of you less creatively inclined, there are morning and evening artisan markets where you can sit back, soak up the atmosphere and browse the creations of others.
On Saturday there will also be a series of foodie tasting demos during the afternoon, held in The Market Place Theatre. These demos will focus on coffee, cider tasting and delicious cookery options. Tickets for these workshops can be purchased online here.
Planet Cookies
Armagh Planetarium will play host to talented, local baker Rosemary Hughes who will teach young bakers how to make cookie dough. The young bakers will then be shown how to roll out and cut the dough into different planetary shapes which they will then enjoy decorating.
In this workshop, which is suitable for children aged 8 years and over, Planetarium staff will also be on hand to talk about each of the planets and share some exciting facts about our solar system.
Children will take home what they have baked and decorated… and not already eaten!
Ticket price includes the cost of all materials and aprons will be provided for the event.
As parents/carers leave participants off for the workshop, they will be asked to complete a Parental Consent photography Form.
Armagh Observatory and Planetarium, Armagh
Saturday September 9, 2023
11.45am – 12.45pm | £10.00
Cooking with Fire
Elevate your barbecue experience by learning the mastery of wood-fire management with the experts from Richhill-based, barbecue catering company, On the Hoof.
We will look at all aspects of cooking with wood, from sustainability to the connection to our native woods in nature.
From breakfast to supper, everything will be cooked over wood fires, with the opportunity to cook on a smoker, wood fired pizza oven, open fire pit, asado grill or plancha. You will learn the power behind cooking low and slow to get the best out of your BBQ meats.
Your day includes all refreshments with the opportunity to enjoy lots of dishes created throughout the course of the day.
The day concludes with a BBQ feast and a chance to answer any burning questions which may have come to mind. Remember to bring some reusable containers to take home any tasty leftovers!
How the day looks:
– Alfresco breakfast, cooked by you, on the fires
– Meat preparation, shoulder of pork and lots of other meats to be cooked on the fires
– Brisket 101, covering everything from trimming, dry rubs and smoking
– Making a campfire stew to be enjoyed later in the afternoon at our feast
– Smoking a ham hock, a treat to take home at the end of the day
– Vegetable cooking, using a selection of different techniques
– Planking fish
– Preparation of sauces and accompaniments to the dishes we've prepared
– The day will wrap up with a supper enjoying all we have produced together
This event is not suitable for children under 12.
On the Hoof, Bryandrum Road
Saturday September 9, 2023
10am – 4pm | £130.00
---
Elmfield Estate Market
Local food producers, artisans and wellness experts, will come together at Elmfield Estate Market to create an experience that realises the ethos of Elmfield Estate as a place of natural wellbeing through the power of whole foods. The newly renovated courtyards will showcase passionate food producers, natural self-care products, plants and flowers, and art and artisan crafts.
Over 40 producers will be in attendance, including many from the Food Heartland. You can expect to see Burren Balsamics, Ballylisk cheese, Chala Chai, Peggy's Family Farm, Autumn Harvest, Alan Chambers plants, Gracehill Flowers and many more.
Get involved throughout the day with taster wellbeing experiences, a tour of the gardens or listen to live music or drop in talk with a coffee and street food treat in the cobbled courtyard.
The market is open from 10-3pm and a car park charge of £5 is payable to gain access to the market and gardens. This can be paid in cash at the gate or via the online link here.
Elmfield Estate, Gilford
Saturday September 9, 2023
10am – 3pm | £5 car park charge
---
Urban Orchard Market
The Urban Orchard Market is at the heart of the weekend. The title food and cider market at The Shambles Yard, Armagh is famed for providing gastro experiences and food adventures.
The outdoor Orchard Bar offers amazing live music while you explore the artisan market. There will be lots of things to do so plan to spend some time at this charming experience.
Admission is free – no ticket required.
The Shambles Yard, Armagh
Saturday September 9, 2023
4pm – 9pm | Free event
Please Note:
Should you have any dietary or access requirements for the events outlined above, please mention during the booking process and these will be accommodated as far as possible. Please email foodandciderweekend@armaghbanbridgecraigavon.gov.uk for further assistance.
To view General Information and Cancellation Policy for Food and Cider Weekend 2023 – please click:https://bit.ly/3KtYLXu
Sign Up To Our Newsletter