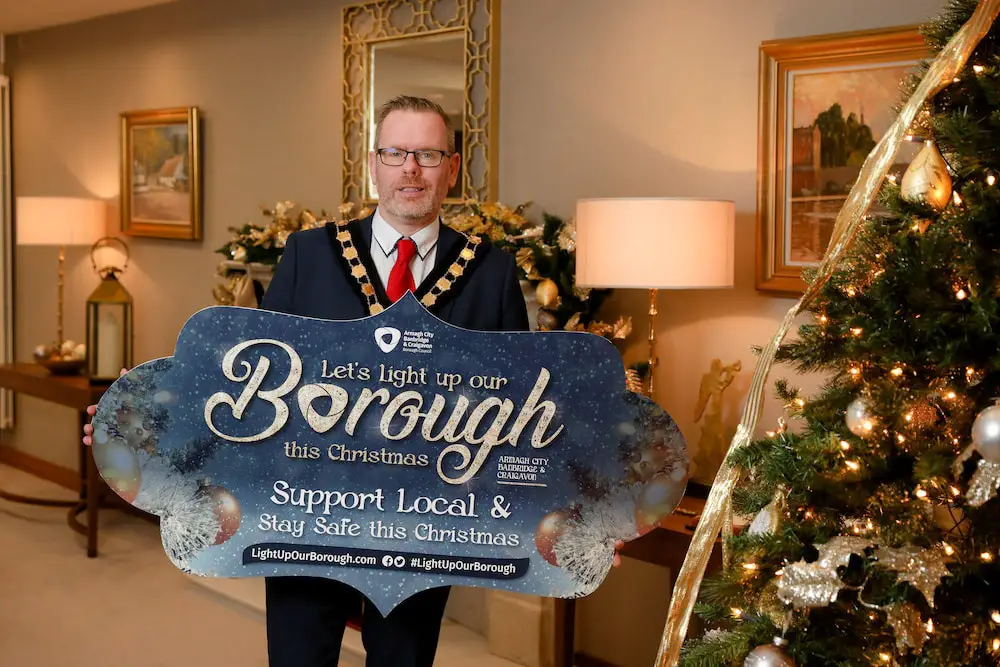 Embracing community spirit and keeping hope alive for local businesses is the focus of this year's Armagh City, Banbridge and Craigavon Borough Council Christmas Campaign entitled, 'Let's Light up our Borough this Christmas', launched today.
The campaign has been created to inspire community engagement through fun and safe activities, with a positive emphasis on supporting local businesses on the lead up to Christmas.
Commenting at the launch the Lord Mayor of Armagh City, Banbridge and Craigavon Borough Council said: "This year has been a year like no other for our families, friends, community, and businesses, all of which have faced – and continue to face, significant challenges due to the pandemic.
"With this in mind, it is vitally important that we bolster our borough's community spirit, to keep the 'light' of Christmas joy alive for everyone through this locally focused Christmas campaign.
"It is essential for everyone's wellbeing, especially our children's, that we make this an extra special community focused Christmas, by celebrating it in unique and safe ways that will continue to bring the magic of Christmas to everyone.  As a strong borough community we must focus all our efforts into support those who need our help most at this time of year, particularly our local businesses."
Supporting borough businesses by shopping local and on-line for Christmas is a major part of Council's campaign, urging people to 'think local first' to help keep the 'lights' on for many businesses at this crucial time of year.  To help promote this a new on-line platform is being promoted called 'Our Borough On-line', to encourage local spending with borough retailers online and in store.  The website www.lightupourborough.com profiles online local retailers, home delivery services, and personal and quiet shopping times for more vulnerable customers. 
One of the highlights of the campaign will be a Virtual Light Switch-on, 'lighting up' our city and town centre Christmas Trees on Saturday 28th November at 7.00pm. 
This event will be live streamed on Facebook, YouTube and online, with a very special message from Santa live from the North Pole providing Christmas cheer for all the family. 
This switch on event will provide a unique opportunity for everyone to reflect on the year that has passed, and celebrate together – but apart, in the magic of Christmas.
Another highlight includes bespoke magical and interactive festive walking trails in Banbridge, Dromore, Lurgan and Portadown.  Visitors to each town will follow a characterful treasure trail, solving rhyming riddles in a video format, on their smartphone, encouraging all generations to engage with the participating businesses' sparkling Christmas window displays; all whilst learning new Elf skills as they go!
A supporting map will feature all of the participating businesses and include a useful 'Shop Local' directory for visitors, along with our exciting and action-packed Christmas Elf and Santa treasure trails; providing magic and adventure, in a Covid safe, socially distanced and flexible way.
In a change from the normal Georgian weekend festivities, a series of Georgian themed activities are planned over four consecutive Saturdays, with fun and excitement for all the family.
For further information log on to www.lightupourborough.com
Sign Up To Our Newsletter