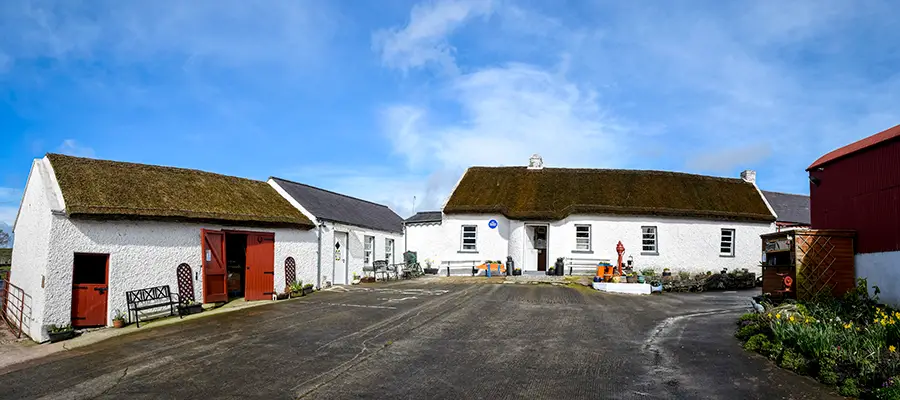 Dan Winters House (Farmyard) hosts a range of talented crafters bringing a modern day twist to traditional craftwork. Enjoy a cup of tea by the fire and witness the professionals at work! Featuring an exciting performance from the Ulster Scots Dancers. Light refreshments provided.
Please note, some of the craft demonstrations will take place outdoor – please dress appropriately for all types of weather.
Car parking available on site and near site within walking distance. This event lasts for 1 hour. Children under 4 are free but require a ticket. Children aged 4- 12 years can purchase a ticket also priced at £3.
This early 18th century listed vernacular farmhouse was re-thatched and restored in 2000 with a large proportion of the original fabric having been conserved. The cottage has been maintained by the Winter family down the years, and on display are relics from the Battle of the Diamond and old farming and dairy artefacts. The original timber, used to build the cottage, has just been dated to reveal this is probably one of the last houses to use Irish Oak as a building timber
The original old four cow byre and boil house were re-thatched in 2007, the other farm buildings were adapted to house vintage farming artifacts and machinery, the garden restored and a parking area erected at the roadside in front of the gates.
In 2008 a tea room was opened to provide refreshment for visiting groups.
Please click here for cancellation policy and Covid information.
Dan Winter House, The Diamond, Loughgall
Saturday March 26, 2022
12noon, 1:30pm and 3pm 
To see other events click here 
Sign Up To Our Newsletter