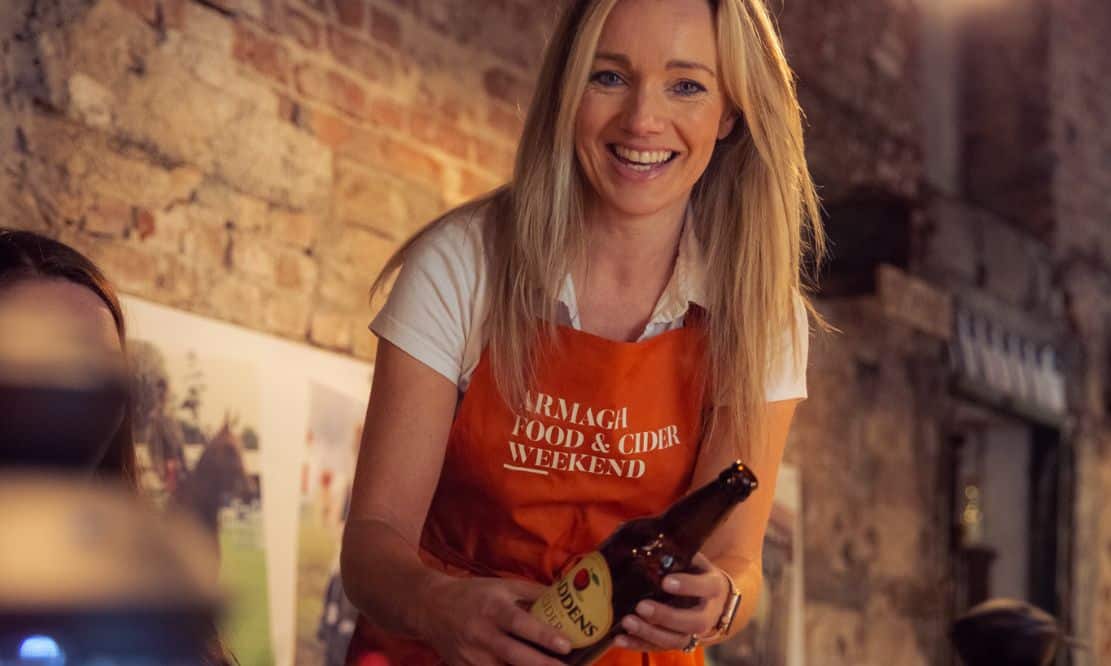 Exciting Armagh Food and Cider festival events continue this Saturday with orchard tour experiences, afternoon teas, relaxation sessions and cooking demonstrations.
Owners of hilltop Collegeland orchard, Des and Michelle Mackle are set to guide visitors through their luscious Bramley Apple orchard, providing inside knowledge about the apples, the family business, history and heritage. Guests will then be treated to a Traditional Irish baking session at the cookery school where you will learn to create Potato Apple Bread and traditional County Armagh recipe Fruit Soda Bread Buttermilk Scones. Tickets are available here.
In a separate tour, the McKeever family behind Long Meadow Cider, will talk about their family traditions on an enjoyable orchard walk, where visitors will witness first-hand how their apple farming business has evolved and changed over the generations. From their new glass-fronted Bramley Barn, guests will enjoy a hot cuppa with granny's traditional griddle soda bread, cheese and chutneys. This interactive experience boasts a cooking demo of the traditional breads being made and then enjoy them hot off the griddle. Tickets are available here.
Those opting for something a little more restful can relax and unwind in the company of Giovanna and Amanda at the charming 17th-century, Ardress House for a morning of rest, relaxation, mindful movement (tai chi based) and exploration. Ticket price includes tea, coffee and light snacks to be enjoyed in the beautiful surroundings that will help guide you to live life with more flow and ease, a life that is aligned to what you truly want. Click here to book tickets.
There will be an Artisan Market in Market Street, Armagh with a range of foods and entertainment from 12-5pm. Admission is free.
There will also be foodie workshops in the Market Place Theatre during the afternoon. Learn more about food! Auntie Joy and the Ciderologist takes place at 12noon. Auntie Joy is a farmer who has reskilled as a chef and will be tempting her audience with the following menu: Auntie Joy's Coronation Chicken and for dessert,  Sticky Toffee Apple Ice-Cream using locally sourced Marshall's Honey Caramel Sauce. Find out more and book here.
At 2pm, join Scott King from the Criac'd Pot who will lead an interesting slot on coffee. Find out more about the roasting process, enjoy coffee cupping and a brief introduction to the scents and aromas of coffee. Find out more and book here.
For cider fans, try the Cider Workshop at 4pm, led by Gabe Cooke, global cider judge and expert and Bill Bradshaw, photographer and cider enthusiast. Tasting and learning about cider is the order of the afternoon. Find out more here.
On Saturday evening, enjoy the Urban Orchard Market at The Shambles Yard, Armagh from 4-9pm. Tastes, music and entertainment. Free admission.
Afternoon tea events include a 'tipsy' wood-fired pizza-based offering at renovated bank building, The Vault. Tipsy Afternoon Tea is available on Saturday and Sunday from 12pm. A ticket for two people includes a starter and two authentic Italian-style pizzas with quirky cocktails served in a tea pot. Tickets can be booked here.
Blackwell House are offering their 'luxury' take on Afternoon Tea where five courses of taste explosion await you. Everything Is home-made and prepared with love and care by Joyce at Blackwell House in their pristine country kitchen using their own free-range eggs and freshly grown garden vegetables. Joyce has advised that this is a 'big afternoon tea' so diners may want to arrive on an empty stomach. Tickets can be booked here.
Sign Up To Our Newsletter