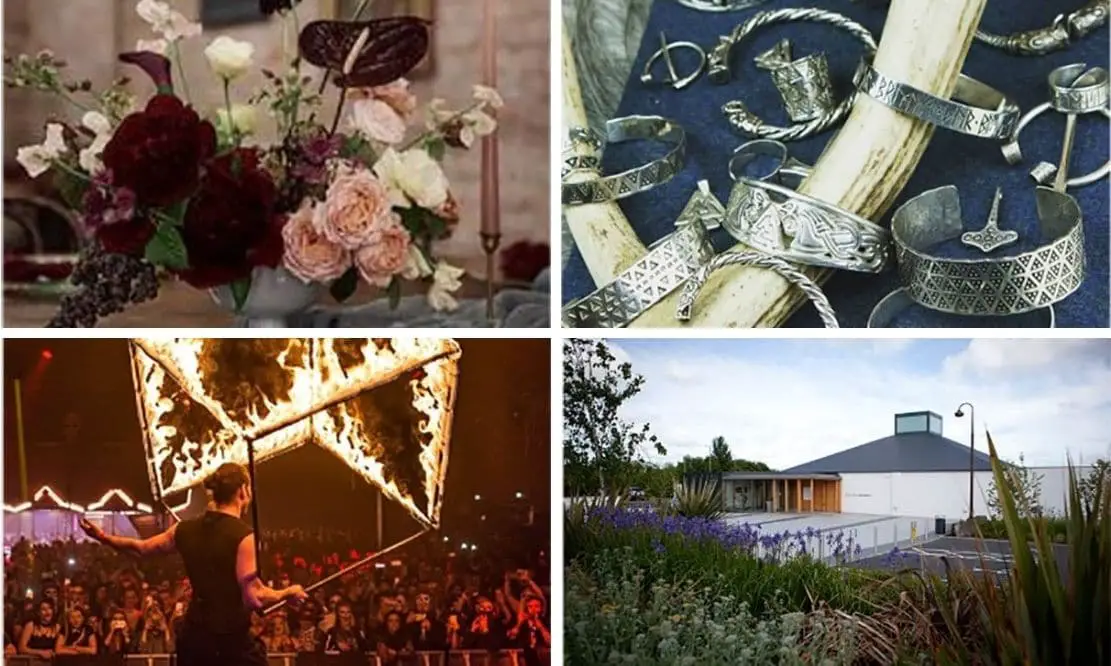 As Banbridge Fire and Light show weekend draws to a close on Saturday, there are still some tickets available for some of the amazing events across the town. Explore the history and cultural heritage of Banbridge with a free exhibition and gallery tour at the F.E McWilliam Gallery on Saturday April 23. Let your creative side run wild with a number of bespoke art workshops such as Silver jewellery making courses by Valhallas Silver and create a stunning floral centrepiece fit for a banquet with Romaine Hodgen.
Urban Foraging with Harty Culture
Harty Culture's urban foraging tour will explore the flora of Banbridge, which offers a wide range of seasonal produce.
Please note, this event will take place outdoor – please dress appropriately for all types of weather and wear suitable footwear for all types of terrain. Suitable for ages 12+
F.E. McWilliam Gallery and Studio Tour
Join our gallery guides on a tour of the F.E. McWilliam Gallery and Studio, which is dedicated to the memory of sculptor Frederick Edward McWilliam, one of Ireland's most influential and successful artists. Our gallery guides will share some of the fascinating stories behind F.E. McWilliam's work as well and our current exhibition, Sharon Kelly: Resting Pressure.
Banquet Blooms presents a demonstration led workshop using the best of Spring seasonal flowers and foliage. During the two hour session. Romaine Hodgen from Flowerworks will demonstrate how to create a designer table arrangement after which you will get the opportunity to create your very own masterpiece! Romaine will be on hand to offer expert guidance and tips.
All fresh flowers and materials will be supplied but we would ask you to bring along your own pair of strong scissors or secateurs to use throughout the workshop. Suitable for ages 18+ Please note, image is for illustration only, flowers and accessories are subject to market availability.
Wild Creations Mindful movement
This family friendly meditation workshop will encourage the whole family to practice mindfulness in the beauty of their natural surroundings.
Refreshments will be served after the workshop. Suitable for complete beginners.
Adventure story telling with Eithne the Explorer
Join Eithne the Explorer on her exciting interactive quest to search for friendly dragons!
Suitable for children aged 0 – 8
That sinking feeling – Three's Theatre Company
Time: 2pm – 8pm
Venue: Solitude Park
Cost: FREE
Drop in event – no booking required
Spring Carnival 
Time: 10am – 3pm
Venue: Various Town Centre locations
Cost: FREE
Drop in event – no booking required
'Sail in' movie with art workshop
An outdoor cinema experience with a twist! Create your own boat under the guidance of experienced artists, then enjoy a screening of Moana on the big screen in your very own boat!
Art workshops from 12pm – 1.30pm. Cinema screening from 2pm – 4pm. Workshops suitable for children aged 4 – 10. Movie is rated PG.
Short on time … you are welcome to come along and enjoy the movie without attending the Workshop
Illumaphonium
Time: 2pm – 9pm
Venue: Solitude Park
Cost: FREE
Drop in event – no booking required
Percussion Workshops
Time: 2pm – 6pm
Venue: Solitude Park
Cost: FREE
Drop in event – no booking required
Kids Dance Workshop 
Time: 2pm – 6pm
Venue: Solitude Park
Cost: FREE
Drop in event – no booking required
Silver jewellery making courses by Valhallas Silver
When Connor is not working in the sculpting department in UK movie studios, he spends his time making handmade jewellery in gold, silver and bronze. His jewellery is inspired by both Celtic and Viking age historical finds.
On this course you will learn some of the skills needed in jewellery production including cutting, filing, stamping and finishing techniques. You will have the choice of making finger rings, earrings or a pendant in sterling silver and each of the participants will leave with a finished piece of jewellery.
Suitable for ages 18+. All materials provided.
Time: 3pm – 4.30pm
5pm – 6.30pm
Venue: Town Hall
Cost: £25
Reels and Rhythms
Tommy Sands, acclaimed Irish folk singer performs live with special guest. Enjoy this unique musical performance as Tommy performs songs, rhymes and stories to accompany a skilled weaver.
Suitable for ages 18+.
Time: 8pm – 9pm
Venue: Downshire Arms Hotel
Cost: FREE (Booking required)
An Audience with Sir Ranulph Fiennes
Sir Ranulph Fiennes was named by The Guinness Book of Records as The World's Greatest Living Explorer. For decades, he has led expeditions to the most remote regions of our planet and broken world records across the globe.
His list of achievements includes being the first person to reach both Poles by surface level, the first to cross the Antarctic and Arctic Ocean, and the first to circumnavigate the world along its polar axis.
With a life filled with adventure, danger, determination and challenge, it's impossible not to be captivated and inspired by the stories this incredible expedition leader has to tell.
A 55 minute speech followed by a moderated Q&A.
Time: 8pm – 9.30pm
Venue: Iveagh Cinema
Cost: £25
Fire show finale 
Time: 9pm – 9.20pm
Venue: Solitude Park
Cost: FREE
Drop in event – no booking required
Sign Up To Our Newsletter