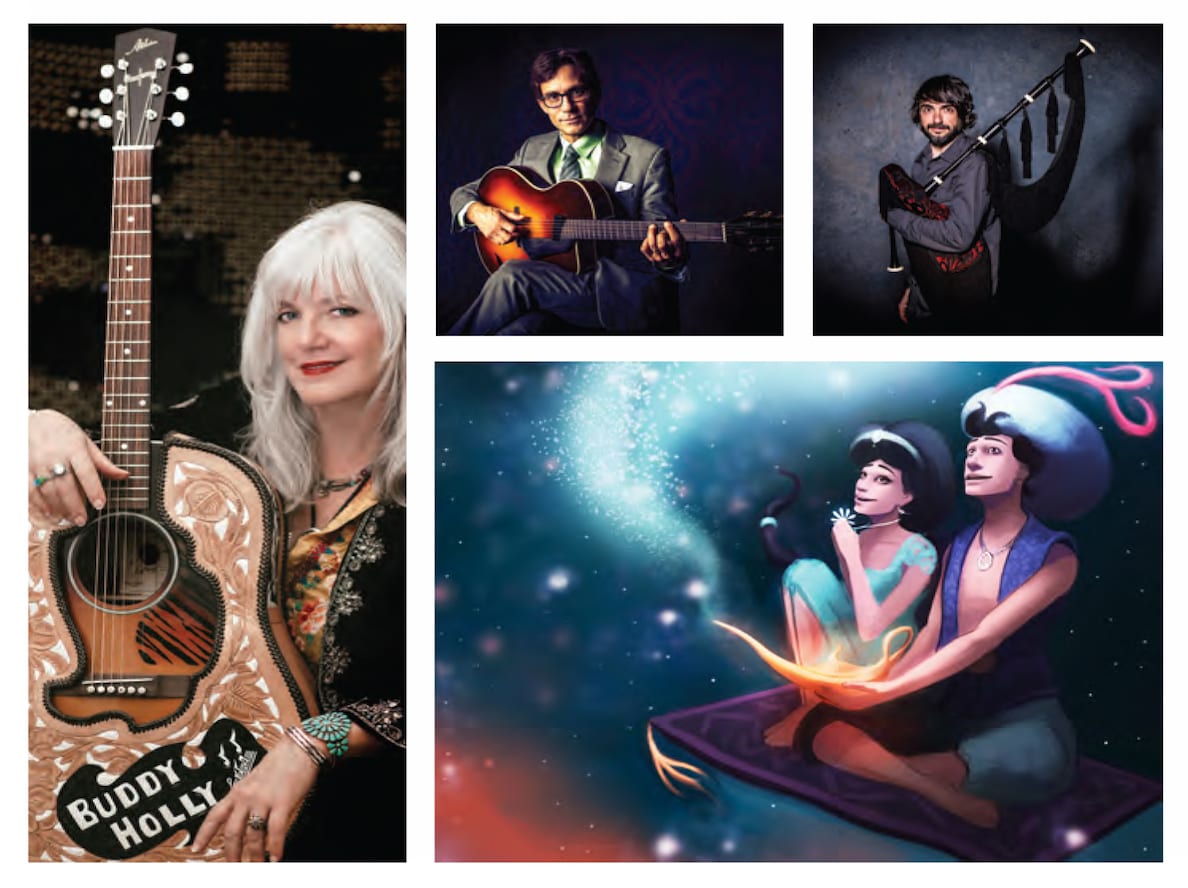 There's a new programme of events now on sale for the Autumn | Winter 2018 Season of events at Armagh's Market Place Theatre.
Jam-packed full of drama, dance, comedy, music, kid's show, workshops and exhibitions, there's an endless choice of treats to keep audiences flocking to the ever-popular venue. Here's just a glimpse at some of the entertainment on offer.
On Wednesday 19 September, the drama begins with 'Three's A Shroud', For generations, Catholic undertakers in Belfast have buried Catholics and Protestant undertakers have buried Protestants.
So you'd think now that we have peace [mostly], and we could stick to these rules? But no. When veteran undertaker, Gerry McSorely, finds his Catholic customers being stolen by young Protestant rival, Basil Gray, an undertaking war breaks out.
It gets worse when young Polish woman, Irena Bukowski's cut-price, new-age, interdenominational funeral home usurps them both.
Garth Brooks fans are in for a treat on Friday 5 October when Trevor Smith and his 'Friends In Low Places' band will perform.
This incredibly successful show pays tribute to the biggest selling solo artist of the 90's and country music legend Garth Brooks! Trevor and his eight-piece band perform live all of Garth's greatest hits including 'Baton Rouge', 'The Dance', 'If Tomorrow Never Comes', 'Standing Outside The Fire', 'Thunder Rolls' and many more, as they take the audience on a journey through all of the pinnacle moments of Garth's music career to date with their spectacular stage show.
Then on 12 October, it's the return of The Bjorn Identity Recreating Abba In Concert.
The Björn Identity are Ireland's greatest tribute to the world's most famous super group – ABBA. The Björn Identity exceed all expectations of ABBA tribute bands from their stunning replica costumes, vocal likeness and Abba style choreography, to a perfect copy of Benny's famous white Yamaha piano.
With all the glitz of the classic 70's era, featuring all of ABBA's greatest hits and always something extra for the fans!
On Thursday 1 November, you can discover the magic of a full, live orchestral concert right on your doorstep as The Ulster Orchestra brings you some of the most beautiful music from Dvořák and Bernstein.
Elements of Native and African American traditional music made their way into Dvořák's Ninth Symphony, 'From The New World'. Bernstein, on the other hand, believed that American music should be eclectic – as you would expect from a composer who wrote jazz for the concert hall and symphonic music for Broadway.
Ballet Ireland is delighted to tour The Nutcracker, one of the world's favourite ballets, to The Market Place on Saturday 3 November.
This Irish production of the festive classic, performed by an international cast of world-class dancers, appeals to audiences of all ages, with its fairytale magic, Tchaikovsky's beloved & sumptuous score, beautiful costumes, and a tale of wondrous adventure – combining to form one of the most delectable Christmas confections imaginable.
Come December, and it's time for the Big One! This year's Christmas extravaganza will be the high-flying adventure, 'Aladdin'.
Join a cast of well-loved characters including old Widow Twanky and her poor son Aladdin, and let your imagination take flight with this action-packed and mesmerising pantomime.
Times are tough but Aladdin's life is dramatically changed when he falls in love with the most beautiful woman in the Kingdom. Enter the evilest baddie in the Kingdom, Abanazer.
Will the evil Abanazer destroy Aladdin's dreams to get rich and marry the Princess? Featuring dazzling costumes, stunning sets, mischievous fun and thrilling musical numbers all wrapped up in an adventure unlike any you will have ever witnessed before… oh, yes it is!!
For details of all events can be found online at www.visitarmagh.com/marketplacetheatre, and tickets for can be booked by contacting the Box Office on [028] 3752 1821.
And to keep up-to-date with the latest news at the Market Place Theatre, you can follow us on Facebook (www.facebook.com/marketplacearmagh) and Twitter (www.twitter.com/mptarmagh) where you will find all the latest information, special offers and video previews.
Sign Up To Our Newsletter