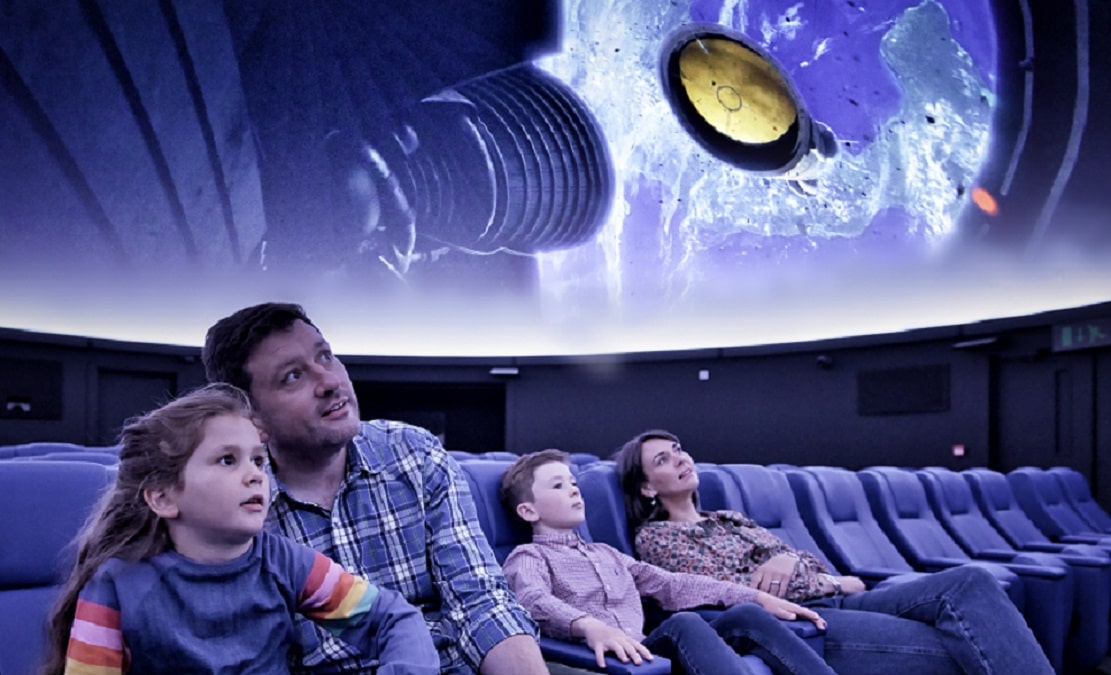 The sky is not your limit this February as Armagh Observatory and Planetarium offer a chance to look way beyond that and into the cosmos with a host of other-worldly events.
There's something to suit everyone from the intrepid wannabe-astronaut to the seasoned space-enthusiast – so what are you waiting for – check out our list of February events below:
NISF23 Stargazing Special – From Mercury with Love
We will rock you at our StarTracker evening this Thursday February 23.
Join Dr Rok Nezic for his From Mercury with Love talk and then jump into our Queen Music Show where everyone is a Killer Queen. Don't stop us now as we then take you out for some Stargazing!
Just want to Stargaze? No problem, separate tickets available for exhibition area and stargazing only.
6.30pm: Doors Open
7:00pm: Talk with Dr.Rok
7.30pm: Queen Music Dome show
From 8:30pm: Live Stargazing (Weather Permitting)
---
NISF23 Relaxed Afternoon at the Planetarium
Join us at the Planetarium for a chilled-out afternoon on Friday February 24!
Enjoy our dome show, Perfect Little Plant, where you will go on the ultimate space vacation!
Discover our Solar System through a new set of eyes – a family from another star system seeking the perfect vacation spot. Fly over the surface of Pluto, our best known Dwarf Planet. Dive down the ice cliffs of Miranda. Sail through the rings of Saturn. Feel the lightning storms at Jupiter and walk on the surface of Mars.
Entry will also include access to the sensory room and exhibition area.
In a relaxed dome show loud noises and music will be turned down with reduced audience numbers.
3:30pm: Free time in exhibition area and sensory room
4:00pm: Dome Show in digital theatre
The Planetarium closes at 5pm.
---
NISF23 Cosmic Conservation – Astronomy and the Antiques
What does conservation of antique telescopes and the creation of new stars have in common?
Join our PhD students and Museum staff on Saturday February 25, to discover how the science of historical conservation and astronomy overlaps.
From caring for old photographs and the colours of the stars to reading handwriting from the 1700's to interpreting data, we'll be demonstrating science and how we apply it to our own collection side by side.
Tickets are free with donations welcome to the PhD Fund.
Tickets include entry to exhibition area.
---
The Legendary Telescopes Tour
The Armagh Observatory and Planetarium Legendary Telescopes Tour takes you on a journey through the Armagh Observatory to see its historic telescopes.
Running from February 25 until March 18.
Armagh Observatory opened in 1790 and is now a Grade A listed heritage building in which astronomers still undertake fundamental research, and the oldest observatory in the UK and Ireland continuously in use for its original purpose. Inside the Observatory there are four generations of historic telescopes that remain in their original settings, as well as one modern telescope still used today.
Join your expert guide who will tell you about these telescopes and how they were used for pioneering science in their day. Take your picture with the Grubb 10-inch used to make a fundamental star catalogue that is still used by astronomers today, and get up close and personal with the century-old Calver telescope. Listen to the unique stories along the way and discover why Armagh truly is a Celestial City.
We make every effort to accommodate wheelchair users and others with mobility issues. If you would like to ask further questions about the tour in regards to access, please contact reception@armagh.ac.uk
The tour includes access to our grounds outside so we recommend suitable footwear.
---
NISF23 Dragons' Tails Foraging Afloat and Balor's Eye and South African Starlore
Join Dr Sharon Arbuthnot from the University of Cambridge and Dr Daneil Cunnama from the South African Astronomical Observatory this February 25 for two astronomy-themed discussions.
Dr Arbuthnot will explore how the Irish engaged with astronomy and astrology in the past, looking at how early medieval writers observed the movements of the stars and recorded how they had seen 'dragons' in the sky.
She'll also consider how names for all sorts of astronomical phenomena – from the Great Bear to the Milky Way – have been assigned, altered, forgotten and replaced over the years.
Science Engagement Astronomer, Dr Cunnama, will use starlore about the night sky to explain how Africa has a long and rich relationship with astronomy. With many different languages spoken across various regions in South Africa, Dr Cunnama will also look at how language and the tradition of storytelling go back many generations and tie us to our ancestors…
Click here to view more events across the county and beyond
Sign Up To Our Newsletter