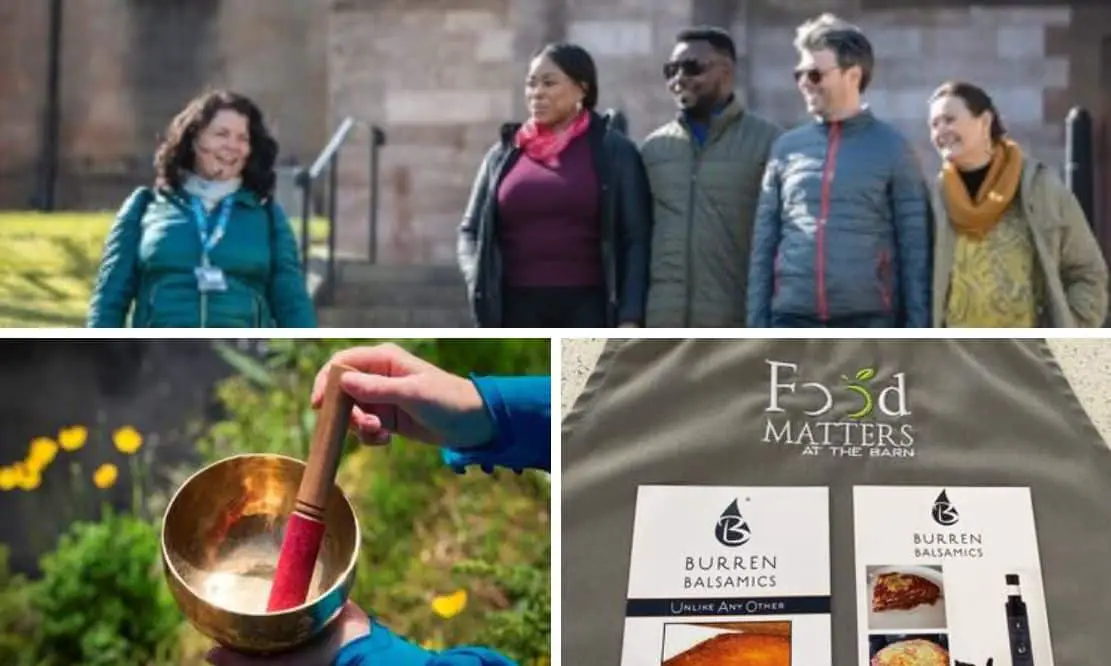 The Armagh Food and Cider Festival continues on day two with a series of teaching and tasting events across the county.
From local landmarks and historical information to learning how to recapture your breath and enhance the senses; these three unique experiences are sure to appeal to more than just your tastebuds:
Food & Cider Walking Tour
This popular annual event is a fusion of delicious food, a choice of locally produced drinks and a walking tour of Armagh City.
Before you embark upon a guided walk between English Street and Irish Street, you will enjoy a curated menu at Charlemont Arms Hotel (menu below). A Blue Badge tour guide will then escort you on your journey, pointing out local landmarks, historical information, notable buildings and personalities associated with the city on a route of approx 1 km.
The group will be accompanied by cider expert, award winning drinks photographer and author, Bill Bradshaw.
This culinary experience will finish at Keegan's Armagh for an apple-themed cocktail and a choice of desserts baked with the famous Armagh Bramley apple.
Dress appropriately for the weather and wear comfortable shoes.  Please note for parking that this tour has different starting and finishing locations. Starting Point: Charlemont Arms Hotel 6.30pm, 57 – 65 English St, Armagh, BT61 7LB Finishing Point: Keegan's, 48 Lower Irish Street, Armagh, BT61 7EP at approx 9.30pm.
Menu at Charlemont Arms
Parsnip and Apple Cappuccino served with Bramley apple and walnut loaf
Trio of pork Sticky Pork Belly
Crispy Shredded Chilli Pork Slider of Apple cider Braised Pork Shoulder Served with Apple Slaw and Sticky Cider Apple Dipping Sauce
Macivor Plum and ginger sorbet
Menu at Keegan's 
Cocktail – Orchard Harmony – Symphonia Apple Rum mixed with lime, shaken with cloudy apple juice served on crushed ice, accompanied by a slice of apple crisp
Mocktail – Virgin Apple Martini – Pressed apple juice shaken with sugar syrup and lemon juice, rimmed with sugar and apple slice garnish
      Desserts;  
Apple Crumble Delicious hot stewed apple with a hint of cinnamon from our local orchard in a crispy, crumbly topping served with a generous spoonful of fresh whipped cream or creamy vanilla ice cream
Apple Strudel Flaky pastry with generous stewed apple, raisins peeking through served with a fresh whipped cream or creamy vanilla ice cream topped with warm butterscotch sauce
Starting Point: Charlemont Arms Hotel
Friday September 8, 2023
6.30pm – 9.30pm | £40.00
---
Bramley Apple Orchard Bathing & Mindful Baking
Come together in a local orchard in Collegeland for a unique and immersive experience focusing on the wonderful Bramley apples of County Armagh.
Forest Therapy Practitioner, Ann Ward of Xhale will lead you on an immersive Orchard Bathing session before moving to the cookery school where you will don your aprons, get baking and learn the secrets of traditional Irish baking using the Bramley apples.
Beginning at 9.30am, Ann will support you in a 1 – 1/2 hour class to deepen your awareness of nature and the present moment using your natural resources of the breath, body and senses. Through the practise of 'orchard-bathing', you will rest, reconnect and re-energise with your own special apple tree.
After the refreshment of tea, coffee and scones fresh from the oven, the cooking begins with an introduction from Ann who will explain how mindful baking can support stress management and holistic health.
Then Mary Anne will follow with a demonstration of the recipes after which you will be rolling up your sleeves for some hands-on baking.
Baking from scratch using the best local ingredients, you will also use a traditional griddle for the Potato Apple Bread before making your own Fruit Soda Bread and scones both of which you will have to take home. A light and delicious homemade lunch will also be provided at the end of the baking.
Wee Buns Cookery School, Collegeland
Friday September 8, 2023
9.30am – 1pm | £95.00
Please Note:
Should you have any dietary or access requirements for the events outlined above, please mention during the booking process and these will be accommodated as far as possible. Please email foodandciderweekend@armaghbanbridgecraigavon.gov.uk for further assistance.
To view General Information and Cancellation Policy for Food and Cider Weekend 2023 – please click:https://bit.ly/3KtYLXu
Sign Up To Our Newsletter